Home » Geocaching
Caches No's 3670, 3671 and 3672 – Three More Local Ones
I've not been doing a lot of caching lately, in fact I've not been doing much of anything lately. Since I got a job I have just gone to work, come home and watched TV… putting on about half a stone in the process (well actually only about 3lbs but my weight is definitely going the wrong direction) So one fine evening I decided that I would take a walk instead of watching the latest episode of whatever I had downloaded… and I thought that while I was out I may as well look for a couple of caches, not that I took GPS or anything, I knew where they were from the map and that should be enough
13th May 2015 – LOCK, Stock and two smoking Barrels GC – cache #3670
Not hard to spot the cache – or at least with an experienced cachers eye not hard to spot something worthy of further investigation which turned out to be the cache
13th May 2015 – Historic Wharfedale – Gallows Hill GC – cache #3671
I knew where I should be looking and I looked and felt all over but nothing came of it… then as I was walking away muttering about a missing cache I turned for one last look and spotted something that shouldn't have been there – the cache. How I missed it I don't know, but I got there in the end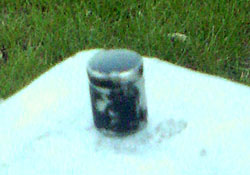 24th May 2015 – Otley Environs GC – cache #3672
For some reason this puzzle had totally frustrated me for about 6 months, I could sort of see what needed to be done – after all it was a case of 'all the right letters but not necessarily in the right order' but despite trying every few weeks since it was released I couldn't find the key that will get the letters into the right order to give me the co-ordinates…. but still never mind there is always more than one way to find the cache.
In this case it was plot on the map where it couldn't be due to proximity to other caches, then look at the previous logs… "done as a drive-by", "big car down a narrow road" – Well having lived in Otley since I was a toddler I know all the roads in Otley and in the area where the cache could be I could only really think of one that this would apply to, so it being a nice afternoon I decided to go for a walk and see if I could find the cache, and I just looked in all matching places until I discovered the tupperware.