Home » Geocaching
Caches No's 3603 to 3609 – Not getting a CITO Day Souvenir
Every year Groundspeak have a Cashe In, Trash Out – CITO day, and if you go to the CITO and help clear up an area you get a souvenir on your profile page for it. I've only attended one of these CITO things, and this year I managed not to attend one either as it was on a Saturday morning and I was down the Supermarket doing the weekly shop.
On the Saturday afternoon though Richlay held an event in a nearby pub for all the litter pickers to refresh themselves, so I did attend that !
25th April 2015 – Back to the pub GC5NQ6Q – cache #3602
I'd sort of planned on spending a short amount of time in the pub and then the rest of the afternoon finding some local caches…. I then left the pub at 5.30, not much of the afternoon left so I only did a few caches !
There was some good chat though, thanks to Richlay for the event, pity I couldn't make the CITO – I did go and look at the pile of crap still waiting to be taken away… The Lines looked nice a clear of refuse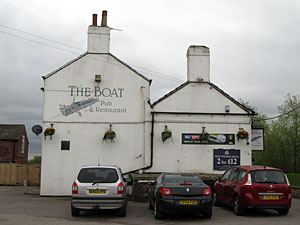 25th April 2015 – Gateway to the Lines GC2WDBG – cache #3603
After the 'Back to the pub' event I thought I'd go and see what had been cleared in the CITO
First cache an easy find… well there was only one place really that it could be.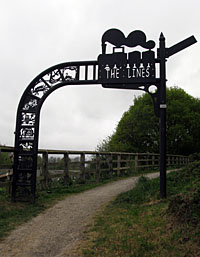 25th April 2015 – On The Right Lines GC2214N – cache #3604
Another straight forward one to find, with a bench to sit on while signing the log as well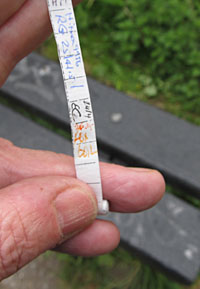 25th April 2015 – Between the Lines GC35GA1 – cache #3605
There was a big pile of refuse here waiting to be collected, I could certainly see that some people had been hard at work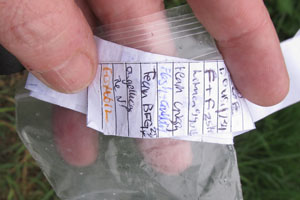 25th April 2015 – Owl Wood – Eye Dee GC3K58J – cache #3606
After the 'Back to the pub' event I thought I'd go and do 'The Lines' to see what had been cleared in the CITO, and then I carried on with the Owl Wood Series
It took me a couple of attempts to find my way to this cache… what appeared to be well used paths down from track to field turned out to be presumably the 'scars' left by
the CITOers removing large items of furniture from the embankment. When I eventually got to GZ it was a quick find, well there was only one place the cache could be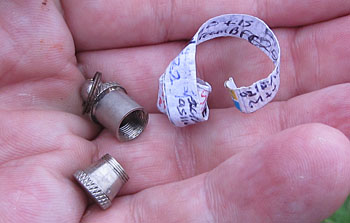 After this I didn't find GC3K588 Reduce, Re-use, Recycle – I know where Richlay needs to do his next CITO… some people may enjoy poking around the litter dumped here, but I don't… cursory earch and then gave up on this one.
Then I didn't find GC3K584 Not Everything Is As It Seems – Leaves on trees are bad for GPS signals… wet leaves are even worse, so being in a wood in the rain wasn doing
little for the accuracy of my GPS which wanted to put GZ at the telegraph pole in the middle of the field over the wall/fence from the path… so I didn't really look for
this cache as I have no real idea where I should have been looking
25th April 2015 – One Way Cache GC3K57G – cache #3607
It doesn't say much for the state of the area where a cache is hidden when the cache is camouflaged as a piece of fly-tipped rubbish – it's in a silicon sealant tube, silicon
sealant tubes are not litter, you don't idly drop it while having a picnic in the middle of the countryside, the only way it get's into the countryside is if someone deliberately
tips it there.
Also I have to question is this cache in it's original place ? one of the easiest 4* difficulty and one of the most gentle 3.5* terrains I have come across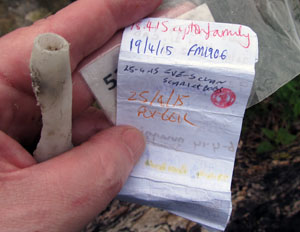 25th April 2015 – Size Matters GC3K57R – cache #3608
Another quick to find cache – though as it's hidden in the remains of a dry stone wall I am not certain it fits into the cache guidelines.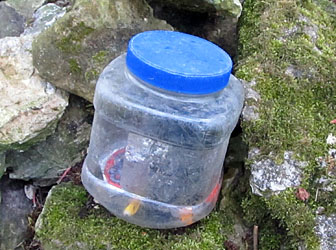 After this I didn't fnd GC3K55W See Through Cache – I was very disappointed by this series, and there was no steady GPS signal under the trees in the rain and a pretty vague
hint – thus I had no idea where to start looking… so I didn't !
25th April 2015 – Wand of the Woods GC3K55D – cache #3609
Best cache of the series by far. I'd about given up on my GPS, under the trees in the rain the GPS signal lock was non existent so it was pointing me all over the place….
However it did let me read previous finders logs, so I did what one of them said they did… and it became pretty obvious where the cache was