Home » Geocaching
Caches No's 2966 to 2975 – Skipton in the Rain
As it had rained for the past four days and I had found a total of two caches I was still needing to find 29 more caches and the number of days was getting fewer and the weather forecast not looking any better so I decided that I would need to go out caching even though it was raining… this meant urban caches to avoid muddy conditions underfoot so I headed over to Skipton, first stopping at Embsay to grab a couple in the village there.

14th October 2013 – Overlooked 360 degrees GC43BXQ – cache #2966
A miserable and wet Monday afternoon is the ideal time to visit this cache… the people in the pub next to it were not likely to be looking out of the windows to watch what I was doing and there were no other pedestrians about… Took a while to do a fingertip search to find it but I got there in the end
14th October 2013 – Sticking to the timetable GC43BX7 – cache #2967
Sitting in the car just up the road waiting for the worst of the rainstorm to pass gave me time to read back through the past few logs and so I knew that the hint wasn't quite correct, thus it was a quick find once I had worked out which side of the entrance I needed to be on (GPS wanted to put GZ right in the middle)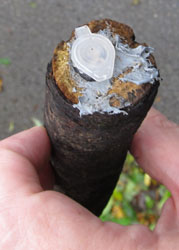 After this I went into Skipton and first of all didn't find GC4J225 Tomb Raider – Obvious which vicinity it should be in (a big hole in the ground covered by a large concrete planter)… no problems with passersby due to the rain, so I looked and felt under each side and corner, but found nothing
14th October 2013 – Diamonds Are Forever GC4J26M – cache #2968
When it's pouring with rain nobody thinks twice about you hanging around sheltering under a convenient tree (there was a schoolgirl sheltering under the other one) this gave me plenty of time to look around and assess where in the garden the cache was… only 5'10" so I couldn't see it but it was within reach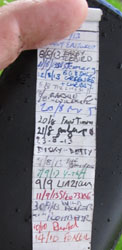 14th October 2013 – Snikets and Ginnels – 1 The Cinder Path GC4M5MF – cache #2969
Spot the odd one out – that must be the cache !

14th October 2013 – The Bailey GC49B2C – cache #2970
The road here was closed for resurfacing, this and the pouring with rain meant that there was not a lot of members of the public to avoid while getting the cache… It was an easy find as it hadn't been covered up properly and was poking out of it's hiding place, I covered it up a bit better when I put it back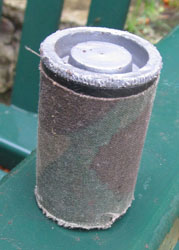 14th October 2013 – A British Icon 22 (Skipton) GC4FQCF – cache #2971
Again the rain meant I didn't have to put up with too many passers by so could pretend to be reading the nearby notice board while signing the log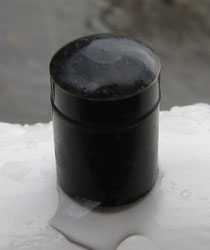 14th October 2013 – YorkshireParks #1a GC20P4P – cache #2972
Harder than it should have been ! I parked in the swimming pool car park and walked across the grass looking for something that matched the hint… and went strolling past GZ… looked down at my GPS to find I was getting further away instead of nearer the cache.
Only then did I realise that there was another path behind the bushes that I couldn't see from the field.
Once I got to the hint item I just followed to cachers path to the cache.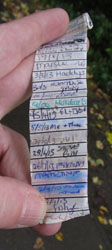 14th October 2013 – YorkshireParks #1 GC20P50 – cache #2973
I started looking in what seemed an obvious place (complete with what appeared to be a cachers trail) then realised I was about 30 feet from the co-ordinates gained from the feeder… a repositioning (and another cachers trail) and quickly found the cache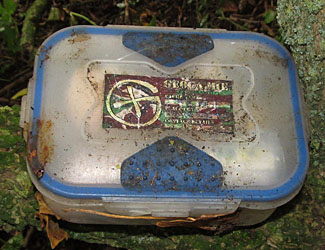 14th October 2013 – 2 Stroke Penalty GC45ZBJ – cache #2974
A straightforward find… I was amazed at the number of dog walkers ignoring the many "Dog walking is not allowed on the Pitch and Putt course signs"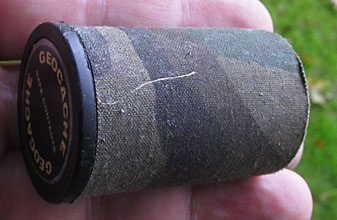 After this I didn't find GC25XRG Jubilee_1 – Looks more like a garden rubbish heap than a cache hide, piles of what appear to be, chipped tree branches, lawn mowings and hedge trimmings. The cache could be still there but I couldn't see it and I didn't fancy getting too involved in the compost to look any closer
14th October 2013 – Home-a-loan GC45Q3F – cache #2975
A nice easy cache to finish off with, hidden by a milepost opposite the Skipton Building Society headquarters