Home » Geocaching
Caches No's 2515 to 2520 – DNF Finding and DNF Logging
A drizzly Sunday afternoon, not really the weather to be going for a long walk over the moors so I thought I would catch up on a few caches that I had had to DNF on in the past as well as pick up a couple of new ones that were in the vicinity of caches I was visiting for the second or third time. There was another cache on my list to try for, but when I got to the location there were to many people about and you do look suspicious poking about in a hedge bottom in the rain…12th May 2013 – Where two paths intersect… GC35BA8 – cache #2515
This easy cache has taken me three visits to find and log… the first two times I have been disturbed by the people in the house out in their garden watching what I was doing, so I left without finding the cache… Today in the rain though there was nobody out in the garden so I could find and sign the log
12th May 2013 – Proud to be a Yorkshireman – Silsden GC310K4 – cache #2516
I've driven past here several times before but there always has been a car right up behind me making it difficult for me to stop on a busy road, today in the rain the road was very quiet so I could pull over and find the cache without getting in the way of anyone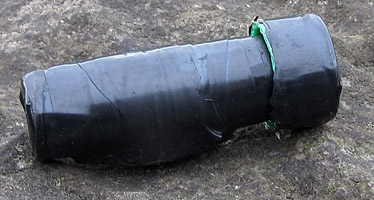 12th May 2013 – Smelly Dog GC25MTE – cache #2517
Would you believe it has taken me 3 visits to find this cache ?
I don't believe it myself as it was quite easy to find this time, though I did have the advantage of having looked at the photographs in the gallery and so knew which side of the track and which side of the wall it was on !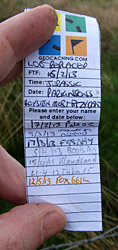 12th May 2013 – Gate to Where? GC3Y5TP – cache #2518
Fairly straightforward find once I'd read the hint. Opened the wrong tube first but realised my mistake and hurriedly shut it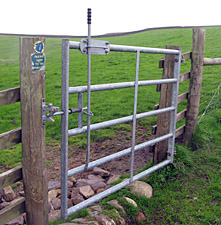 After this I didn't find GC3Y5M4 – Eco-Folly View. With a detailed description of the cache and an explicit hint it would be hard to miss the cache if it was there… so I'm afraid I have to assume that this cache has gone walkies as I couldn't find it where it should be or anywhere in the immediate vicinity – so a DNF logged to add to my DNF's found
12th May 2013 – The Three Degrees GC419FR – cache #2519
I found the previous incarnation of this cache so when I had worked out the puzzle and got a set of co-ordinates leading to somewhere I'd been before I had no problem finding the cache a second time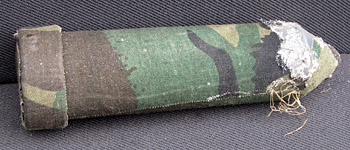 12th May 2013 – Last Train to Addingham GC3CDJ8 – cache #2520
After my DNF earlier in the week I had an email conversation with the CO who gave me a nudge as to where in the wild garlic to look… so with this information and the slight cachers trail left by the previous finders on their visit a couple of days before I managed to track the cache down this time.