Home » Geocaching
Caches No's 2493 to 2502 – Onwards to 2,500
I'd got to 2,490 odd caches so it was time to decide whether to do anything special for my 2,500th or not bother – it's not really a major milestone in the geocaching world (they are every 1,000 between 1 and 10K caches), but to me it was a number worthy of note, so I decided to work out how to at least get it onto a puzzle cache… and it came to pass that if I went cycling along the new cycleway at Harrogate – The Nidderdale Greenway, and an older cycleroute that I had been on before – the Beryl Burton Cycleway I could get the 2,500th to be a puzzle cache that was cycling themed. It all seemed to fit together nicely
7th May 2013 – Arachnids GC43Q0K – cache #2493
I had found the previous incarnation of this cache so knew exactly where it was and why it's called Arachnids (the cache was previously hidden in a large plastic spider)
7th May 2013 – Bradley Wiggins – Victory 2012 GC3R5VP – cache #2494
I had cycled to this cache from the other end of the Nidderdale Greenaway, so I did feel I had gone about this one in the right way… and as it's just about all on the flat I managed it okay !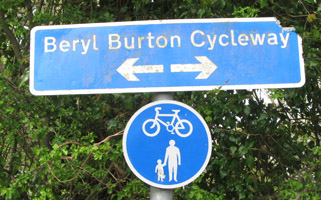 7th May 2013 – Bagley's Bone GC49X93 – cache #2495
I spotted this straight away, but then I've seen several like this before

7th May 2013 – Nidderdale Greenway,viaduct GC4805P – cache #2496
Like many others I had no implement to get the log out of the container… so I reached down and picked up a thin twig with a knobbly end, and used that to pull out the log… who needs tweezers ?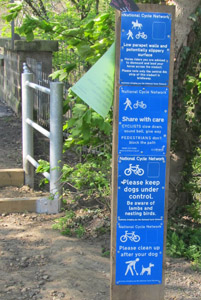 7th May 2013 – Nidderdale Greenway, pumping main GC483NX – cache #2497
Probably the easiest cache on the Greenway – called pumping main and hidden behind a concrete post marked 'pumping main' !

7th May 2013 – Nidderdale Greenway, split in the track GC483Q2 – cache #2498
The GPS would have had me 20ft to the East of the fence, down the banking and into the field… but I spotted something that clicked with the hint, and after waiting for a couple of passers by grabbed the cache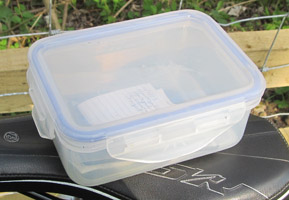 7th May 2013 – Nidderdale Greenway, something to lean on GC483RE – cache #2499
Again the GPS would have had me down the banking and into the field, but the hint guided me to the right place

7th May 2013 – Tour de Harrogate GC496F6 – cache #2500
My Cache Find Number 2,500 ! !
A puzzle cache for which I solved the clues easy enough with the help of google, and cycled along the Greenway to the co-ordinates I had discovered… it was only there in the 35mm film pot that I realised this was a multicache !
Fortunately the final cache was in the direction I was heading… I had already cycled from one end of the cycle path to the other and almost all the way back and was having visions of having to cycle up and down the path again, but I was okay !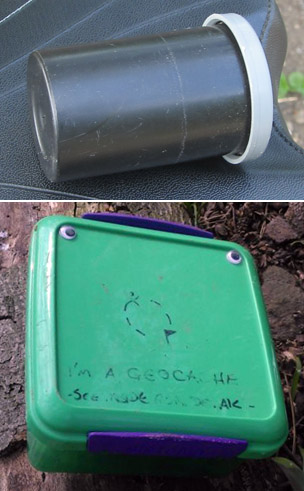 7th May 2013 – Nidderdale Greenway, plug GC483VX – cache #2501
A relatively easy find for me once the passers by had passed by – I was a little surprised at how busy this path was on a Tuesday afternoon when you might expect people to be at work / school.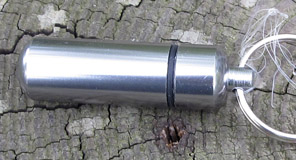 7th May 2013 – Valley Gardens #4 "The Woods" GC3WV10 – cache #2502
A quick stop off on the way home to grab a final cache in the Valley Gardens. It took a while to find the right spot (GPS was having me at the tree next door) and then once I'd found the hint object it took a while to work out how to get in to the middle of the tree to get to the cache !
Fortunately the cache was easy to open !