Home » Geocaching
Caches No's 2384 to 2390 – The Classic Movie Monsters Series
Back in October when Adam, Bexi and I went to the Halloween Hides event we stayed in a hotel in Wellingborough rather than camp on a cold soggy campsite. So we missed out on the cache series set around the Billing Aquadrome campsite.
But we had checked out the Aquadrome in October and instead of our normal Spring visit to Brean Sands, we organised the weekend at Billing .
One of the activities we decided to do during the daytime was have an introduction to Geocaching session… Now the weather maybe put a few people off, (it would have put me off too) so Stuart (Stucuk) Tracey (TT) and I set off with Nick, Glyn, Richard, James and Chris, all bundled up against the cold !
24th March 2013 – Classic Movie Monsters 1 Frankenstein's Monster GC3XE1E – cache #2384
The thing about beginners is that they don't have their cachers eye tuned in, so after a few minutes of watching them search the area I found the cache – but only after the rest had failed to turn it up even though they were looking in the right place… Then Tracey (TT) gave a little lecture on why they (and she) had missed finding it !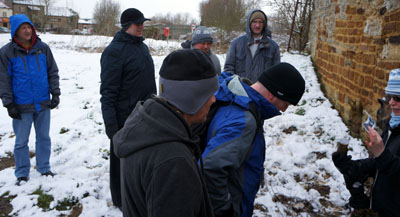 24th March 2013 – Classic Movie Monsters 2 The Wolf Man GC3XE28 – cache #2385
A bit muddy underfoot as we walked through the snow from number 1. An easy to find cache once we had got there, as it was hidden in a 'traditional' hiding place – but good for the new cachers as they maybe wouldn't have thought of pulling the end cap off a signpost before, and Tracey then told them all about similar sneaky hides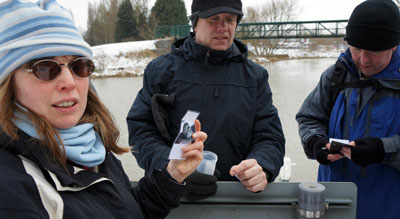 24th March 2013 – Classic Movie Monsters 3 The Mummy GC3XE2K – cache #2386
As we were staying in the 'hire' caravans on site we were playing Spot which caravan you are staying in as we walked along from number 2… I can't say I would recommend the site as a winter holiday destination, plastic water pipes freeze easily and some caravans were without water for a couple of days
Again Tracy was giving a lecture in how to find caches when we got to the co-ordinates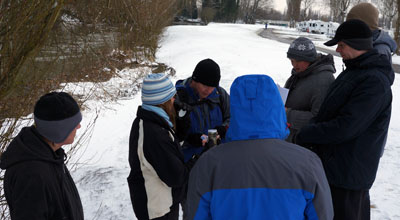 24th March 2013 – Classic Movie Monsters 4 Count Dracula GC3XE3T – cache #2387
My part in this multi cache was to clear the snow off so we could find the numbers for the coordinates… Stucuk did the calculations and then we let TT dig into the snow to pull the cache out… (the hint object was a little difficult to spot at first as it was just a snow covered mound !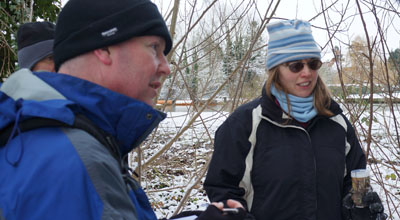 24th March 2013 – Classic Movie Monsters 5 Phantom of the Opera GC3XE4B – cache #2388
As this type of hide is the bane of cachers everywhere (tucked into the ivy) Stucuk and I stood back and let our friends search for it… fortunately a fairly large container to be hidden in this way so fairly easily spotted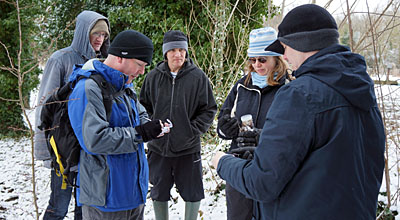 24th March 2013 – Classic Movie Monsters 6 Mr Hyde GC3XE57 – cache #2389
Normally ground level caches hidden at the base of a tree are covered by rocks or stickoflage… this one was just covered with snow ! so had to be dug out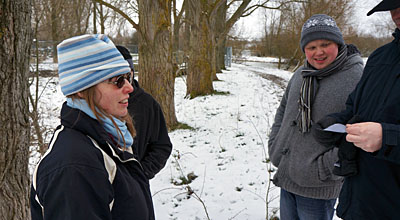 24th March 2013 – Classic Movie Monsters Bonus Box GC3XE5W – cache #2390
Not the easiest of things to do, to work out how to get from A to B when there is a snow covered swamp in between and you have no idea which is snow covered dry ground and which snow covered wet ground… so we walked on the highest parts assuming them to be driest !
Then when we got close there was a fairly wide stream in between us and where the GPS said we had to go, but then my eye was caught by movement further along the stream and I saw a rabbit crossing the stream on what looked like just a snow drift… but the was the rabbit wen across encouraged me to believe it was solid ground underneath… and it was and I soon got to the cache.
This was a good trail to introduce some friends to Geocaching, not too many, not too far, and fairly easy to find. It was also nice to come back and "complete the Halloween set" as it were.  The series deserves the favourite point I gave it