Home » Geocaching
Caches No's 1957 to 1978 – Hackfall Woods
I decided that the only way I was going to achieve my target of 43 caches was to take a day off work and go caching to make up for the weekend I'd 'lost' through illness. I decided that the nearest attractive looking series was up near Masham – a place I seem to have visited a lot this Summer, and so on a dull and cold Friday morning I set out… at least it wasn't raining !
3rd August 2012 – Magic tree GC3GA5D – cache #1957
My first stop involved a bit of gate climbing…. to get into the field where this cache was you should climb over a stile. however someone (and I tend to think it was the local farmer) had dumped a trailer load of cut branches on the verge in front of the stile… and when I say a trailer load I mean a load 20ft x 8ft x 6ft high… not a bootload of hedge clippings flytipped by a householder.
Once over the gate it was a short walk over the fields to the Magic Tree, which seemed fairly ordinary to me if it wasn't for the fact that the base was hollow and there had been coins hammered in to the bark – (which are probably killing the tree really)
3rd August 2012 – Plumpton Rocks International Call Centre GC3BFJR – cache #1958
A cache in a phone box…. a phone box with a very stiff door. I bet the only people who use this phone box are cachers
3rd August 2012 – Jack's A59 (whixley) Travel Bug Hotel. GC3Q0Y6 – cache #1959
A quick drive by… though the people in the house opposite drove in while I was there and were obviously wondering what I was doing (not that they could see anything more than me standing there by my car)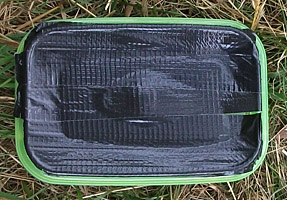 3rd August 2012 – the wild one GC3P3VC – cache #1960
A quick find… just follow the cachers path… to a fence covered by a bush and a nicely camouflaged cache hidden within

3rd August 2012 – Nun Monkton #5 – The road to Nun Monkton GC337KX – cache #1961
I'm not sure about this cache, in essence it is just a cache hidden in a hedge bottom, but to get to it you have to go into the field by the gate in the corner and then walk back along the hedge… which isn't on a public footpath, in effect you are trespassing to get the cache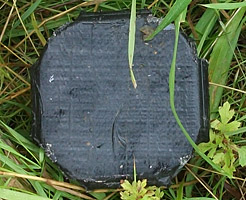 3rd August 2012 – Over the edge 2 GC3NPNR – cache #1962
I gave this cache a favourite point, because it deserved it ! The cache is in a busy layby, but I managed to park right next to it so I was shielded from other people by my car, I could just see the tip of the magnetic cache sticking out under the metal plate it is attached to… so that just left me the problem of getting to it… The metal plate sticks out from the bridge parapet 25ft above the water and I need arms about 6 inches longer to reach it without trouble… In the end I am glad there's a sturdy tree next to it, as that was the only thing stopping me falling as I hung over the edge !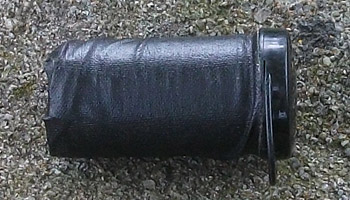 3rd August 2012 – Ur old oak tree !! GC3N5FG – cache #1963
A cache on an old road now bisected by the train line… there is still a bridleway across the rails and a small gate to allow a crossing point, and I did have to stop, look and listen and wait for a train at the crossing !
The cache itself was a little difficult to find as with a title like that you expect the cache to be hidden at the base of the Old Oak Tree, instead it is hanging int he branches of the next bush along the fence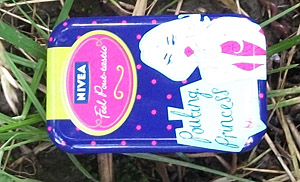 3rd August 2012 – West York ride #9 GC3EGH0 – cache #1964
When I cycled around here a few weeks previously there had been a couple of caches I hadn't been able to find (because they weren't there) this was one, a magnetic cache on a signpost

3rd August 2012 – Old.Gimmers C L cache#2 GC2WPVJ – cache #1965
Found eventually, I followed the cachers path into the hedge (only got a bit stung by the nettles !) the GPS signal was poor under the trees and the hint (the fallen sapling points the way) made no sense to the position I found the cache in, but find it I did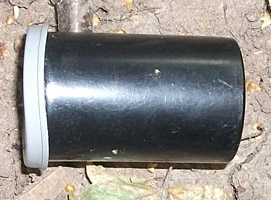 3rd August 2012 – West York ride #11 GC3EGK7 – cache #1966
Another of the caches that was missing when I cycled the West York ride… another magnetic cache stuck on a signpost

3rd August 2012 – Don't Hang around with Busby GC17FF6 – cache #1967
I'd chosen to go caching on a day when there was racing at Thirsk racecourse, and so there was no chance of stopping to get any caches near there, but this cache is in a layby a few miles away and there was nobody else there. The cache is hanging in a tree… trouble is there are several trees on the grass and I had to search several before finding the right one

3rd August 2012 – Book: First Cache GC3MZ2C – cache #1968
Finally I got to Hackfall Woods and the series I had planned to do, only couple of miles of walking in the woods, but the gradients are steep so it was not going to be a quick stroll.
The cache series was set up as a Geoartcache trail by the North Yorks Open Studios and consists of cache boxes which have rubber stamps inside, each rubber stamp has a design representing local wildlife. You start off at the car park and this cache, where you pick up a 'Book' to put the stamps on. The co-ordinates had me confused as they lead me into the middle of the road – until I read the previous logs and the hint, then I found it with ease when I was looking in the right place (i.e. nowhere near the published co-ordinates)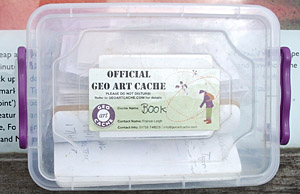 3rd August 2012 – Brock GC3MZ1J – cache #1969
A bit muddy getting down from car park to cache, not helped because I got on the wrong path once and had to retrace my steps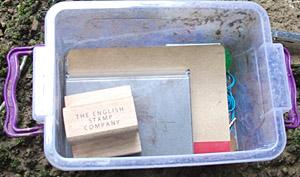 3rd August 2012 – Water Dog GC3MZ47 – cache #1970
Spotted this cache from a long way away down the path, but then I was looking for it and had decided that the pile of logs it was hidden in was the obvious place for it to be !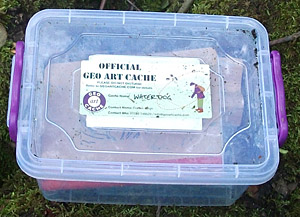 3rd August 2012 – Raha GC3MZ42 – cache #1971
It was very muddy geting to this cache… and from looking at the poster at the car park when I got back I believe that officially the footpath from Water Dog was closed at the time – probably due to the rockfall of huge boulders !, but there was nothing to stop you walking down the path.
The rubber stamps in these caches were made by a printmaker called Hester Cox, Raha is a Roe Deer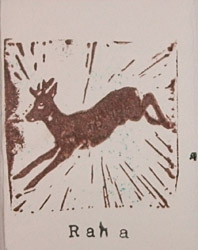 3rd August 2012 – Flittermouse GC3MZ3H – cache #1972
It was a bit of a climb up from the river, the GPS signal was rubbish under the trees but the hint is pretty descriptive so this was an easy find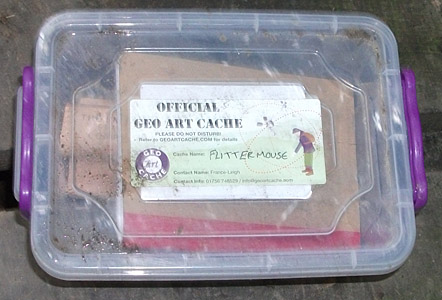 3rd August 2012 – Ermine GC3MZ2Z – cache #1973
The GPS (and the map) was showing the cache many yards off the path, I was just working out how to get to there when I realised that I could see the cache next to the path from where I was.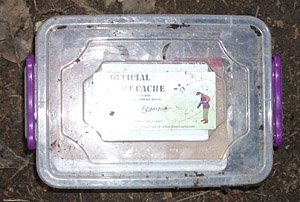 3rd August 2012 – Nymph GC3MZ3V – cache #1974
Again a descriptive hint to make finding this cache a breeze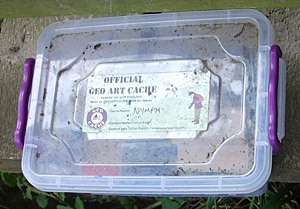 3rd August 2012 – Bufo GC3MZ2P – cache #1975
It was a good job there were stepping stones across the stream at this cache as as the OS map shows this cache on the other side of the stream to where it's to be found ! after exhausting all possibilities on the bank I was on I crossed over and spotted the cache straight away… and managed to keep my feet dry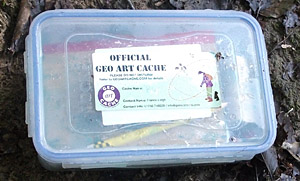 3rd August 2012 – Longbill GC3MZ3N – cache #1976
I've said this many many times before, but I do like a cache with a convenient bench nearby on which to sit and sign the log (and in this cacse stamp my booklet) and this bench had quite a good view too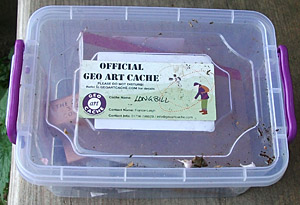 3rd August 2012 – Yaffle GC3MZ4D – cache #1977
The last cache of my walk around the woods. The Co-ordinates led me straight to it, so I didn't need to consult the hint to find the cache.
I gave a favourite point not particularly for this cache, but for the whole series, I would never have visited this wood if the caches hadn't been here and it was an nice afternoon walking around them.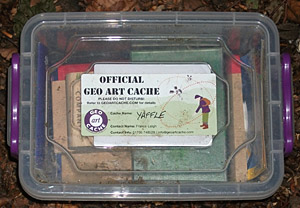 3rd August 2012 – Hackfall Wood GC2GBZZ – cache #1978
I'd had an enjoyable walk around Hackfall Wood doing the Geoartcache trail, and while there I found the necessary folly's and information to log this Earthcache