Home » Geocaching
Caches No's 1219 to 1232 – Birthday's Quakers and the Devil's Arrows
20th June 2011 – The Professor's Birthday Cache GC1CFMR – cache #1219
A damp Monday evening and I thought I would just go a little walk hopefully dodging the rain so I headed over to Addingham to do a few caches there. the first one I tried to find was the feeder cache to GC12NH1 Somewhere Else, but the place it is hidden is being used a a garden refuse tip by the locals so is full of piles of hedge clippings and lawn mowings, so I didn't really bother looking for it – I have since been given a clearer idea of where the cache is by the cache owner, so I will go back sometime soon to find it
The Professors birthday cache is first of a 3 part series where clues are given in one for the next, I found this one relatively easily enough as it shone out orange against the vegetation it was hidden in. Strangely enough although it was in a sealed tube hung in the middle of a bush the log was too wet to sign.
I didn't need the co-ordinates for the second part as I had already found it about 18 months ago as a stand alone cache, but I still had to go back and find it again as it had the co-ords for the final one of the series – Season's End – in it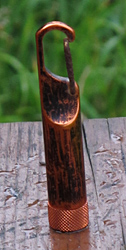 20th June 2011 – Quakers were here GCK5GX – cache #1220
A walk along the river in what started as a pleasant evening but got gloomier and progressively wetter as I went on, not too bad walking out to the cache as the rain was lighter and coming from behind me, but after finding the cache (fairly easy, hidden in some rocks at the base of a tree) I had to walk into the rain back towards the village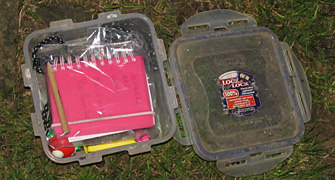 20th June 2011 – Season's End GC1CFNJ – cache #1221
I had passed near this cache on my way out to the last one, but saved it to find on the way back. When I got to the cache site I found the cache out in the open with the lid broken off and the cache container half full of water (and getting fuller as the rain came down) – another one I couldn't sign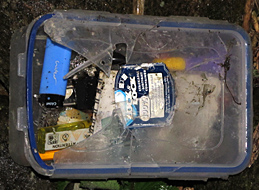 21st June 2011 – Bypassed and Forgotten about GC2N3ZP – cache #1222
After the previous evenings walk in the rain I decided that I would do some drive-by's this evening, so I headed out towards Harrogate, and to this first cache hidden at the base of a tree on the side of a footpath which used to be the old road before the Harrogate bypass was built – it's amazing how quickly nature reclaims the road which was a main 'A' road but now is cracked and broken by the weather and the roots of vegetation
21st June 2011 – A1/A59 TB Hotel GC1BA9R – cache #1223
Possibly the biggest clip lock box I have ever seen – so big that there isn't really a hiding place for it, it's just lodged in the crutch of a tree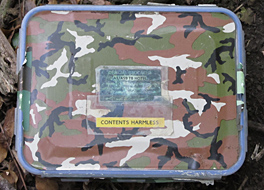 21st June 2011 – Road to Nowhere GC2WKK4 – cache #1224
It took me a while to find this cache, not just because it was in a small copse where the trees made the GPS less accurate, but mainly because I relied on the hint too much which said something about it being hidden at the base of a tree… actually hidden at the base of a tree stump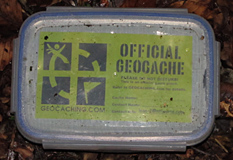 21st June 2011 – Westfield Lane GC2WKK8 – cache #1225
A magnetic cache hidden on a road side barrier. The previous logger had said this took him ages to find, he hadn't hidden it back very well as I could see the corner of the container peeking out. I hid it better !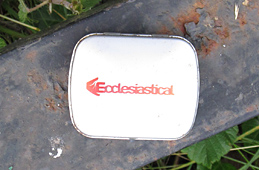 21st June 2011 – String Theory GC2C8PR – cache #1226
Another cache where you can feel a bit exposed and I did wonder whether I was being observed from the house on the other side of the road so tried to cover my actions best I could, spotted something out of the ordinary straightaway and then just had to check both end to find which one had the cache (I did get the wrong end first !)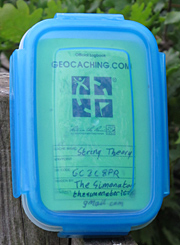 21st June 2011 – Motorway Mayhem A1(M) – J48 – A6055 Devil's Arrows GCXYH5 – cache #1227
The Devils Arrows are some ancient (and huge) standing stones on the edge of Boroughbridge, and are quite familiar to me as I used to visit the woodyard next door to them quite a bit in the 1990's. On the cache hunt though I had the misfortune to arrive just as another couple of old dears pulled up to look at the ancient monument… so I had a short conversation about the 'Arrows' and then I wandered off until they had gone then came back to quickly find the cache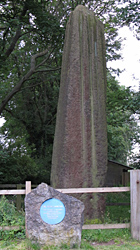 21st June 2011 – On The Way To Work No.6 Boroughbridge JT 48 GC2RW3H – cache #1228
At 9:00pm at night I had no problem pulling up next to the cache and with hazard warning lights flashing, jumping out to grab it – only one car passed me. But at busier times I don't know how you would get to this cache as it's about 20 yards from a roundabout near an industrial estate… with nowhere to park for quite a way either side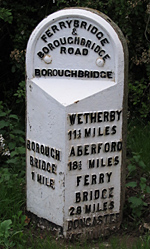 21st June 2011 – welcome to knaresborough 1 GC2T30N – cache #1229
Hidden by the Knaresborough town sign, this cache uses a baking powder pot for a cache container, which is probably pretty moisutre tight when it is stored in a kitchen cabinet, but out in the field the top had popped off the pot and the contents were a bit soggy, far too wet to sign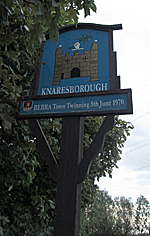 22nd June 2011 – Nessfield round No3 "Its back" GC2M60W – cache #1230
Wednesday evening and I had an hour and a half spare before my regular date with the pub quiz, so I headed out to the Nessfield Round sereis of caches to find some new ones that had been slipped in to it since I last was there in August 2010.
Last year number 3 of the series was missing as the farmer had been playing with the footpath access, so a new number three had been inserted into the loop and it was to this I headed first. An easy find under a rock behind a tree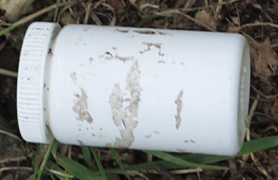 22nd June 2011 – Nessfield Round Bonus Cache GC2M61T – cache #1231
I did find the bonus cache last year, but the cache reference then was GC1E59V – what has happened is that the cache is now not a mystery cache where you need to find the co-ords from the other caches in the series but now has been relisted as a normal cache. It is however the same cache box and I signed my name next to my signature from last year !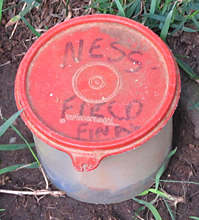 After this I didn't find GC2M2VE Nessfield round 7, this again is a new cache that replaces the old one which I found last year, having found it last year I knew where it should have been, but it wasn't there.
22nd June 2011 – Nessfield round 5a GC2M600 – cache #1232
As I walked up the track I spotted a small collection of yellow sandstone rocks sitting by themselves on the moor, it seemed obvious that they were going to be where the cache was – as there was no other cover visible … and indeed they were hiding the cache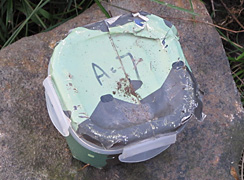 After this I didn't find GC2M60K Nessfield round 1812 reprise – Several previous cachers had logged a DNF on this one, so I didn't look too hard !