Home » Geocaching
Caches No's 992 to 996 – Micro Meander
A cold, damp and misty Saturday afternoon and I went to Knaresborough to do a little caching, the micro meander is a short walk around a riverside park which has 7 caches on it with another one that's just a slight detour from the route, perfect for a quick hour of caching (cos that's how long you get for 30p in the car park !)
20th November 2010 – Micro Meander No.1 GC1ZNR5 – cache #992
The first cache of the series is quite easy to find, being a magnetic nano hidden under a picnic table by the river, and on a wet Saturday afternoon (it was beginning to rain a little bit) there was nobody having a picnic – this must be a busy place on a sunny Summer Weekend.
20th November 2010 – Micro Meander 3 GC296FF – cache #993
The second cache in the series I didn't really bother to look for, the clue said 'don't get your knees dirty' implying that you needed to crawl around on the ground, which was cold wet and muddy – and I had my good jeans on, so that one was passed over and I moved on to number 3, hidden in the ivy on a tree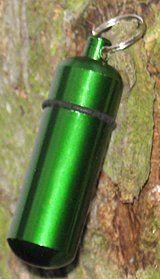 20th November 2010 – Micro Meander 4 GC2A9JA – cache #994
With a clue like 'Fence Post' it isn't hard to locate the cache. I did have to dodge a couple of dog walkers but apart from that this cache was straight forward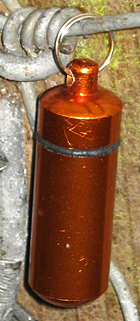 20th November 2010 – Ammo Box with a Twist GC294KH – cache #995
Before I went to find this cache I had a theory that the twist with this cache was that it was hidden above ground in a tree – and I was half right !
The GPS was pretty useless as the cache is in a wood, so I went off the path and started searching around the trees to see if I could locate it, having to stop a couple of times and walk away to divert attention off myself from even more rainy wet dog walkers. But I couldn't find it – or anywhere near big enough to hide one.
So I thought it must be a miniature ammo container, and then I looked around for a stick to poke into holes to see if I could detect the cache, but even in a wood loose sticks are hard to find, then I spotted one stuck in the fork of a tree, reached down to pick it out and found that the tiny ammo box cache came with it ! so really this was an accidental find, even though I had worked out where and what the cache must be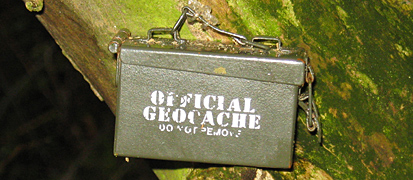 Cache number 5 has eluded many cachers (in the past 4 months 17 out of 25 logs are DNF's and I guess there are probably others like me who didn't DNF it). The hint says something about an alternative cash point – so you are thinking hole-in-the-wall – but then the description says don't dismantle the wall 'near' the GZ.
The description also says something about not getting stumped, so there may be a tree stump somewhere about, but there were so many wet leaves covering everything that it was impossible to see anything on the ground off the path – I'm thinking now maybe that I should have been looking for something with the letters ATM on… I'll go back when it's a drier day !
20th November 2010 – Micro Meander No.7 GC1ZPDH – cache #996
Cache number 6 I also had to miss out on due to there being an occupied car sitting about 6 feet from where I assume the cache must be, so I left that one until another time as well and proceeded on to the last of the series, which was an easy find on the back of a sign in the car park.
All in all not a particularly successful caching expedition, with only 5 of 8 caches found.