Home » Geocaching
Caches No's 961 to 984 – Driving Back From Norfolk
Monday morning, the (rather drunken and lack of sleeping) weekend over and it was time for the drive home, via another leg of the Skeg to Ness route and some more caches. I went from Kings Lynn up to Boston and then onto the StN route at the delightfully named village of Mavis Enderby
8th November 2011 – Skeg to Ness #12 GC21VHY – cache #961
The first cache I stopped at was about a mile further down the road and was a letterbox cache, I've never been sure what a letter box cache is, some older form of similar pasttime to caching where you had a rubber stamp hidden for the 'cache' and stamped your letterboxing book accordingly. It just seemed like an ordinary cache to me, hidden under stickoflage in the base of a tree in a little copse, easy enough to find and if there was a rubber stamp in it I didn't notice it
8th November 2011 – Skeg to Ness #13 GC219TG – cache #962
The hint for this cache said 'post', as I got to the place where it was I could see a gatepost with a solitary bright yellow lump of sandstone leant up against it, no doubt where the cache was !
I realised at this cache just how windy it was, as the logbook blew out of my hand cos I wasn't holding it tightly enough !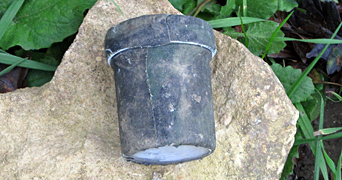 8th November 2011 – Skeg to Ness #16 GC216YB – cache #963
A nice hide, he cache is hidden in a hole carved into the bottom of a section of tree stump, I do prefer the caches like this where some effort has gone into the camouflage. To a cacher it's obvious where the cache is, but to anyone who is just passing (which will be hardly anyone but the local farmer) it just looks like a bit of log left in the bottom of a hedge when the hedge was trimmed back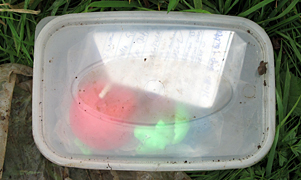 8th November 2011 – Skeg to Ness #18 GC216YG – cache #964
So theres this cache, magnetic, the clue says, and there's this signpost which is the only metal thing for yards around, and it's opposite the driveway of a house. So I pull up onto the verge beside the signpost, and get the cache, and just as I am fiddling around putting the cache back a car not only comes along the road, but slows down and turns into the drive right opposite where I am. Not wanting to be questioned about why I am suspiciously hanging around outside the car drivers house I jump into my car and get the hell out of there !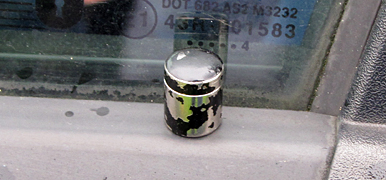 8th November 2011 – Skeg to Ness #20 GC216YM – cache #965
A straightforward find following the cachers path to the base of a large tree here the cache was hidden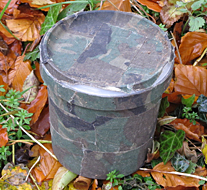 8th November 2011 – Skeg to Ness #27 GC216Z9 – cache #966
The clue said 'post' gate post ?, sign post ?, telegraph post ? – there were all of them to choose from, but the cache wasn't hard to find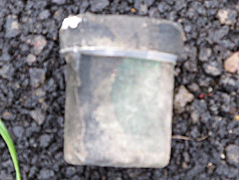 8th November 2011 – Skeg to Ness #28 GC211N0 – cache #967
Another magnetic nano on the back of a signpost, easy enough to find

8th November 2011 – Skeg to Ness #29 GC211NF – cache #968
A decaying tree stump, together with a clue that says 'what a rotten hint' leads to an easily found cache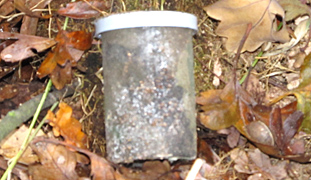 8th November 2011 – Skeg to Ness #30 GC216ZF – cache #969
No clue given for this cache, but as at the co-ordinates all there is is a grass verge and a telegraph post it was fairly easy to find the cache under the stone at the base of the post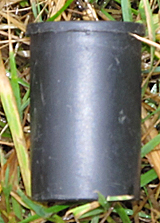 8th November 2011 – Skeg to Ness #32 GC216ZN – cache #970
Another cache with no clue, this time at the co-ordinates was a public footpath sign with a cache hidden at it's base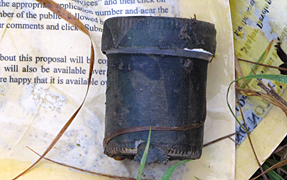 8th November 2011 – Skeg to Ness #34 GC216ZQ – cache #971
Another gateway to pull off into and a clue that said 'base of post' after looking round both the overgrown gateposts (including getting my walking pole out to beat down the nettles and brambles) I found nothing… so I widened my search to the next fence post and found the cache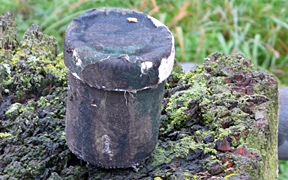 8th November 2011 – Skeg to Ness #39 GC219K9 – cache #972
I missed the turning for the road that this cache is on, well I ddn't so much miss it as see a potholed muddy lane with grass growing in the middle and assume it was just a farm track – but no, it was the next part of the route. The cache itself was well hidden, the clue said 'end of pipe' there were several bits of pipe about – I think they were mainly bits of the railing from the bridge that took a side road to the sugar beet factory over the stream. but this entrance to the factory is now blocked up and the railings separated from the bridge and lying in the grass. I searched around a bit and spotted a thin wire coming out of the end of one of the bits of pipe, attached to the end inside the pipe was the cache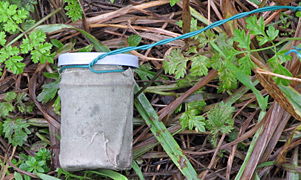 8th November 2011 – Skeg to Ness #42 GC219MA – cache #973
I couldn't really believe what happened at this cache. I'm going down this deserted country road that basically goes from nowhere to nowhere, and a 4WD comes up behind me, so I pull off into a farm track that goes down through a field and pretend to be on my phone while the car passes, then another comes along, then a huge great caterpillar tracked articulated tractor comes along and inches past at it's top speed of 5mph covering the road in mud (the place is basically a marsh, so they use these tracked vehicles to plough the fields as the tracks spread the weight enough to stop the vehicle sinking into the mud) Then when this had passed I got out to find the cache, which was not nice on a nasty wet day as it was hidden inside a discarded builders glove, the elasticated cuff was muddy and wet and horrid ! Anyway I sorted the cache out, got back into my car and not only did another 4WD come along the road, but a second 4WD came up the farm track behind me, fortunately I think I was in my car before he got close enough to see what I was at, so I went down the road and soon caught up with the caterpillar tracked machine, and we proceeded in convoy at 5mph for the next two miles.
No chance of stopping for the next caches as I was stuck in the middle of a convoy of farmers !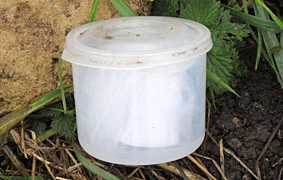 8th November 2011 – Skeg to Ness #48 GC219N9 – cache #974
I was driving along a narrow lane getting nearer and nearer the cache co-ordinates and the road was one car wide with tall hedges close by either verge, then suddenly one side of the hedge opened up into a grassy verge and I pulled off the road to get the cache. An easy cache to find as the clue said 'wooden post' and there was only one around !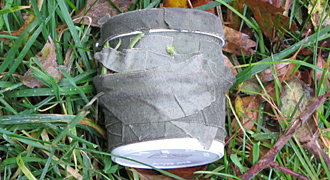 8th November 2011 – Fields of Daffodils GC1FYVV – cache #975
A cache hidden under stile taking a public footpath into the fields, a nice easy find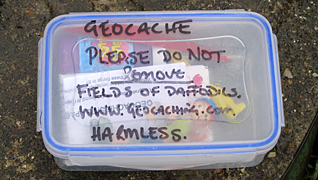 8th November 2011 – Skeg to Ness #49 GC219NE – cache #976
Another of the caterpillar tracked tractors was ploughing the field by this cache and had churned up the gateway to a total mud pit, no way was I going to try and park there, so I just pulled up on the road. The clue for the cache said 'pull the thin green line' and I could se out of my window when I stopped a green wire looped over the top of one of those tubes they use to keep rabbits from eating saplings when they plant them, so it was a quick jump out, pull the line, get the cache, sign the log, photograph it and replace the cache before any other car came along – as they wouldn't have been able to get past me in the middle of the road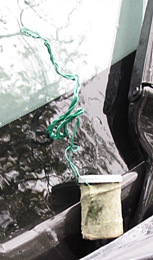 8th November 2011 – Eight Elephants GC1G3RV – cache #977
Eight elephants seemed to me to likely mean eight trunks of trees, it actually meant one large multitrunked (well 8 trunked) tree stump, with the cache hidden inside a hole in it, and the cache itself a 35mm film container drilled into a piece of log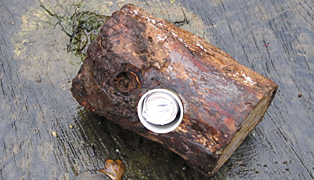 8th November 2011 – Skeg to Ness #52 GC219P0 – cache #978
A nice easy find as the camouflage didn't fool me a bit seen as there seems to be a lot of 35mm film cans hidden in holes in sections of logs around here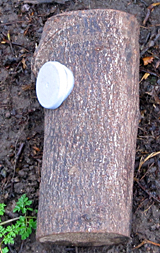 8th November 2011 – Skeg to Ness #57 GC219PG – cache #979
I now got to the A15 where I had turned down to Sleaford on my journey three days earlier, so from now on I was going back over the route I had previously cached along – this tiem however I was going in the 'right' direction for finding places to stop on 'my' side of the road, so caches I had not stopped at earlier because of parking issues were what I was looking at doing from here on. The first of there was down a very narrow winding country lane, fortunately with a gateway to pull off the road into, as otherwise if you stopped on the road no-one would be able to get past. An easy to find cache hidden in a hole in a concrete building block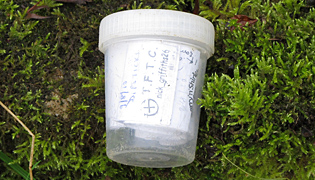 8th November 2011 – Skeg to Ness #63 GC23Q6Y – cache #980
A relatively easy find in the hedge bottom with a gateway to pull up in, the thing was it was pouring with rain and the wind was whipping through and there was a vast number of lorries thundering past down this country road creating loads of spray and making it a rather unpleasant place to be (I assume it's a rat run to avoid the traffic in Lincoln which is only 3 or 4 miles away)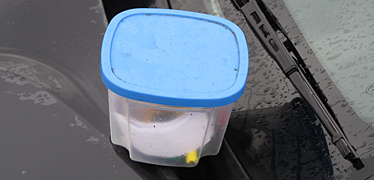 8th November 2011 – Skeg to Ness #66 GC22448 – cache #981
When I was driving down towards this cache I was looking at Memorymap and this seemed totally weird, the co-ordinates seemed to be in the middle of a field, so I passed by without taking too much notice. But on the way back I realised that there was a new bridge taking the road I was on over the main A road, and rather than being in the middle of a field, the cache was on the side of the new bit of road. And there was a gateway into the field where I could pull up right by the cache co-ordinates. I was a bit flumoxed by the clue, which just said "Shhhh!" until I got to the co-ordinates where in the
hedge bottom was a dumped car silencer, and underneath was the cache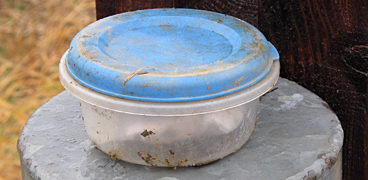 8th November 2011 – Skeg to Ness #68 GC2244K – cache #982
A clue that says 'under the lean to' is a bit vague, at the layby where the cache is there are no buildings, so that potential meaning was out, there were however several fences with posts supported by angled rails, so it seemed likely to me that the cache was hidden under one of these, it had obviously seemed likely to previous cachers as there were cachers trails leading to all the possible fence posts, but I found the right one and the cache eventually.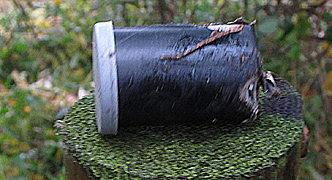 8th November 2011 – Skeg to Ness #81 GC23Q8G – cache #983
There had been no chance to get to this cache on the way down as it was on the wrong side of a very busy baypass around the village of Newton on Trent, going the 'proper' way however I was on the right side of the road to pull into the farmers track that led up the embankment and through the gate into the field. The cache was hidden by stickoflage under the fence next to the gate at the top of the track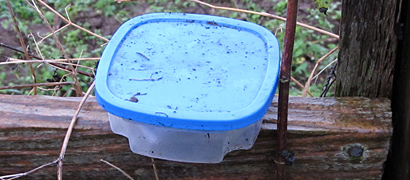 8th November 2011 – Bothamsall Castle GCXVKR – cache #984
The last cache of my journey and one I had passed up going the other way for lack of somewhere to park, this time I spotted a convenient gateway and parked there, a quick walk along to the cache and I found it as expected down behind a fence post