Home » Blog
Tenerife – Saturday
Saturday morning started with the local tourist Rep coming and giving us the 'Welcome Meeting' – I don't think she was quite prepared for a meeting with an audience of 28 people – all of whom were in one party and knew each other ! Then we wandered off to explore Los Cristianos. We were just over half a mile from the sea, in an area of Hotels, in the town centre by the harbour there are shops and restaurants, and then there are beaches. How much of the beach is genuine and how much is imported sand protected by man made breakwaters I don't know, I suspect a lot of the latter.


Playa De Las Vistas
We went for a paddle in the sea, the sand was too hot to walk barefoot on the dry parts, there are signs all along the promenade giving temperatures they said things like 31°C all week, which is 88°F. (At night they usually said 22°C, 72°F) It was 1:30ish now, and not having had any breakfast we were getting hungry, and hot, so we headed into the nearest bar for something to eat… Full English Breakfast seemed just the job. 2 Sausages, 2 Rashers of Bacon, 2 Eggs, a Hash Brown, Beans, Tomatoes, Mushrooms and 2 slices of Toast, all for €2.95… including a free half litre of lager. Okay it was only the local brew, Dorado, but it was not much different to San Miguel.
What is it with girls and shopping ? Someone needed to go to a chemist or something so we went into a shopping arcade and the handbag and shoe shop was like a magnet drawing Katherine in… It was about this time that the numbers in our group started to dwindle as people went off to do their own thing, some went back to sunbathe on the beach, Paul and Adam went off to book scuba diving sessions and other people just disappeared ! When Katherine emerged from the bag shop, (with a fake Gucci bag that soon was found to have a dodgy zip) we walked back along the promenade stopping for ice-cream and cocktails before heading back to the hotel… (Okay, the walk back was punctuated by nipping into bars to catch the ongoing football scores, as it was the Man City v Arsenal game live on Satellite, rather amazingly the score ended up 4-1 to the mighty City, much to my satisfaction and Gary's dismay)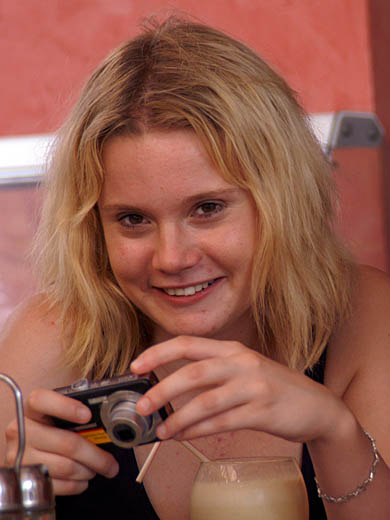 Katherine
In the evening we made a collective decision to go to Playa de las Americas, 28 of us, 7 taxi's and we're all there. However 3 decided to stay local and do there own thing and so the rest of us fought for taxi space leaving Paul left on his own… he decided apparently to walk the 3 miles, but met up with the three renegades and stayed with them, though whether they were entirely happy with his intrusion is another matter. The rest of us persuaded a restaurant to rearrange the tables so we had a table of 16 and one of 8 on the promenade overlooking the seashore… a nice place to have a nice meal, except that we were harrassed constantly by Africans (Senegalese and Gambian) trying to sell us fake watches and sunglasses, and Chinese tryng to sell us all sorts of crap. We were joking that we had the whole extended family of Chinese, as we had both male and female age ranging from late teens to pensioners… it got a little irritating after a while because as soon as you had got shut of one of them from one end of the table another arrived at the other end.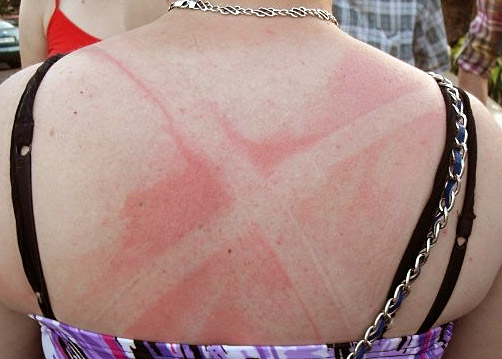 After just a day and a half in the sun Vicky had the X-Factor !
After the meal we went round to a bar… the chap outside promised the first of us two drinks for €5 as well as free champagne and shots of (watered down) schnapps. When he realised there were 24 of us he didn't have enough room and so got the minimarket next door to take their display stands off the street and put more tables out there (I guess the businesses are owned by the same person !)
After a drink or two Katherine decided that she would start acting provocatively with Pete, which surprised his partner Marietta, but she soon joined in Pete thought he was in for a threesome ! and the three of them carried on that way for the rest of the week really.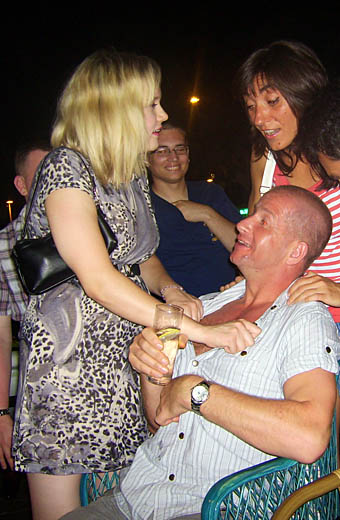 Pete, with Katherine and Marietta… lucky guy !
Another bar, more drinks, and it was 3.30am. Several people had drifted off back to the Hotel by now and for some strange reason Katherine and Marietta were determined to go into the strip bar, so the two of them Pete and Mark and a couple of others went there leaving Jane, Gary and I to make our way back to the Hotel. I have to feel sorry for Jane here, a taxi back would have only been €2 each, but maybe we were a bit stereotypical – Gary being Jewish and me being a Yorkshireman (definition of a Yorkshireman – a Scotsman with his generosity removed) decided that we would walk the two and a half miles back along the seafront to Los Cristianos and then another 3/4 mile back up to the hotel.
We got in at about 5.00, just a couple of minutes after the others had got back in their taxi from the strip club. Mark apparently had fallen asleep in there, Pete had been dancing with the girls, and one of the others (no names but they know who they are) had spent the €20 for a private lap dance…
Tenerife Holiday – click on a day to find out what happened
Friday 11th
Saturday 12th
Sunday 13th
Monday 14th
Tuesday 15th
Wednesday 16th
Thursday 17th
Friday 18th