Home » Geocaching
Caches No's 4642 to 4655 – Not Unlucky in Southport
Next day Jen and I headed for the seaside – well with a team name like 'Life's a Beach' is it any wonder we often find ourselves at the seaside ?
The seaside in question this time was Southport, I haven't been to Southport since 2000, and that was for work purposes rather than sightseeing, for tourist stuff I haven't been since about 1971 and the seafront has changed a whole lot since then
30th December 2018 – A roundabout a dozen Flower show. GC18WEQ – cache #4642
Came to the GZ… had a bit of a 'huh !' moment when reading the hint, 'behind tree' as there were no trees, but we soon found where the tree used to be !
30th December 2018 – A roundabout a dozen Pleasure Beach GC18WE0 – cache #4643
We found ourselves on the wrong side of the railings so much to Jen's amusement I climbed over them to get to the cache, it seemed quicker than it would have to walk round
30th December 2018 – Trans Pennine Trail – Western End [S Lancs] GCE088 – cache #4644
I thought it was only a couple of years since I was in Hornsea at the virtual cache at the other end of the trail, but it seems that it was May 2015… time flies !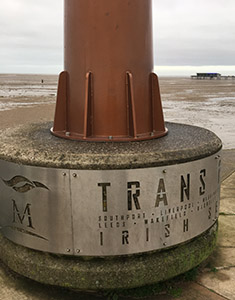 30th December 2018 – Virtually On The Beach (Southport) GCEED9 – cache #4645
We like a nice walk on a sandy beach and maybe a paddle… but there was no paddling and not much enjoyment walking on the slippery mud of Southport !
30th December 2018 – Lets Work Out GC5NBM9 – cache #4646
Managed to crack my head on the railings while getting up after retrieving the cache… I got more laughter than sympathy !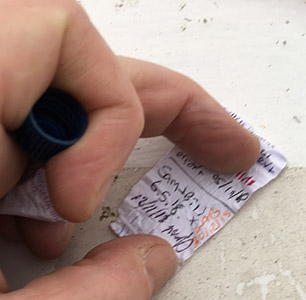 30th December 2018 – A pierfect view… GC7GNZ5 – cache #4647
Using the undone shoelace trick I was able to get low enough to see the cache, and a broken wire in the fence mesh allowed access to the cache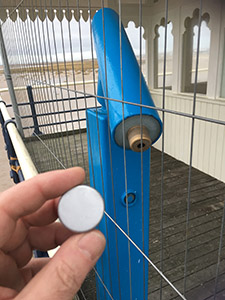 After this we didn't find GC6020D One for the day grid – Peering around, We didn't find the cache… a bit like looking for a needle in a haystack.
Though if we'd seen the photograph on the log from 7/1/18, and the cache is still in the same place we might have been able to spot it !
30th December 2018 – 5 – Lake View – Mill View GC41NDX – cache #4648
Found the container quickly, but it had no lid, and we were unable to extract the log, even with tweezers. Took a photo in lieu of signing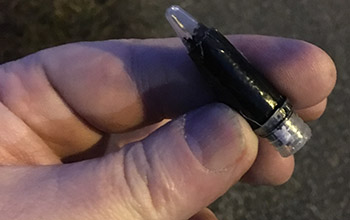 30th December 2018 – 6 – Lake View – Island view GC425X8 – cache #4649
Not the easiest cache to find in the dark, especially when the phone was wanting us to look at the wrong side of the gully !, but eventually the torchlight picked up the line securing the cache and we could reel it in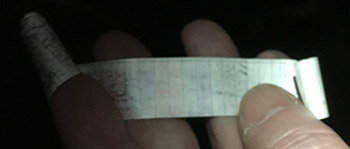 After this we didn't find GC68BPZ Mr Sad, Not the sort of place I really want to hang about looking for a cache when there are several people coming out of the pub for a smoke. We looked in the obvious places but didn't come up with the cache
30th December 2018 – 7 – Lake View – Pier Troll GC426Y5 – cache #4650
Took a bit of finding in the dark, but eventually it was spotted and grabbed – though unfortunately not photographed
30th December 2018 – 9 – Lake View – Fountain GC426Z0 – cache #4651
As we walked towards the cache we were followed by a gent who was obviously much the worse for drink and from his looks was either a rough sleeper or was in a hostel somewhere… We were concerned that the cache would be on 'his' bench, but fortunately he was happy to go to the next one along leaving us to find and sign the cache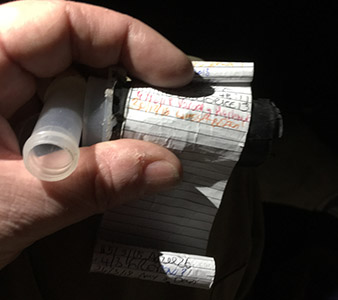 30th December 2018 – Splash GC1WQ2E – cache #4652
A nice quick find that we had already walked past twice not realising it was there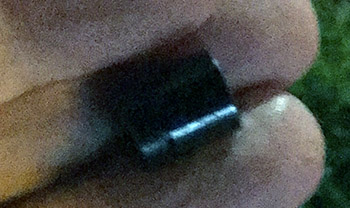 30th December 2018 – Groovy Train GC7GY2X – cache #4653
Not the easiest cache to find in the dark, fortunately the 'torch' app on Jen's phone was just bright enough to see by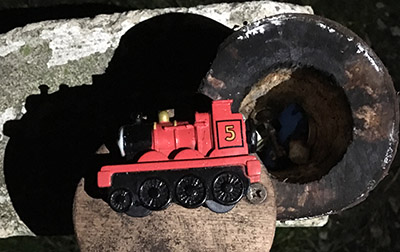 30th December 2018 – 8 – Lake View – Take a seat and enjoy the view GC426YN – cache #4654
Walking towards this cache in the dark we were at first confused as to where exactly the 'seat' was as there didn't seem to be one at the side of the path… but we soon realised where we had to go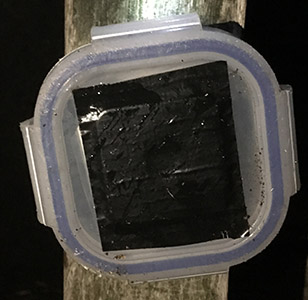 30th December 2018 – Spend a Penny GC4WNA1 – cache #4655
We were on our way home from an afternoons caching in Southport when we realised we had found 13 caches… not wanting to end the day on an 'unlucky' number we stopped off for this one, which was an easy find