Home » Geocaching
Caches No's 4557 to 4560 – New Places in Skipton
Just before the Mega my Boss passed away, he died of a Sepsis infection caused by a cat scratch. Anyway as he was the owner and sole director of the firm we couldn't carry on trading and while I was at the Mega the business was shut down.
So I had some time to fill and rather than just sit around playing on my computer I went out walking to get 10,000 steps a day in, and of course doing these steps while caching was more fun than just tramping round the streets
10th September 2018 – BR Otley trail #5 GC7WHY2 – cache #4557
A nice walk along the old railway line… I first moved to Otley in 1966, just after the line had closed, the only train seen on the track by any of my family was that lifting the rails (I was only 2 at the time so don't remember it myself)
11th September 2018 – Skipton Calthemites. GC79YHX – cache #4558
I've never been down under this bridge before, but I was directed here for an earth cache. One of the questions asked what colours can you see on the walls ? – well as my photo shows you can see blue and red and orange !
11th September 2018 – Sandy Goit and Eller Beck GC5Y7P4 – cache #4559
Straightforward enough find, had to pretend I was texting someone to avoid one inquisitive walker on their way past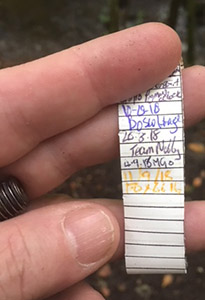 11th September 2018 – Pond Life GC3WXFT – cache #4560
Another cache where I had to be subtle to avoid the gaze of the woman sitting eating her sandwiches on a bench across the other side of a pond in a place I didn't know existed.