Home » Geocaching
Caches No's 4345 to 4350 – More Events Mainly
Events, 2017 continues with my caching being mainly limited to events or caches at / on the way to events.
The next of these was World Wide Flash Mob Day… I've been to many of these, the day seems to vary tremendously – I remember that one was on Star Wars Day (May 4th) so that was 6 weeks different to this, even Easter can't vary that much. I wonder who chooses the day and what logic they use for it ?
10th June 2017 – WWFM XIV – Wear Purple in The Park for Yorkshire – GC73KW2 – cache #4345
Not sure whose idea it was to arrange an event during the second half of the England v Scotland World Cup qualifying match, but there were plenty of attendees in purple in the park
10th June 2017 – Sticky Problem in Ilkley – GC63MFP – cache #4346
When the nearby Flashmob in the park was arranged I thought we could probably get together the equipment to retrieve this cache.
I have been aware of this cache since the CO placed it – I watch the CO's you tube videos and I work in Ilkley and it is my car under the lampost in the video of the cache being placed as I park there every day !
Putting the cache back required a it more control of the pole than getting it down – we didn't fancy throwing it up !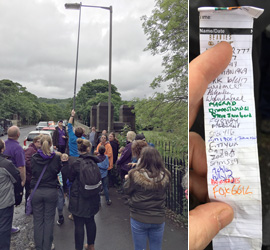 30th June 2017 – Firefox.3 & Big Fish's Fun & Frolics Camping Event – GC750A4 – cache #4347
Camping… I go camping one weekend a year and have done for many many years… and previously I have been on camping holidays… but I'm getting older and so I don't go camping at geocaching event's –
However many other cachers do camp, or at least have caravans / motorhomes and so there are many camping events throughout the summer including this one that Firefox.3 organised in Holmfirth.
I didn't camp, I just popped up for the evening… by the time I left I did appear to be the only sober one around – so obviously a good time was had by all !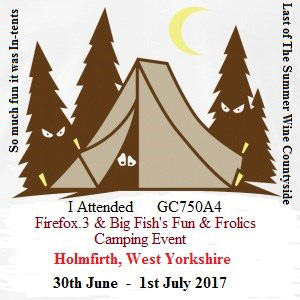 16th July 2017 – Meet The Yorkshire 2018 Committee – Marsden – GC789TJ – cache #4348
Yes it was really an excuse to go to an Escape Room in the morning, we were so quick at getting out that they let us do the second room they have there for free… and that took us longer but we escaped.
But in the sunny afternoon we had an event in Marsden and there were loads of purple people in the pub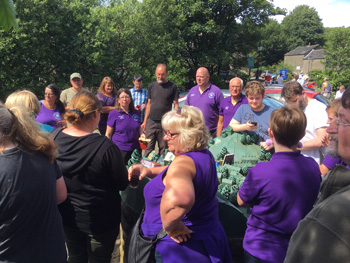 16th July 2017 – Mini Marsden – GC78ZW7 – cache #4349
Signed while at the event – before the cache was published, and despite the CO being only a few yards away she didn't realise 20 or so people had signed it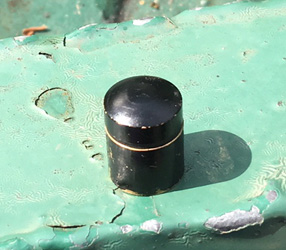 21st July 2017 – Ilkley has stalactites ! – GC74DB2 – cache #4350
I work in Ilkley so have been meaning to go and see about this cache for a while, Friday evening I had to go to the Post Office so took the opportunity to walk across to Wells Walk and see this unexpected phenomena