Home » Geocaching
Caches No's 4043 to 4048 – May Caches
2016 was turning out to be my slowest year for finding caches – I'd started off well, 54 caches in January was by far my best year ever, but things rapidly went downhill in the next 3 months. I just couldn't motivate myself to go out caching alone so had really only found caches when I had been with other people. I had bought a fitness band to count how many steps I was doing and it was averaging about 8K a day. When I was away in Wales for the All things Welsh event I decided that I needed to set a target of 10,000 steps a day, which I thought may give me the motivation  needed to out and doing more caching, but it didn't really work like this. Instead I was taking a 1.5 mile walk up and down the river bank back to my car when I left work and not going caching –  there are not that many caches near to home, and so it would be an expedition to go out every evening to find a cache, walking along the river is easier and gets the steps in.
3rd May 2016 – Gruffalo Woods – on the right path 4a  GC6GYEP – cache #4043
I'd already done the rest of the series but had to return to do this cache. It was about here I saw the Roe Deer on my previous visit (see my log for Number 5 from 24/4/16)
As with previous finders my GPS was putting the co-ords about 20mtrs away from the cache, but using the description I looked around for a tree that a six-year old could climb and from that quickly located the cache
3rd May 2016 – Take a seat at Fewston GC6GYFB – cache #4044
I'd just been to find the new cache at Swinsty Reservoir so thought I'd get this one after…Decided not to walk as it was getting late and beginning to get dark so I drove round from one car park to the other and soon had the cache in hand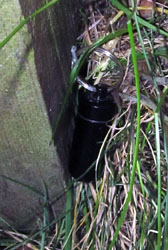 9th May 2016 – Meet the Yorkshire 2018 Committee – North Yorks. GC6E1DM – cache #4045
The North Yorks leg of our 'Meet the Committee' tour was held in Ripon – Thanks to everyone for coming and making it a successful event. After the event the Committee decided they needed to go and find a particular trail of caches that they had heard good things about – The Gruffalo Woods trail… so I went with them and walked round the woods for a third time in a fortnight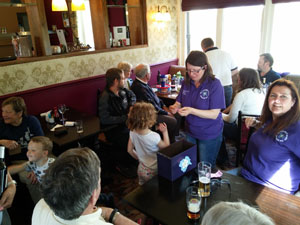 21st May 2016 – Come Camp With Me – Yorkshire 2018 Roadshow GC6BPDJ – cache #4046
Bev had organised a camp in Whitby, there are many on the committee who love camping, except they don't really mean camping they mean caravanning… which isn't something I can join in with. I was intending to drive up and spend the whole day in the area, but then the boss asked me to work Saturday so it turned into a visit for just the evening event
But as I won a couple of nice prizes in the raffle it was all worth it !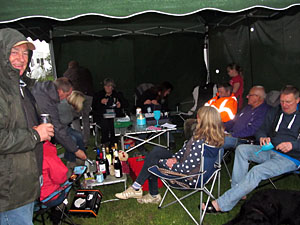 21st May 2016 – Ye Ole Survey Monuments GC45CC – cache #4047
This time logging YSM624 Glaisdale Rigg
This should be a nice easy find, after all it's a roadside pillar…. but the road is a very minor one over the North Yorks Moors, and the night was well pretty awful, heavy rain and a heavy mist / low cloud, so at times it was very unpleasant driving, couldn't see a thing and the puddles were so deep they caused aquaplaning even at low speed… and then there are the sheep on the road… And you do wonder when the next car will come along if you do get into difficulty…
Still it was only 3 feet from the road so I didn't have to be out of the car for long
25th May 2016 – A Dog's Life GC5T8KM – cache #4048
Another Bank Holiday Monday, I had intended to go to Golden Acre Park and find a cuple of new caches that had appeared since my last visit, unfortunately even though the weather wasn't brilliant everyone else in Leeds had decided to visit the park so one cache was just not going to be available due totoo many people around. So I headed across the other side of the road to have a walk around the pond in the rain… The cache wasn't too easy to find as the GPS was jumping around a bit under the trees (wet leaves are worse than dry leaves for blocking satellite signals) and the hint was good, but there are more than one 'Large Tree with Graffiti' around !