Home » Geocaching
Caches No's 3684 & 3685 – Ye Wakeman Waketh In Vain
There is a Virtual Cache in Ripon, that is one of those caches that I have meant to get round to for ages, well years in fact. But it is a very different type of cache to even other virtuals in that it involves doing the cache at a specific time of day – 9:00pm and it inolves interaction with a human.
Ripon though is just too far away to make an evening visit just for the cache, so when Eee bi Gum put forward the idea of an event that afforded us chance to get the virtual as well it was an obvious "two birds with one stone" reason to have a trip to there one Friday night.
5th June 2015 – Ripon Cache Meet – Somer't to do with an 'orn GC5VAKW – cache #3684
I think Ripon is a bit behind the times… about 3 minutes behind the times – as 'Er Indoors insisted on waiting for the Town Hall clock to show 8:45 before the event began and that was 8:45 by any clock showing BST.
You can tell the event started late as Richlay had arrived in time for it, and Mickey & Dave and Uggy had got out of the pub in time for the beginning too !
All we actually did for the event was stand around chatting until time for the Virtual to begin.
Afterwards Richlay, the CO's and myelf retired to the Unicorn – a reasonable sized Wetherspoons with just two lethargic bar staff… we waitied so long the Richlay bought two pints as he'd queued long enough to not want to do it again !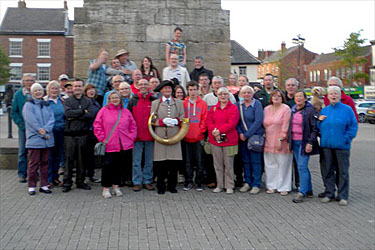 5th June 2015 – Blow your horn !  GCH94D – cache #3685
The Wakeman sets the Watch in Ripon every night… 7 days a week, 365 days a year, for the past 1129 years
I'm not sure the Wakeman is used to crowds quite so large, but he managed to cope well and probably talked for a lot longer than he usually does as well before he headed over to the Town Hall to inform the Mayor that the Watch was set… for something like the 412,360th day in a row that's a lot of days for a tradition to carry on – especially when even the citizens of Ripon accept that the Wakeman is of little use if God does not watch over them as well – as the motto on the town hall says "Except ye Lord keep ye Cittie ye Wakeman waketh in vain"