Home » Geocaching
Caches No's 3500 to 3515 – Team Something or Other
For the night caches Team Cachemag joined together with a couple of Adam's friends – Mr Wizz and his fiance Walk on the Wildside. For want of a better name we called ourselves Team Something or other. We did start off with a larger group, a few others who dropped off along the way round. Mr Wizz had worked out the optimum order to do the caches in so we left the navigating to him… which may not have been too wise as his reputation for taking the wrong path preceeds him !

25/10/2014 – Pennywise GC5ENHM – cache #3500
I won't say we signed it as there was no log book or log book container available (and lots of people looking for it)
38th of 53 caches found on the day, our first of the night caches… and my 3,500th cache
25/10/2014 – Thriller! GC5ENHQ – cache #3501
The cache figure dances to Michael Jacksons tune, hence the name… We did have Adam (UKCacheMag) with us for Pennywise and this our 2nd night cache, but then he got lost… whether caught by monsters, distracted by young ladies or just too plain scared to continue he never did tell us !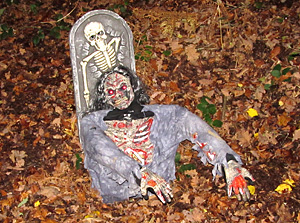 25/10/2014 – Witch Child GC5ENJ6 – cache #3502
Strangely our route from Thriller to Porridge took us in a big circle back to Thriller and then here to Witch Child before we got to where we were heading for… do we blame the evil spirits for hexing the GPS's ? or just blame Mr Wizz for his renowned crap navigating skills ? (one of his many nicknames is 'Wrong Radar')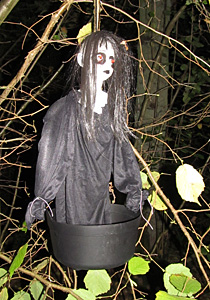 25/10/2014 – Porridge GC5ENJ4 – cache #3503
Those who hadn't been to the Halloween event before were wondering what a bowl of oats boiled in milk had to do with Halloween, but they soon found out as they were ranted at by the cache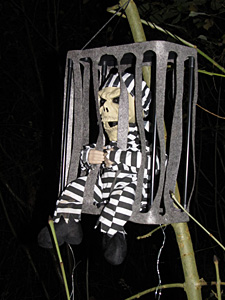 25/10/2014 – Sink or Swallow @ Wakerley GC5EK2E – cache #3504
The Mega Events EarthCache which Angel78 and myself found while going from one night cache to the other… couldn't really see a right lot as it was night time
The cache is all about sinkholes of which there are several in the woods and surrounding area
Our answers to the three questions were as follows
1. What are the approximate dimensions of the sink hole?
Approximate width is from here to the tree on the other side
approximate depth is from here to the bottom
2. Do you think this Sink hole was naturally forming or artificial?
Most likely natural, but round my home area there are lots of 'holes' like this left by WWII German SC250 bombs that missed their target of the Lancaster bomber Factory at the nearby airfield… so it could be man made
3. What can you see (or not see) nearby to justify your answer to Q2?
I can't see anything much. it's pitch black !
but to justify my answer to 2 I can't see a JCB, or any spades, or any bomb shrapnel
4. Please post a photo of you at GZ (optional)
Here's a picture of the GZ, best I could get at the time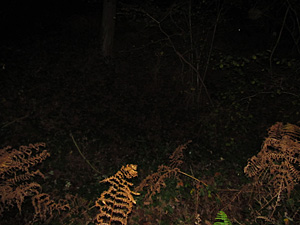 25/10/2014 – Clowning around GC5ENJ0 – cache #3505
What is it about clowns that turns them from funny to scary ?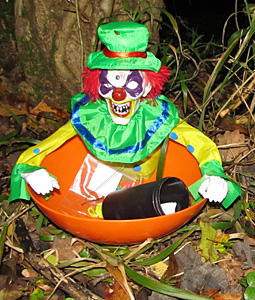 25/10/2014 – Mouldilocks GC5ENHW – cache #3506
A skeleton in the woods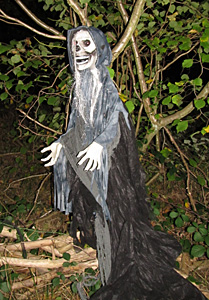 25/10/2014 – Fallen Angel GC5ENJ1 – cache #3507
Another skeleton in the woods !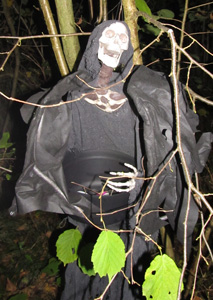 25/10/2014 – Stone Me! GC5ENHR – cache #3508
Definitely a look of Mrs Thatcher about this gorgon…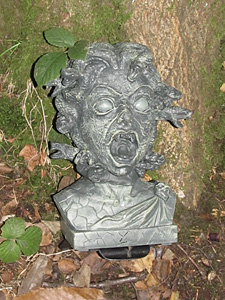 25/10/2014 – MEGAPHOBIA GC5ENHV – cache #3509
Some caches draw quite a crowd, and this 6ft spider high in a 30ft web up in the treeswas one of them… now if they could have rigged it so that the web dropped down onto the onlookers the spider could have had quite a feast 🙂
Deserved Favourite point awarded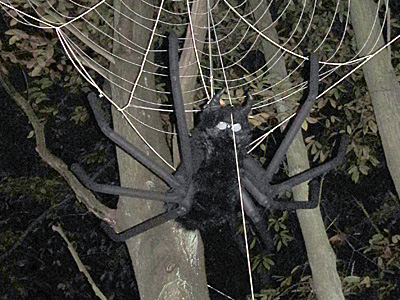 25/10/2014 – Fright Light GC5ENHF – cache #3510
A bad cache to get to, a narrow muddy path, climbing over fallen trees, venturing into the undergrowth to avoid the deepest mud, not my normal mud avoiding type of caching at all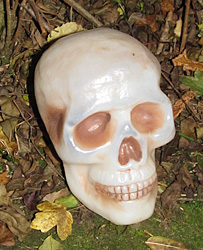 25/10/2014 – Barrel of laughs GC5ENHG – cache #3511
At least most of the paths in this part of the wood were concrete and not thick slippy mud !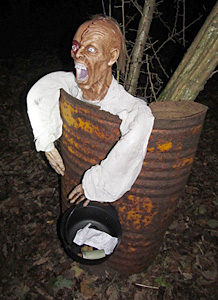 25/10/2014 – Like a Bat out of Hell GC5ENHY – cache #3512
I wonder how many of the finders (over the age of about 30) were singing the song to themselves… we walked on adapting Meat Loaf song titles to fit in with caching…
I would do anything for a cache – but I won't do that
(DNF'd one but) Two out of three ain't bad
Cache sites in the rearview mirror may appear closer than they are
etc. etc.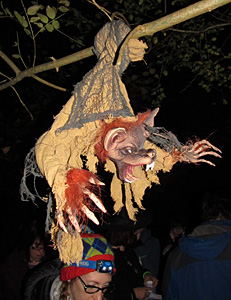 25/10/2014 – The Hag GC5ENJ3 – cache #3513
I was impressed by the dark skies in the wood, the stars were very clear and I nearly tripped a couple of times as I was walking staring at the sky rather than where I was going !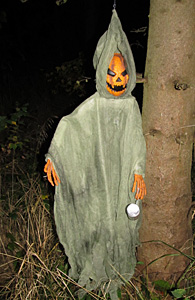 25/10/2014 – MEGA HERTZ GC5ENHH – cache #3514
Some caches are really worth more than one favourite points, though as a rule one is all you can give them. Happily Mega Hertz can now have a second favourite point from me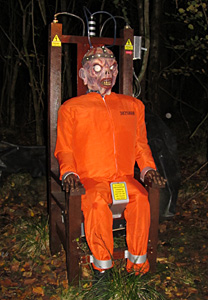 25/10/2014 – Maiden Northampton GC5ENHK – cache #3515
I gave this cache (in it's original form) a favourite point two years ago, and it is just as good in this incarnation, and worthy of another favourite point
Due to injury I have not been able to do that much caching in 2014. but finding 53 caches on the day which makes it by far my best caching day of the year (and actually my second highest finds per day ever) and I walked about 11 miles in total which is also by far the furthest I have walked (well, actually limped) in a day this year.