Home » Geocaching
Caches No's 3377 to 3387 – The Seven Souvenirs Of Ayr
Last August Geocaching.com came up with this idea of giving you a 'souvenir' (basically a virtual sticker on your GC.com profile) for every day in August that you found a cache… this was stupid as far as I was concerned so I deliberately cut down on caching during August 2013 to avoid getting these souvenirs.
This year for the August promotion they ran a thing called "The Seven Souvenirs Of August" to wit – "Find specific geocache types and earn six unique souvenirs for your geocaching profile. Once you earn all six, you'll be among the super-cachers that unlock a special seventh souvenir."
This still wouldn't have had any appeal to me except that the UK Mega Event was in Ayr on 2nd August, so on Friday 1st August I had a 250 mile drive to do… Could it be possible to get all the Different cache types and get all the Souvenirs on day 1 of August ? of course it could, and it only took me about 30 extra miles to do so.
1st August 2014 – The Lost Bus GC1CC33 – cache #3377
The Puzzler souvenir for finding a Puzzle cache – this one was one of the cache types that I had to be careful with as there aren't that many puzzle caches that you know are going to be near roads, and this one I've had the coords worked out for about 3 years and failed to find the cache on at least two previous occasion… So I had this one and a reserve planned, just in case it eluded me again – but some recentish photographs on the cache page showed me that I had been looking in the wrong place and when I got to the location the cache was actually sticking out of it's hiding place as it hadn't been put back properly so it was an easy find and the reserve puzzle wasn't necessary.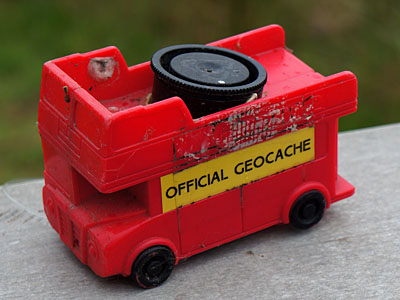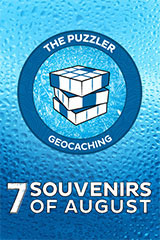 1st August 2014 – Church Micro 3829…Yafforth GC4ED5C – cache #3378
The Sightseer souvenir for finding a Multi-cache – Again another cache type that you have to be careful with as some can take a long time and lead you many miles away from where you start off, but fortunately there was a this Multi-cache Church Micro that I could make on my route – and a reserve CM Multi further North that would add another 10 miles to my journey if I needed to do it because of this one being missing.
Annoying 3 way temporary traffic lights right outside the church meant this took a lot longer than I hoped it would, had a look around the churchyard, worked out the coords then drove down to the cache as it was raining… and as the road was closed just further on I had to queue 3 times for the lights (once in each direction) and then had to detour for about 5 or 6 miles to get back onto my route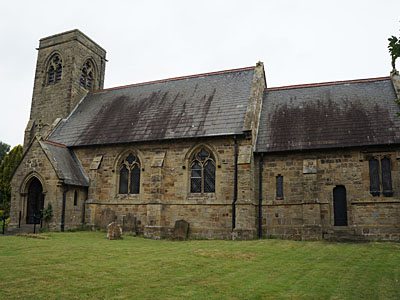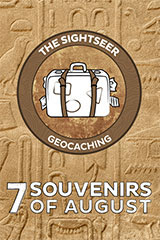 1st August 2014 – Church Micro 5110 ~ Great Smeaton GC4Y2M4 – cache #3379
The Explorer souvenir for finding a Traditional cache – No problem with finding a traditional cache, I had already driven straight past a couple of drivebys without bothering with them as there were three traditional Church Micros en route (and a fourth if I needed to head for the reserve Multi). So a relatively quick find and a quick look round the churchyard (to get the best angle for the photograph) and I was on my way again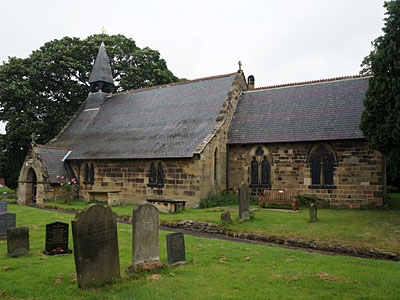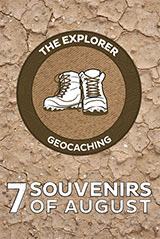 1st August 2014 – Church Micro 6105…Croft-on-Tees GC58FMR – cache #3380
Another traditional Church Micro and a cache and dash in the rain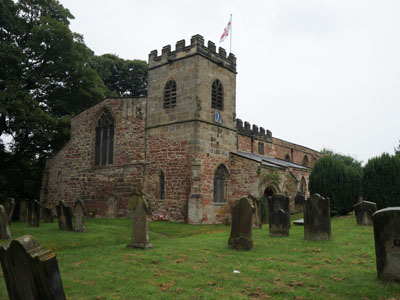 1st August 2014 – Alice's Kettles GC3ARA6 – cache #3381
The Nature Lover souvenir for finding and EarthCache – There are two ways to get to the top of the Lake District from here… Across the M62 and up the M6, or Up the A1 and across the A66. This being the only available Earthcache determined my journey to be the up and across one (though even that turned out to be not quite the case, if I had looked at the trip a couple of days later I would have seen a new Earthcache at a service station on the M6, though I would have needed to sort new puzzle and multi caches if I had chosen to go that way)
Road resurfacing and temporary lights right outside the entrance to the field meant that I couldn't park in the parking place indicated on the cache page, I had to park up the road and walk along the wet verge in the rain and then walk across a field of fairly long wet grass – my feet and trousers below the knee were soaking by the time I had finished. Hell's Kettles are ponds formed by underground subsidence where soluble gypsum deposits have left voids which have then caved in, there were originally four ponds, one has silted up and is now just a slight depression in the ground and two others have joined into one double kidney shaped pond so there are now only two… and each of the two has remarkably different characteristics
The larger northern pond has an open edge and a fishing platform at it's edge whereas the southern pond is almost totally obscured by rushes. Lots of wildlife around the ponds, I disturbed a heron and a moorhen or two…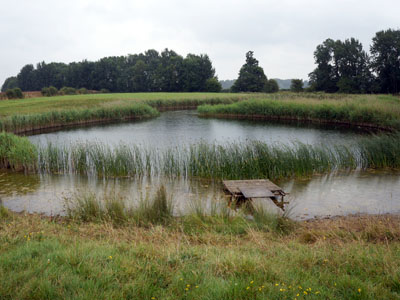 s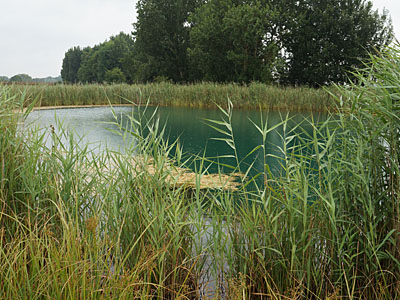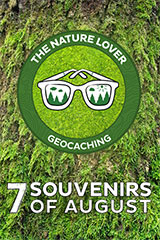 1st August 2014 – Bridge Stone (Cumbria) GC73F2 – cache #3382
The Collector souvenir for finding a Virtual cache – Virtual caches are a rare commodity these days, but fortunately my route took me past a couple that were within a couple of hundred yards of the main road, and a YOSM location that I could use as a Virtual cache in a pinch. This particular Virtual is a boundary stone on a bridge on an old lane that has been made multiply redundant. The lane itself probably dates back to Roman times as there is a Fortlet site just the other side of the A66 which follows the route of a Roman road itself. The original narrow lane and bridge has been bypassed by a wider and less steep road – presumably done when either the nearby railway line was built (though the railway is now long gone too), or when the A66 was built, the A66 cutting the road and making it go really nowhere now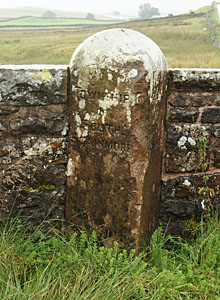 d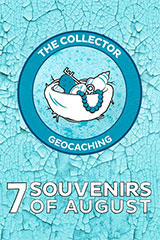 1st August 2014 – Motorway Mayhem M6. Half Way There Kids GC19CRB – cache #3383
A quick stop at the M6 Southwaite Services, many other cachers heading for Ayr also stopped here and found the cache – including Adam (UKCacheMag) and Angel78 !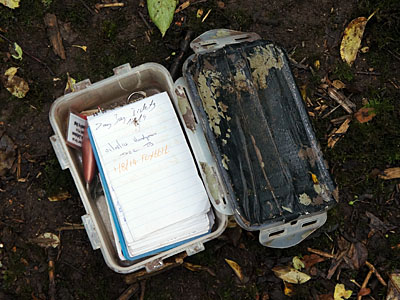 1st August 2014 – Isn't That Nice! [Borders] GCGA81 – cache #3384
Another popular stopping place for people heading to (and from) the Mega, and another virtual cache at a statue in the grounds of the Famous Blacksmith's Shop. I only saw 3 brides in Gretna Green today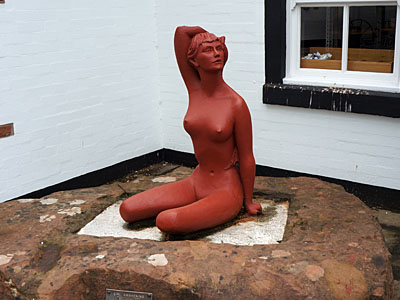 1st August 2014 – Church Micro 5759…… Kirkpatrick. GC55EPR – cache #3385
A short diversion off the M74 to get this first Church Micro I have found in Scotland (to go with the one I found in Wales in June) after finding the cache I walked up the lane to have a look at the Church… or is it a Kirk ?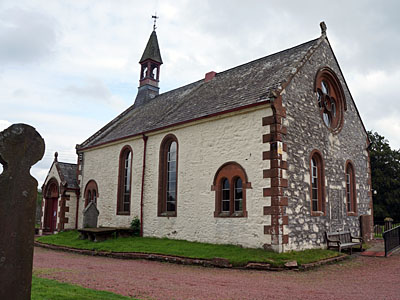 1st August 2014 – Ye Ole Survey Monuments GC45CC – cache #3386
YSM491 – Moffat
Carrying on the detour brought me to this relatively easy to find Fundamental Bench mark on a roadside embankment that is not too overgrown.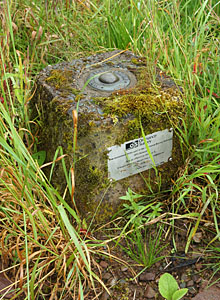 1st August 2014 – UK Mega Camping Event .. And Highland Games GC4XEYE – cache #3387
The Socializer souvenir for attending an event – I wasn't camping, and I wasn't playing any games but I went along to the event to claim the final cache type souvenir… and it was a nice warm sunny summers evening so it was a pleasant place to be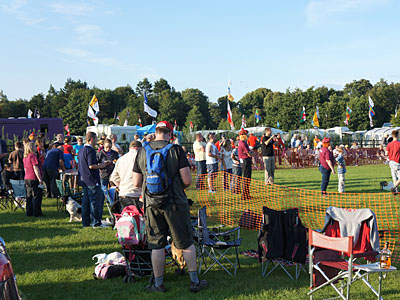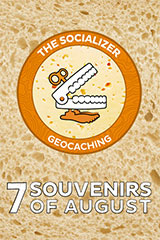 The Achiever souvenir for getting all six of the others – When you log the 6th cache type and go to the 7 souvenirs of August page to get the Achiever souvenir you get to know what number cacher you were in the world to get it… would have been nice to know this beforehand as I had the sixth by 7pm but didn't log them all until 8am the next Morning… so I was 415th in the world to complete (I reckon at 7pm I would have been somewhere around 200th)
But then, the whole First to Finish list is a bit unfair as the first 'Achievers' were Australians who got them all before August had started in Europe let alone in America !