Home » Geocaching
Caches No's 3168 to 3171 – Happy Birthday To Me
Happy Birthday to me, Happy Birthday FOX 661L, Happy Birthday to me…
Last year on my birthday I went out to find a 5/5 puzzle cache without the co-ordinates (see cache #2439), this year it was on a Saturday and I decided to go shopping instead !
While I was out I did a new Earthcache that had appeared in Harrogate. In the evening there was an event to 'celebrate' the return of a group of local cachers who had flown to Dublin for the day to get some of the interesting caches there… They had also held an event in Dublin before they set off home
26th April 2014 – Where Waters Spring GC – cache #3168
After a morning shopping trip in Harrogate I had a walk around the Valley Gardens to find the details for this earthcache… It was a bit busy, the Spring Flower Show brings the crowds to Harrogate and many were out taking pictures of the flower beds.
I quickly found all the information except for one question… what colour were the paths and soil stained by the groundwater and what could have caused this – it had rained most of the night so the paths were stained a dark grey/black 'wet' tarmac colour and the ground stained a dark brown 'wet' earth colour – fortunately I could guess what the answer should be from the information found for the other qustions.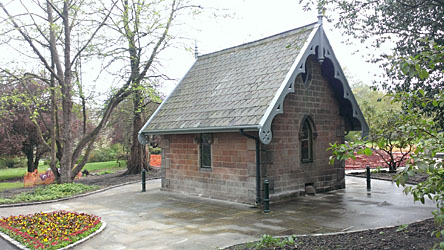 26th April 2014 – Historic Wharfedale – The Navvies Monument GC – cache #3169
In the afternoon another new cache appeared in Otley… I stopped off for this one on my way to the event, an easy enough find as from living here for 40 years I knew there was only really one place that matched the hint, and so could see the cache as I walked towards it.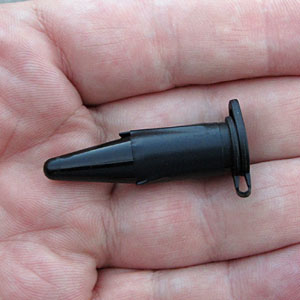 26th April 2014 – First Find Relived GC – cache #3170
I got a notification email at 2:30pm and stopped off to pick up the cache at 8.15pm on my way to a caching event held less than a mile away… 6 hours after publication and in the vicinity of a event – it was quite a surprise to find an empty log and so get the FTF on this one.
It wasn't a quick find, 4 possible hiding locations, I searched each one and found nothing… then discovered there were places that I hadn't realised were there… so another search and I found the cache.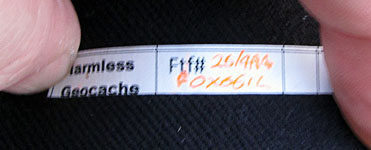 26th April 2014 – The return of the intrepid explorers GC – cache #3171
I arrived at the appointed start time of 8:30 to find BobAdams and Smurf already in the pub, though sat in different areas – but we soon got together and awaited the intrepid explorers – who turned up shortly afterwards. It sounded like they had had a full day in Ireland and there were no evident bruises so hadn't fallen out that badly with each other !