Home » Geocaching
Caches No's 3000 to 3017 – Halloween Hides & Creepy Caches 2013
There were over a 1,000 cachers at the Halloween Mega. The organisers put out almost 50 caches during the daytime all of which were in an are no more than 2 miles square, some cachers walked 15 miles to get them all, spiraling round the footpaths. I spent all day in the hall helping on the UKCacheMag stall so didn't get to do any caches during the day.
In the evening a further 20 or so caches were put out, so Adam and I went and had a walk round doing a combination of daytime and nighttime caches until it started raining, fortunately then we were in a location that made it convenient to quit and head back to the Community Centre where the event was based. It had rained heavily in the days before the event and there was the occasional shower during the day, and the paths in the forest suffered from 1,000 cachers waalking over them so it was very muddy in places… and I do not like mud – so I wasn't too bothered that we didn't do that many caches.
26th October 2013 – The Halloween MEGA 2013 GC4AJ32 – cache #3000
I wrote my log for the cache a couple of days after the event – and after about 800 other people had logged it some not putting the logging date rather than the event date so my log was about 20th on a page with 350 logs so I put "My 3,000th cache Not much point writing more as nobody will read it !" and a few minutes later got an email congratulating me on my 3,000th cache… somebody does read it !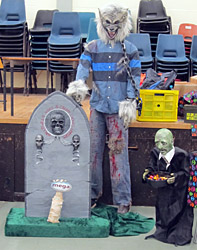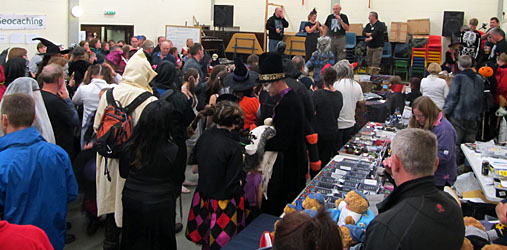 26th October 2013 – Whats Yer Poison? GC4NMF4 – cache #3001
After spending all day on the Uk Cache Mag stall Adam and I thought we had better go out and do some of the night caches, but we had to get to the Forest so we started off here… a muddy path after several hundred people had walked down it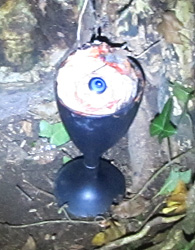 26th October 2013 – I vant to bite your finger! GC4NMF5 – cache #3002
This one was on our route to the forest and I can't say we actually found it as we just walked towards the lights of the cachers who already had got it out of it's hiding place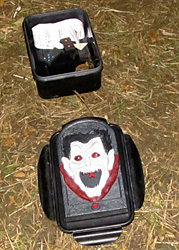 26th October 2013 – Stinger GC4NMF6 – cache #3003
This was the next on our route, I remember it took us a lot longer to find this bug last year (also in the dark)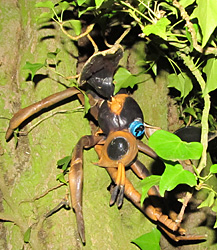 26th October 2013 – Big Frank GC4NMF7 – cache #3004
The GPS's were giving us coordinates a few metres away but we got some hints from some passing cachers who guided us to the prize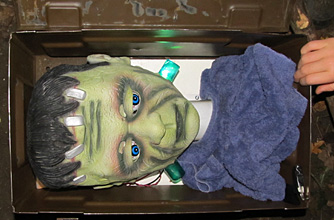 26th October 2013 – You dirty rat! GC4NMF8 – cache #3005
You don't really need coordinates or hints… when you are walking along and see a fallen tree trunk like this you automatically search it for a cache anyway don't you ?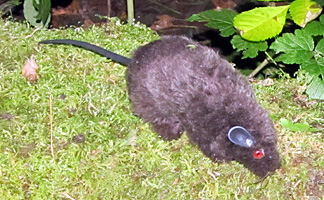 26th October 2013 – The Corpse Bride GC4Q9JN – cache #3006
The flashing eyes drew us in to this cache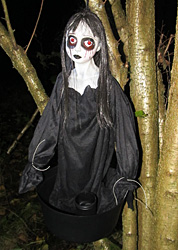 26th October 2013 – Headlight GC4Q9JQ – cache #3007
So many lights flashing in the woods that at first I thought I was looking at cachers a long way off on a different path through the trees… then realised that I was looking at the cache just a few feet away from me !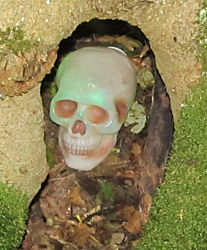 26th October 2013 – Everybody dance now! GC4Q9JR – cache #3008
In the darkness getting through the trees to get to some of the caches was a bit painful as we were poked and prodded by unseen branches…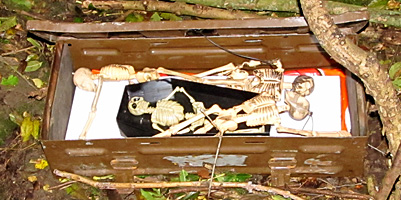 26th October 2013 – #003 Just Northamptonshire GC2C3CC – cache #3009
I think all caches in Ivy should have flashing lights to indicate whereabouts they are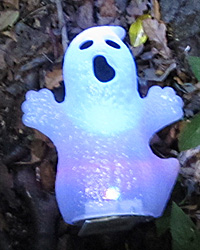 26th October 2013 – Zombie Creeping Death GC4Q9JW – cache #3010
The GPS's were playing up under the trees and wanted us on one side of the path where the undergrowth was inpenetrable… so we followed the caches trail into the trees on the other side of the path and found the cache.
26th October 2013 – Molech GC4Q9JX – cache #3011
Another one where I thought at first that the flashing eyes of the cache were other cachers on another path though the trees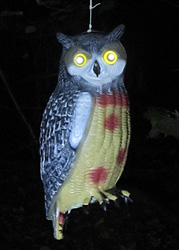 26th October 2013 – Cannibal Soup GC4NMF9 – cache #3012
We met some cachers in the woods here doing this cache as a drive by – fortunately it is right next to the road !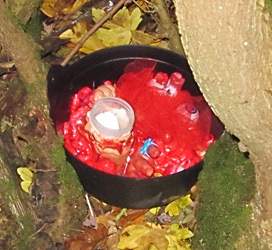 26th October 2013 – MEGA Hurtz GC4Q1K8 – cache #3013
Star of the show (well the ones we found anyway !) I don't know how they got such a big thing into the middle of the trees unless there was some easy path we didn't see in the dark as we had to bushwhack our way in through closely packed trees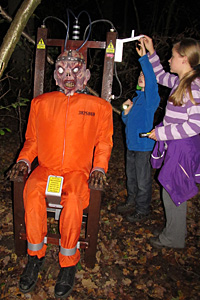 26th October 2013 – Bells, Bones & Bites! GC4Q1KC – cache #3014
Easily spotted as we walked towards it… I think perhaps it had been left out form it's hiding place by previous cachers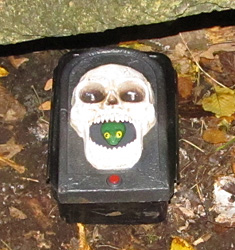 26th October 2013 – Meowch! GC4Q1K9 – cache #3015
Easy to spot from the muddiest path we walked on as there was a crowd of cachers round it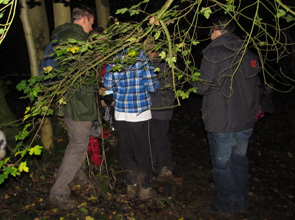 26th October 2013 – Curse of the Pharaoh GC4Q1K7 – cache #3016
I remember that container from last year… though the occupant seems to have changed !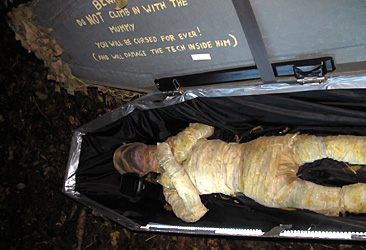 26th October 2013 – Hartwell North GC2JT5G – cache #3017
Found as we walked back to the Community Centre from Halloween Night Caching in Salcey Forest