Home » Geocaching
Caches No's 2983 to 2988 – Falls Wood Bramley
A rainy weekend meant more time for planning the caches to go for on the way down to Northampton, I decided to be sensible and only go for the more select caches, a virtual, two Earthcaches, five YOSM's and a traditional that was in the same place as one of the others… nine caches in all so I knew exactly how many caches I had to get in the four days left… I wrote it all down, numbered from 3000 down to 2983 and filled in the names of the caches so I knew exactly where I was… or so I thought !

21st October 2013 – Twin Courts GC4N39J – cache #2983
A shopping trip to Harrogate gave me the opportunity to grab this cache – a straightforward find as there was nobody about… but I could do with being a bit taller !
23rd October 2013 – Jigsaw In The Woods 1 GC4EA59 – cache #2984
A couple of days later I headed for Falls Wood at Bramley to get the last 5 caches I had calculated I needed before the weekend .
What an excellent puzzle set for part two of this series, if only more caches were like this and fewer were nano's on signposts the caching world would be a better place !
I gave a favourite point – in fact I gave it two, as I put one on the final cache as well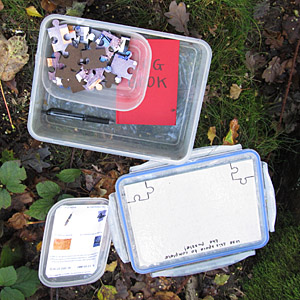 23rd October 2013 – Rough Rock GC3W95X – cache #2985
Nobody but me around today, took no time at all to find as I could spot it peeping out of it's hiding place as I walked up the path towards it. I hid it back a bit more under cover.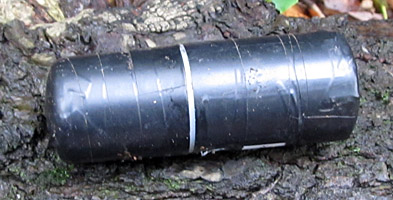 23rd October 2013 – All that's left. GC3W94T – cache #2986
Again pretty straight forward to find… both sets of co-ordinates noted down, now for the final cache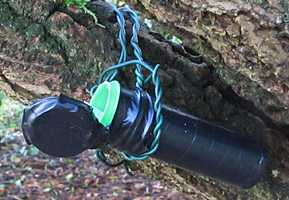 23rd October 2013 – Jigsaw In The Woods 2 GC4EA6P – cache #2987
I was struggling to find this cache, GPS was a bit dodgy under the trees, the phone signal rubbish so I couldn't see the spoiler picture and the whole area inches deep in fallen Autumn leaves.
In the end I resorted to scraping away the leaves from everywhere that matched the hint, and eventually I cleared some which revealed the cache… There are plenty of leaves yet to fall from the trees which means that GPS signal will get better as the branches get barer, but finding the cache will get harder as the fallen leaves get deeper.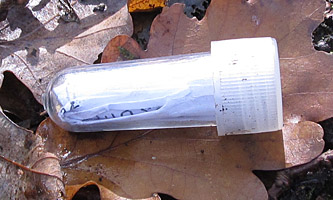 23rd October 2013 – The Silver V bonus GC3W96J – cache #2988
Last cache of the five in Falls Wood, as I walked from 'All That's Left' I had to pass through two herds of marauding dogs, chasing each other around and barking fit to wake the dead… judging by the disinterested reactions of the professional dog walkers with them they must meet each other here quite often… but it was a bit noisy.
Anyway, the cache was pretty straight forward to find, the co-ordinates I plugged in to my GPS took me to a place that obviously matched the cache title.