Home » Geocaching
Caches No's 2770, 2771 & 2772 – Fewston View
Some people use one email address for everything… I use 15 different email addresses because I have different ones for different things – for example I buy and sell things on ebay so if I buy things on one ebay account I sell it on the other and to get a different ebay account you need a different email address. So that's one reason. Then I have different Facebook accounts for different hobbies so one group of people I know through one subject don't get bombarded with messages about another subject they have no interest… and so on it goes.
The point to this is that I do not use my phone for sending or receiving emails, so when new caches come out I do not get notifications sent to my phone but have to wait until I turn my computer on to see them.
26th August 2013 – Fewston View #1 GC4HHY8 – cache #2770
9:00am on a Bank Holiday Monday morning and a few new caches were published nearby. The Reservoirs of the Washburn Valley are one of my favourite places so I headed out for a sunny morning's walk at about 10:30 to find the car park heaving with cars and people everywhere… still when I had walked across the dam to the cache I managed to find a gap in the walkers to grab the cache.
I wasn't the first cacher to find the caches, the FTF went to a cacher who wrote this log
"FTF 9.36am. Wahoo! Lying in bed at 9am and the emails started coming in…Fewston is one of our favorite places so we dragged ourselves out of bed and drove to this one not sure if we would get an FTF"
Not being a FTF hunter I don't have emails going to my phone to read in bed… so I didn't find out about the cache until after a leisurely breakfast – The cache had been found by the time I saw the cache had been published !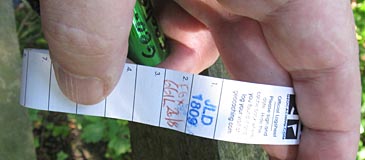 26th August 2013 – Fewston View #2 GC4HHYW – cache #2771
The description on this cache says that the co-ordinates were a bit jumpy under the trees so you have to use the hint… which is along the lines of 'Leave No Stone Unturned'
The Co-ords were indeed a bit jumpy and I did have to follow the instructions in the hint to find it… but eventually I got to the right place to find the cache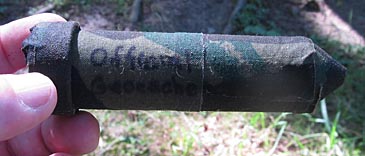 26th August 2013 – Fewston View #3 GC4HHZF – cache #2772
This cache should have been really fun, a bug on a spring that should have bounced out like a jack in the box when you lifted off the covering rock…. unfortunately it didn't work !
Judging by the next finders comments and favourite point they gave the cache I think I must have reset it correctly so it worked !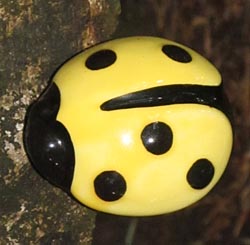 On the walk back across the dam I noticed some strange fish in the water… I wonder if the Anglers that fish in the reservoir get much sport from the fish in the headline picture ?