Home » Geocaching
Caches No's 2735 to 2747 – Virtuals, Earthcaches and Survey Monuments going North
Sunday, and after another weekend of eating the wrong foods, drinking too much, generally acting rowdy with my friends and waking up in the morning thinking that I am really too old for this it was time to  set off on the meandering drive back home. First of all I didn't find a Survey Monument YSM042 – Walpole St Peters. This Trig Point is on Private Land in somebody's garden and can't be seen from the road for the thick hedge surrounding the garden… So unfortunately I couldn't even get to see to it to log it as a find 
28th July 2013 – Tom Thumb GCG2MR – cache #2735
Tom thumb was a resident of Tattershall apparently, and the subject of this virtual cache. I found his house easily enough, but I was a bit dubious about visiting the Church on a Sunday to look for his grave, not being at all religious I didn't want to get disturb anything… but it was the Tattershall Castle open day so lots of things going on and people about in the Castle and Church. I still didn't go in the church as I already knew the answer I would find inside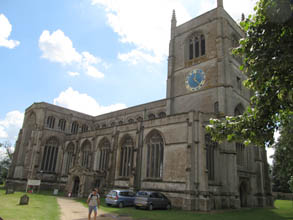 28th July 2013 – Dam Busters Memorial (Lincs) GCG43F – cache #2736
I was greatly interested in the Dambusters raid as a kid, and read Paul Brickhills "The Dambusters" and Guy Gibsons "Enemy Coast Ahead" several times and watched the film a lot, so it was interesting at this virtual cache (if that is the right word) to pick out the names that I recognised… One thing I did notice as odd was that there were 203 names on the memorial though only 199 men died serving in 617 squadron during the war – but then Guy Gibson himself was killed while in 627 squadron so I assume that the other 3 names were also airmen who were on the Dambusters raid but were killed later after they had transferred to other squadrons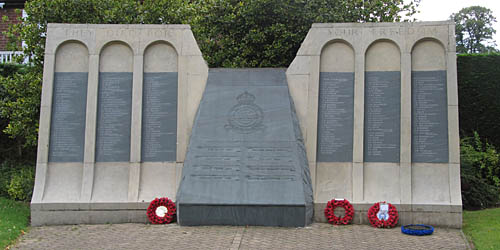 28th July 2013 – The 599 GC2XJA9 – cache #2737
A nice easy drive by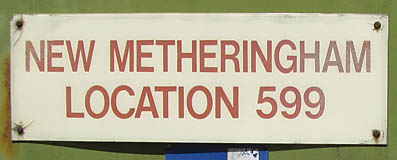 28th July 2013 – Lincolnshire Edge GC1Z2YW – cache #2738
Another Earthcache put there to show that Lincolnshire isn't flat (are the Lincolnshire people sensitive about that of what ?) I'm familiar with the Lincolnshire Edge from driving up it on the A17 at Leadenham and from walking the Steep Hill in Lincoln… at both of those places the gradient seems steeper than at this Earthcache though that might just be from the effort of walking up it in Lincoln and the chugging up behind slow lorries in Leadenham !
28th July 2013 – Pick-a-mix 8 GC3HQ0G – cache #2739
A relatively easy drive by… I thought at first it was a much bigger cache, but that was because I had found the batteries from whatever piece of equipment it is hidden behind… the real cache is much smaller and much lighter !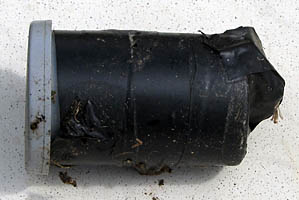 28th July 2013 – Skeg to Ness #62 GC23Q6V – cache #2740
A nice easy find, 35mm film tub in the armco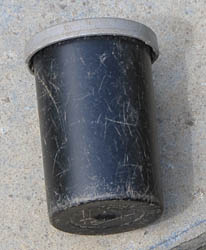 28th July 2013 – Ye Ole Survey Monuments GC45CC – cache #2741
YSM534 Kelham – Rivet
I thought I was going to have trouble getting this one when the road out to Kelham from Newark was closed, but fortunately the diversion brought me into the village past the YOSM.
The grass has grown over the rivet, which is in the concrete surround of a manhole cover, I managed to kick the grass aside and take a picture just as the man in the nearby house was getting suspicious of what I was doing hanging around at the end of his drive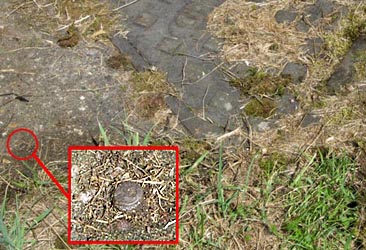 28th July 2013 – Ye Ole Survey Monuments GC45CC – cache #2742
YSM222 Dukes Wood
It was easy to get within a few yards of this trig point but then quite difficult to find it under the trees, the weathering and moss and lichen covering blends in well with it's surroundings !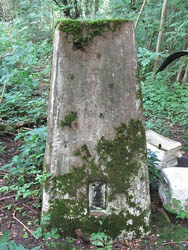 28th July 2013 – The UK's first Oil Field GC204N6 – cache #2743
What a great place… apart from having a traditional cache and an earthcache and a YOSM location it's an interesting place to visit in it's own right and as you walk through the woods seeing those Noddding Donkeys appear out of the trees like some strange prehistoric monster it's quite fun as well.
I can see why it is a nature reserve, I've not seen so many butterflies in one place for years.
I was also quite taken with the poignancy of the old disused and overgrown oil wells in the woods and the barn roof full of solar PV panels and the huge Wind Turbine just a field or two away.
I gave it a favourite point for being a place well worth visiting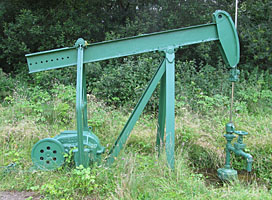 28th July 2013 – Oil Patch Warrior GCM9YV – cache #2744
An easy enough find, there was no one else in the oil field at the time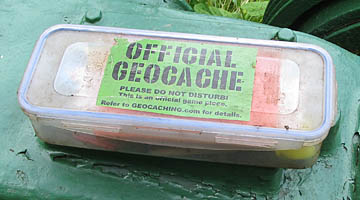 28th July 2013 – Sedimentary Rocks Limestone – The Dell Earthcache GC1Y4H0 – cache #2745
My Parents were brought up in Balby and my Grandparents, Uncles and Aunts lived around there until they died so I was a regular visitor to 'The Dell' in the late 70's when I came to stay with them. I remember the Dell itself as a great place to run about but I always hated to come when there was a band playing as my grandparents wanted me to sit quietly and listen rather than enjoy myself running about !
I remember when they first put the bird cages in, I'm sure there used to be more cages than there are now, but I was only small at the time so the size may have been deceptive… the trees were certainly much smaller 35 years ago !
Anyway from old memories to the cache visit. I parked up just as the first drops of rain started to fall, but it didn't seem too heavy so I walked down to The Dell, just getting through the gates when the sky darkened and the rain came on heavier fortunately there is a lovely big shelter just along from the gates so I sat in there reminiscing while the monsoon passed through. When it had finished I went down into the bottom and had a look round. The raindrops started again so I quickly took my picture for the Earthcache and raced back to the car before I got soaked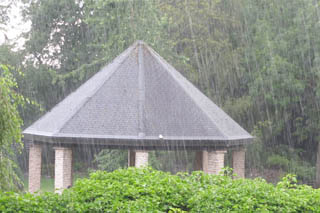 28th July 2013 – A-Road Anarchy A638 Badsworth. GC3V0PW – cache #2746
An easy find… well when I'd driven past the layby, turned round, driven back past it the other way, turned round again and returned to pull up in the layby it was then an easy find !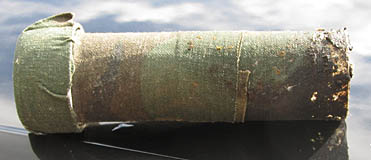 After this I didn't find GC45CC YOSM – YSM432 Heath Common
The trig point is several yards off the road on a piece of untended ground that is just solid bracken taller than I am… No chance of getting in and seeing the pillar so you would have to fall over it to find it !
I did push my way a few yards in, but it was hopeless and as there had been a thunderstorm an hour or so before it was also a bit wet !
I'll come back in the winter when hopefully the bracken will have died down and the trig point become visible
28th July 2013 – Ye Ole Survey Monuments GC45CC – cache #2747
YSM284 – Crow Nest
Sunday Tea-Time is one of the best times that this trig is 'safe' for access… The pillar is just inside the school grounds and to get to it you have to sneak along a tiny path around the back of the school fence… certainly you would look suspicious if you were there brandishing a camera behind the bushes next to the playground during school times !
The other thing about this cache is that you get a great view over Elland Road, Holbeck and Wortley as you are right on the edge of the steep hill… it might not be the prettiest view, but it's not a bad one on a sunny evening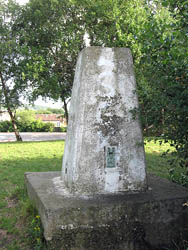 So that was my camping trip to norfolk for another year 4 Virtual, 9 YOSM, 5 Earthcaches and 21 I had to sign !