Home » Geocaching
Caches No's 2595 to 2600 – Onwards to 2600 !
The thing about going to events is that you get inspired to go a bit out of your comfort zone to find caches, I chatted a lot at the event to people who go miles to find a particular cache and one type of thing that is becoming increasingly popular in a 'Brew with a view' events, held at the top of hills, remote ones in the Lake District or Brrecon Beacons… caches that take an uphill walk of several miles to get to and are probably the only cache you will find on that day. For me the closest similar alternative means picking off the individual caches that have been left near home that are not easy to get to.
6th June 2013 – Round Hill Ramble GCTV6R – cache #2595
This was one of my closest unfound caches, but due to it being out on the top of the moors by itself I had never managed to combine it with other caches to make a walking route, so it had got left out as a green box in a sea of smiley faces. There was a 'Brew with a view' event up at it in March, which I didn't go to as it was snowing at the time, and the paths to it were very wet and muddy, today it was sunny and apart from where the path crosses a stream it was hardly even boggy today.  Although it was bright blue sunshiney sky unfortunately there was far too much haze for the long distance views.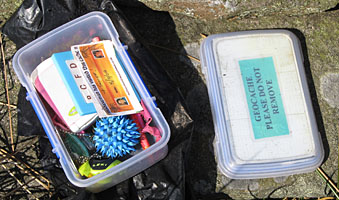 6th June 2013 – The Cuckoo's Cache GC49027 – cache #2596
A couple of new caches had been dropped in along the path around one of the reservoirs in the Washburn valley, so as I had an hour or so spare after visiting Round Hill I decided to go and find them. This cache is an odd one in that you are supposed to find the feeder cache which contains a remote control that activates a doorbell in the main cache… the problem is that the feeder was further away from the main path than the cactual cache so when I got to ground zero and looked around I spotted something that looked a bit out of place – and discovered the final cache rather than the feeder (it has now been altered so you get to the feeder first)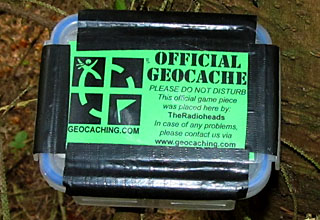 6th June 2013 – How The Mighty Fall GC48QYF – cache #2597
I was going to put that this was a straightforward cache find, except it wasn't as I went to the wrong fallen tree first… but when I got to the right one it was straightforward…
Unfortunately I then tried to bash my way through the undergrowth in a straight line back towards the car park, which wasn't at all straightforward… I really needed a machete for it
7th June 2013 – The Moor series no6 Hollingley Intake GC32KQY – cache #2598
This cache is another that has been on my list to do for far too long, and so on a nice sunny afternoon I walked up the track from the nearest access point. It's just over 2 miles from the road this way and is on the farmers track all the way so fairly easy walking, only a couple of places where it was a bit boggy.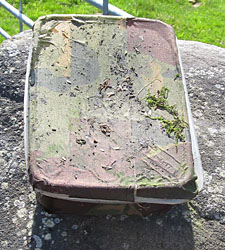 8th June 2013 – Tikkie's Tarn GC447BE – cache #2599
As I'd been climbing up on the moors a couple of days so far in the week I decided that as I was only a couple of caches from 2,600 I would go up another moorland hill for the mini-milestone.
This first cache was about halfway up the hill and when I got near the GZ I thought that this was going to be a difficult cache to find as all I could see was lush undergrowth and the odd rabbit hole, but when the GPS went down to 1ft I looked down and there peeking out from under the undergrowth was the edge of a camo-bag.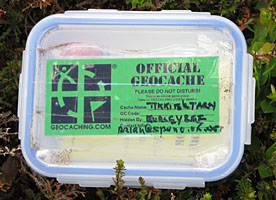 8th June 2013 – Beamsley Beacon GC1JJ61 – cache #2600
My 2,600th cache. The co-ordinates put me right on top of the cache – literally, I was stood on top of a big stone and the cache was underneath it. Beamsley Beacon is the highest place for miles and on a nice day a place with an excellent views… Turning around I could see Round Hill where I was on Thursday and Hollingley Intake where I was Friday afternoon… I've now run out of caches on this bit of moor now, have to head out to further up to Barden Moor and Simon's Seat to the next summit caches !