Home » Geocaching
Caches No's 2574 to 2594 – A Cachiversary Challenge
Cachiversary ? is that a useable term for your caching anniversary ? It's the one I use anyway. I found my first Geocache on 30th May 2009 and in previous years to mark my cachiversary I have found 5/5 puzzle caches, but this year for my 4th cachiversary I wanted to do something different.
At the beginning of May Richlay published a CITO event for the 2nd of June and mentioned on his listing that as there was a nearby event the same night the two could be used as the basis to do a cache called "BUSY DAY!–WEST YORKSHIRE- ICON CHALLENGE" which requires you to find 6 different cache icons (including an Earthcache) in a day, and also a cache called "The Magnificent Seven Challenge Cache" which requires you to find all seven cache sizes (Large, Regular, Small, Micro, Other, Not Chosen & Virtual) in a day.
This got me thinking, and planning, and I decided that I could extend this Busy Day idea to get a few more cache types and icons in the day for my Cachiversary Challenge
So early on the Sunday morning I was up and off (well it was 8:15am, which is early enough for me on a Sunday morning !) driving 20 miles up into the Dales, which was a strange direction to go in as the CITO was 30 miles in the opposite direction
2nd June 2013 – Tilly's Treasure GC1BZ04 – cache #2574
Traditional Cache – size: small
A strange cache to start my day off, due to a mix up between the cache owner and reviewer in August 2011 this cache got disabled then archived then unarchived but not re-enabled, so shows up as a disabled cache – this has been the case for two years, and though it has had about 40 visits since then it would probably have had more if it wasn't showing as disabled, especially as it is within a couple of hundred yards of the real reason why I had to start my day so early with the drive up into the Dales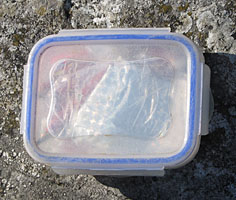 2nd June 2013 – Linton Falls GC1Z2ZA – cache #2575
Earthcache GC1Z2ZA – size: not chosen
Linton falls are a small series of waterfalls on the River Wharfe, and was the site of the nearest unfound Earthcache to my home, there aren't that many Eartchcaches around so even though this was 20 miles in the wrong direction it was still the most convenient Earthcache to do.
The Linton Falls Earthcache's educational aspect is to teach you about different types of waterfalls and the processes of river erosion.
2nd June 2013 – Ye Ole Survey Monuments GC45CC – cache #2576
Travelling Cache – size: virtual
In this instance I was logging "YSM023 Wetherby FBM" – this particular survey monument is a 'Fundamental Bench Mark' which is one of a network of blocks used not to determine position, but to determine the height of the land above sea level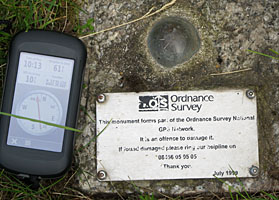 2nd June 2013 – GAGB10: CITO event – The Follow Up GC4AKAZ – cache #2577
Cache In Trash Out Event – size: not chosen
A few weeks earlier a Cache In Trash Out event had been held at a layby formed by the alterations to the A1 / A63 junction to the east of Leeds. The location had been in such a state that after the first clear up operation the cachers thought it was worth a second go at it to finish the job… and about 35 people turned up on a sunny Sunday morning to shift industrial quantities of rubbish that had been dumped at the site over many years.
I'm not sure about the old adage 'many hands make light work' as it was quite tiring spending two hours in the sun humping bags of rubbish and other larger items (traffic cones, tyres, old stereos etc) but at the end of two hours we had a large pile of rubbish waiting for the Council to come and collect.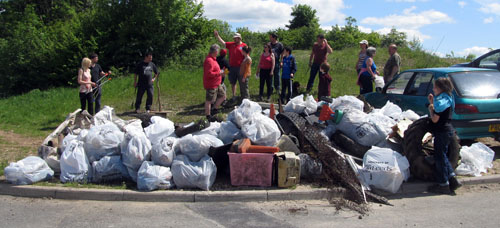 2nd June 2013 – 3 Woods & A Tree Walk #02 GC41GXE – cache #2578
Found while doing the CITO… well actually I didn't find it, Goldfish58 showed me where it was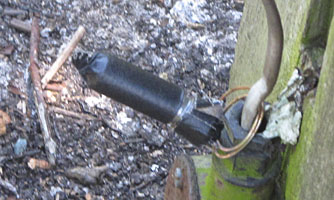 2nd June 2013 – Try, Try Again – A Challenge Cache GC43DEM – cache #2579
Challenge Cache – size: small
The Challenge for this cache was to have found 30 caches that you had previously logged as DNF's. I am reasonably good at logging DNF's, if I have had a good look and can't find the cache then I will say so, so I qualified for this with 30 caches that I had DNF'd over 2 years ago and subsequently found.
I actually failed to find the first cache I ever looked for (GC1RZAB – White Bridge), returning 3 days later to find it – however as I was totally new to geocaching at the time I didn't even know to DNF it, so it didn't count for this challenge !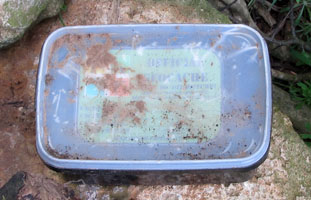 2nd June 2013 – Ones & Zero's But Who's Counting GC1D12F – cache #2580
Unknown Cache – size: regular
This is a fairly straightforward binary puzzle that I had solved at home but then as I hadn't transferred the co-ordinates to my GPS I had to work it out again as I was walking down the track. I had looked on the map and so knew pretty well where it was, and I would have probably found it with just this memory of where it was – and my cacher's eye as it has one of the largest piles of sticks and stones that I have ever seen camouflaging a cache !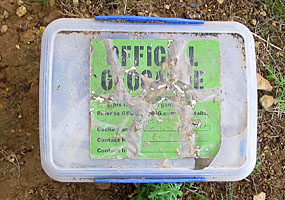 2nd June 2013 – Ready Steady Go… GC43DHY – cache #2581
This cache was at the end of the lane that led down to the previous two caches, and apart from the nettles was an easy cache to find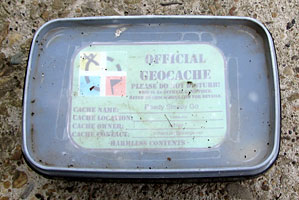 2nd June 2013 – RebRic One in the middle GC3R3J2 – cache #2582
A puzzle cache which claims 5* difficulty, which is correct in that it needs specialist equipment to solve… the thing is though that the specialist equipment is a mobile phone with a QR code reader and just about every phone has one – so how specialised is it ?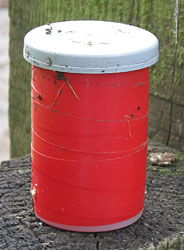 2nd June 2013 – Maisie's Favourite Place GC3A0DM – cache #2583
Found while doing the new Wherigo. So I signed it before I signed the Wherigo, thus it fits in here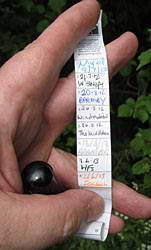 2nd June 2013 – Lost Cachers in Billy Woods GC4B120 – cache #2584
Wherigo Cache – size: large
For three years in the mid 90's I used to live most weekends at my girlfriends house not 200yds from the start of this Wherigo, so the area is familiar to me, though I haven't been here since the young lady and I split up – which is over 15 years ago. – It hasn't changed that much
RebekahMarie73 had put out this Wherigo cache at the beginning of May and as it was only 4 miles or so from the CITO it was a popular cache on the day for those like me who were finding different cache types. The 'adventure' takes you zig-zagging through the woods where in the virtual world you come across several lost cachers – whose names (Mel & Freddie, DesertfoxUK, Printerfixerman, Richlay etc) will be rather familiar to cachers in the local area. Each of these characters gives you a clue to the final co-ordinates, where you find the cache, a 50 cal Ammo box (not exactly a large 'large' container, but the biggest I found on the day)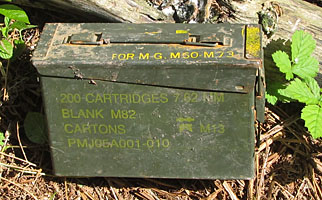 2nd June 2013 – Numerusly Speaking GC456FW – cache #2585
A quick drive by that wasn't… it was probably the hardest cache to find all day because the area it was in had got overgrown and the clue 'base of post' applied to about 9 possibilities…
2nd June 2013 – Church Micro 1127…Garforth – St Benedict GC492YH – cache #2586
Multi-cache – size: not chosen
A quick multi, almost a drive-by cache – get the answer to the clue from the church notice board, work out the co-ordinates then walk a few yards to find the cache. The only problem was the number of people sitting in the pub yard across the road from the final on a sunny Sunday afternoon… hopefully they weren't curiously watching me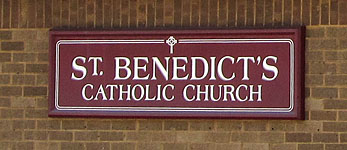 2nd June 2013 – Leeds Web-Cam Cache GC24CD – cache #2587
Webcam Cache – size: other
The idea of a web-cam cache is to get a web-cam image with yourself in it and originally this required a friend at home on a PC to capture the image while you were there, but these days you can do it yourself on a smart-phone.
The Leeds Web-Cam Cache is the oldest of the 17 remaining web cam caches left in the UK and utilises a camera on top of the Civic Hall. My problem with the Web-Cam cache was that there was a charity concert going on in Millennium Square and I couldn't get into the middle of the picture – so I stood at the base of the floodlight post at the right of the image, I may only be 6 pixels of dark in front of the white post – but I am definitely there !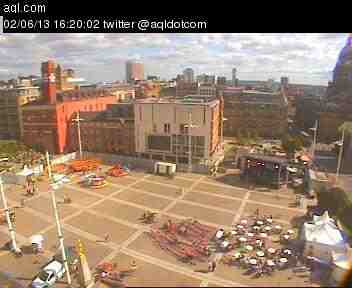 The webcam only updates once every 5 minutes, so I had to stand in front of the post for 7 minutes to ensure I was on the shot… and it takes about another 5 minutes for the image to refresh, so while I was waiting for the image to come through I went to find another couple of local caches
2nd June 2013 – GOLD!!! Nicola Adams GC3TK8H – cache #2588
A cache right in the heart of Leeds, I think a Sunday teatime is probably the quietest daylight time to be here and find it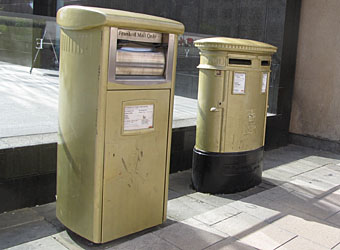 2nd June 2013 – GGS3 GC15QCW – cache #2589
This multicache involves finding information from a sign on the wall which is used to work out the co-ordinates of the final cache, fortunately in this case not more than 100 yards away. Although it was Sunday teatime, not the busiest time of the week for people to be about this cache is in front of Leeds General Infirmary so there were quite a lot of muggles passing by which meant a bit of stealth was required to retrieve and replace it. I was just finishing replacing the cache when the 'Parking Enforcement Officer' pulled up and started checking the cars… which I thought was strange on a Sunday teatime when Parking on the streets is free anyway… still she found somebody with a wheel over the white line so was happily writing them a ticket as I drove off.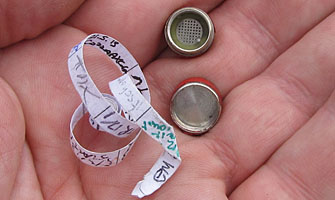 2nd June 2013 – Jigsaw Geology GC44WYX – cache #2590
A puzzle cache which has a jigsaw to be printed and cut out and assembled – or you can do it a different way – I don't think I have ever had so many layers open in photoshop at once !
Still I managed to rotate and nudge them all into position and then sort out the co-ords… an easy find on a Sunday tea-time, I imagine the park was busier earlier in the afternoon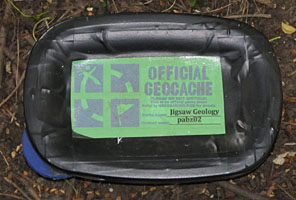 2nd June 2013 – A Moravian Walk (W Yorks) GC2486 – cache #2591
Virtual Cache – size: virtual
A few miles out of Leeds is the town of Pudsey (where despite the name there are few dancing dogs and no spottily bandaged bears) and the Moravian Settlement of Fulneck.
The Moravian's were a Protestant religious sect who were exiled from their homeland in the early part of the 18th Century. In 1744 some members of the sect settled in Pudsey and called their new home Fulneck after their old home town in what is now the Czech Republic.
The Moravian settlement is just two streets on a hillside, but virtually all the buildings date from the 1700's and are Grade 1 Listed. Several famous people have been born in the village including Cricket legend Sir Len Hutton. The task associated with the virtual cache here is to discover another of the famous people born here, what they were famous for and which house they lived in.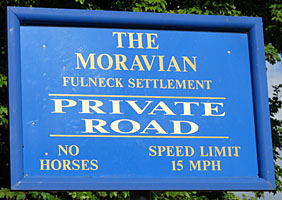 After I got the required information I was walking out of the Moravian Settlement I met fellow cachers 'micky n dave' and 'Uggy' – who were on a similar mission to find as many types of cache in a day as I was, and so I walked back into the village with them, and when they also had the necessary answers we walked down the hill to the next cache
2nd June 2013 – Princesses in Peril Pudsey GC2MFM5 – cache #2592
Letterbox Hybrid – size: micro
The co-ordinates led us to a footbridge over a stream… Guess where the cache was hidden ? We let Dave venture into the stream to duck under the bridge and retrieve it. Unfortunately due to repeated muggling the original cache container has been replaced with a 35mm film tub, with no room for a stamp or book for stamping in with your own stamp (the traditional way of logging a Letterbox cache).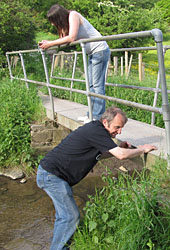 2nd June 2013 – The Pudsey Pirates Treasure Chest GC2YWJ1 – cache #2593
A cache hidden inside a well and quite difficult find on a bright sunny day when I had my sunglasses on (prescription ones so I couldn't just take them off !)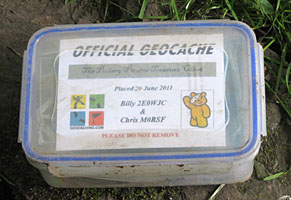 2nd June 2013 – Well it's about time… GC4A2PX – cache #2594
Event Cache – size: not chosen
Then there was just the 20 mile drive to my second event of the day – This event though was a bit more than your normal caching event of the local cachers gathering together for a chat about Tupperware, this event was the place to be in the UK caching world… In attendance apart from the locals were such notables as Esscafe – the top cache finder in the UK, Poshrule – the top cache hider in the UK, KerbL – the Groundspeak Lackey from Seattle who looks after the UK, and a reviewer or two were also in attendance – well, Deceangi, Long Man, Lindinis, Castagnari, Antheia, Graculus, Southerntrekker, Geohatter, DalesmanX, Red Duster, La Lunatica & Church Warden were all there. You see it was the UK Reviewers annual "training" weekend (though from what they said the training seemed to be sampling the local food and drink !) and this event was arranged for while they were all here.
The picture shows Uggy, myself, Team MX and Micky (of Micky'n'Dave)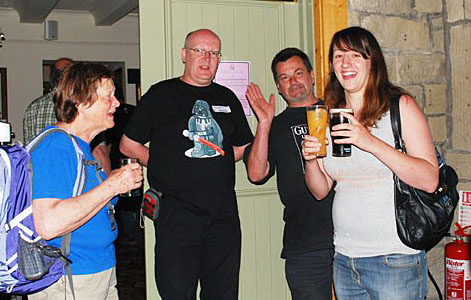 And so that was it, my cachiversary challenge complete. I'd logged 12 cache types, 10 cache icons and 7 cache sizes in one day – I also found nine more traditional caches along the way to get 1 of each Difficulty rating in the day as well… I'd driven 130 miles and got sunburned because I'd forgotten to take my hat – well, the sun was a surprise, it was only a week after the snow of May Bank Holiday.
Now I've got to think of something more challenging to do for next years cachiversary !