Home » Geocaching
Caches No's 2531 to 2545 – The Harrogate West Series Part 1
About a month ago a new series of 63 caches was put out around the west side of Harrogate – called imaginatively the HWS Harrogate West Series. As soon as these were published 2/3rds of them were disabled as the CO hadn't got permission to place them from the landowners and there had been issues with these landowners in the past. Eventually the landowners were persuaded to allow the caches and the series was reinstated with some additional instructions to cachers to keep to the path and generally respect that you are on someone elses property. The CO had been caching for a couple of years and has over 1,000 finds so 'should' have known better really. The series started in the car park of a pub – which they had got permission for people to park in, though I parked on the road outside
20th May 2013 – HWS #1 Harrogate West Series GC46ME9 – cache #2531
First find on a misty morning, not too bothered about being in a very public place to sign this cache as it was so misty I could hardly see across the road

20th May 2013 – HWS #2 Neville Bevis GC46MEV – cache #2532
A simple find of a magnetic nano on a bench… didn't get my normal log of nice to have somewhere to sit as the bench was thoroughly wet with the mist, so sitting down wasn't really an option.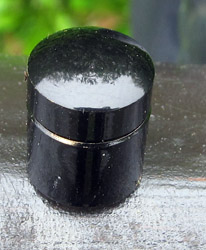 20th May 2013 – HWS #3 Friends of Ashville GC46P83 – cache #2533
A tiny, well hidden nano dangling beneath a tree root, just shiny enough to catch my eye when I bent down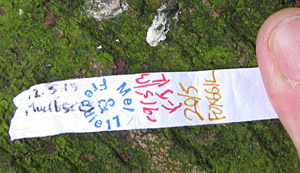 20th May 2013 – HWS #4 The White Lady GC46R5B – cache #2534
Another magnetic nano on another bench… again too wet to sit on unfortunately !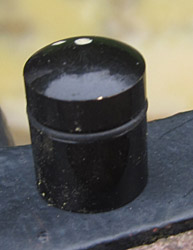 20th May 2013 – HWS #5 Smiths Stone GC46BDG – cache #2535
I wasn't sure whether this cache was still in the right place, there are two large stones, one either side of the road, the co-ordinates seem to point to one, but I found the cache under the other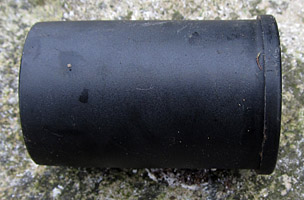 20th May 2013 – HWS #6 Soothill GC48JV5 – cache #2536
After letting a horde of dog walkers pass I looked in the obvious place and found nothing, so looked in all the inobvious places… then read the previous logs and went back to the obvious place where a closer fingertip inspection found the cache

After this I didn't find GC49XWQ HWS #7 Hooked on Wifey – and it was here that I had my first inkling of the issues that I was going to have with this series… A cache 50 yards off the path in a wood, where the co-ordinates are approximate (earlier finders talked about 'searching 40ft away', 'widening the search considerably', and the hint of 'plain view' may have been a help when the cache was put out (15th April) but by the middle of May the leaves are coming out on the trees and everyday you can see less and less and the GPS signal gets more and more dodgy under the trees.
I looked round for about 20 minutes before I decided that no co-ordinates, no hint and no visibility was like looking for a needle in a haystack and a waste of my time.
20th May 2013 – HWS #8 Rigg Cup GC48PD4 – cache #2537
Like many of the previous finders I found this very quickly, and it is quite a well hidden cache in the woods, I just went to where the co-ordinates pointed and spotted it straight away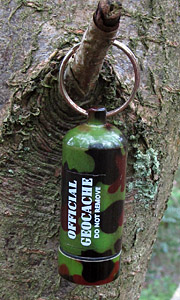 20th May 2013 – HWS #9 Burkes Crag GC48JTJ – cache #2538
Another quick find, while I was debating which side of the wall I should be looking on I looked down and spotted the cache
This was where I split the route into two, so instead of heading for #10 I walked half a mile along the road to catch up with the route at #50
20th May 2013 – HWS #50 Crosby Crossing GC48V5V – cache #2539
It took me longer to work out what the hint meant than to find the cache… I guess the hint suffers from having been written a couple of months ago and being out of the news now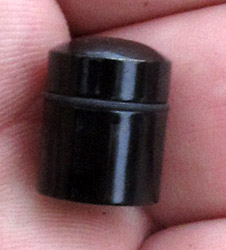 20th May 2013 – HWS #51 Mem Hall GC4AZAP – cache #2540
This cache is in an area of damp ground (well it's on the side of a shallow ditch) so you just have to follow the obvious signs of cachers footsteps to find it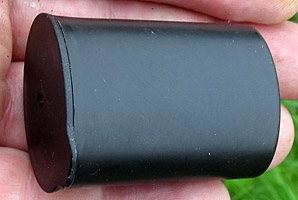 After this I didn't find GC48V6H HWS #52 Mallinson Way – a magnetic nano on a signpost, I looked in all the obvious places but it wasn't to be found, there were too many dog walkers / cyclists / horse riders / joggers let alone cars passing for me to spend longer searching, nor did I get chance to look for GC48V6H HWS #53 Bengafield – well I could see the cache as it was out in plain sight but there was a man cutting the grass verge just a few yards away and I could not get to the cache without him seeing me and wondering what I was doing – and with the trouble this series has already had with landowners I didn't want to bring this cache to his attention
20th May 2013 – HWS #54 Little Berries GC48V6T – cache #2541
There seem to be a lot of people not understanding the hint for this one… which is 'Ent'… only two options I can think of.. an Ear Nose and Throat connection or a Tolkien Tree being… not much problem working out which is going to be the right reference for a cache hint – so I understood the clue straight away, which was good as my GPS wanted to put me in the middle of the grass verge 25 ft from the cache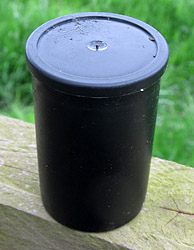 20th May 2013 – HWS #55 Ash Villa GC4AZCH – cache #2542
This one took a while to get to as I had to stand still near the cache at the request of the rider of a skittish horse… who then said she was only going to the end of the road and then was coming back… so I sat on a nearby stile for a couple of minutes until she returned the other way, then I went for the cache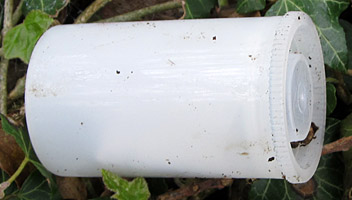 After this I didn't find GC48V74 HWS #56 Magic Toast – You've got a junction where three roads cone together, with a little island in the middle… on one of the three verges there is a hedge in front of a fence, on another there is a large chevron signpost indicating the way that the main road goes and the other corner is a manicured grass verge beneath a garden wall between the house and gateway… guess which of these three corners the cache is hidden on ? Previous finders have logged "bit close to the nearby house but sneaked it out" and "stayed ducked down as we weren't far from the house", when I got to the junction there were workmen taking a lunchbreak just inside the gate of the house, so I couldn't really go looking for this cache
20th May 2013 – HWS #57 Green Lane GC48V8N – cache #2543
Another cache where I didn't find the co-ordinates particularly accurate, but there was only one place the cache was likely to be so it was a quick find.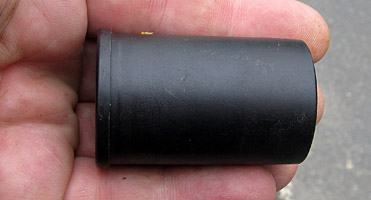 After this I sort of didn't find GC48V9F HWS #58 Holt's Astro – This is supposed to be a cache where you need to pour a litre of water into a tube and the cache rises to the surface and you can grab it… except it was only at the bottom of the description of cache #1 that it mentioned you needed to take the water with you, and I hadn't read that, neither obviously had some previous finders as even though the group of them have over 33,000 cache finds between them they attempted to get the cache without using water and broke it, so even though I had no water I wouldn't have been able to get the cache out anyway
20th May 2013 – HWS #59 FS and NS GC48VBH – cache #2544
This turned out to be a quick find as although the co-ords didn't seem to put me anywhere but in the grass between two trees while I was deciding where to start searching I looked down at my feet and spotted it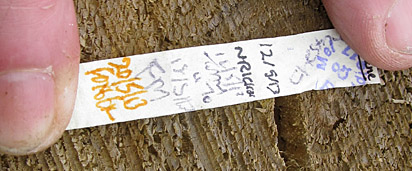 20th May 2013 – #60 Dolman's Domain GC49W1P – cache #2545
A cache that is overlooked by houses, other cachers have logged "Strange looks from the locals", for once I found the co-ordinates to be spot on, and quickly had the cache in hand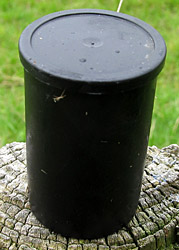 After this I didn't bother too much about GC48VCT HWS #61 Clock Tower or GC49W2V HWS #62 Marvellous Malawi – Others might have no problems with these, but I am not going searching around at the bottom of someones garden in full view of anybody who looks out of the house window when I have no hint to give me an indication what or where I am looking. So I didn't bother. It's pretty obvious that these caches were just put here to make the series join up with the beginning There is a bonus as well which is presumably in between #62 and #1, but as these are 0.21 miles apart there is only a very small gap of about 10yards where it can be.