Home » Geocaching
Caches No's 1345 to 1360 – Another Friday Drive To Norfolk
Every Autumn for over 25 years I have spent a weekend in Hunstanton with friends from all over the country (see 400 caches and 1150 caches ago !) and this year was no exception. I found this year there were loads and loads of caches put out in a couple of villages just off my route so I took some extra time on the drive down to find a few of them… How I do these is I spent a little time forward planning, make a route on the map and have a book in which I list the caches in order that they appear on the route, together with the hints, so in most cases I don't need to look up the details and logs when I get to the cache. My normal rules apply as always, don't bother stopping to find the cache if there is nowhere to park, or it is in a silly place overlooked by houses.
4th November 2011 – Sparky's cache GC2ZRCG – cache #1345
The first few caches were driveby's put out on my route that I hadn't been to before, the first one in some rocks in a car park that I was suprised to find empty on a lunchtime, I've driven past it hundreds and hundreds of times and never noticed it being empty before !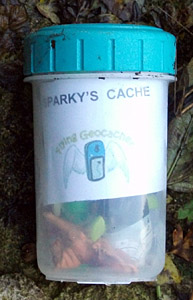 4th November 2011 – Drive By Caching No4 GC2HEGE – cache #1346
I tried to get this cache on my last trip to Norfolk in July, but was stymied then by there being a truck parked right by the cache with the driver eating his sandwiches. This time there was nobody there but me.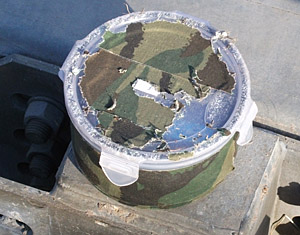 4th November 2011 – Drive By Caching No5 GC2HEGW – cache #1347
Another nice easy find that I'd had to miss out on before due to cars in the layby, this time the layby was empty and I coulf easily get to the cache fastened to the back of the signpost with the only people who could see me travelling down the A1 at 70 mph !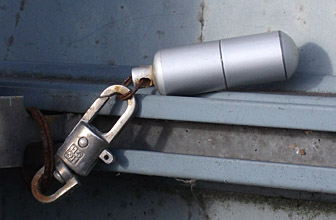 4th November 2011 – BB3 – Do you want to pass on this one? GC2WMZX – cache #1348
The Village of Brant Broughton, just outside Newark has a set of 16 caches around it, and was my first detour onto the narrow country lanes. And I mean narrow. Single Track with Passing Places narrow. This magnetic cache was on a Passing Place sign – which means you have to park in the passing place, but fortunately no one came along while I was there.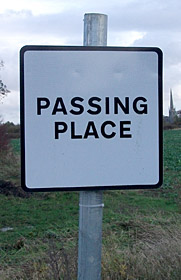 4th November 2011 – BB7 – Flag Pole No. 5 GC34B2T – cache #1349
You just have to give a 'Favourite Point' to a camo-tape covered cache hidden within a few yards of a sign that says
"Do not touch any military debris. It may explode and kill you" !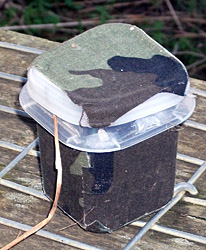 4th November 2011 – BB10 – No Bunnies Here GC34B48 – cache #1350
This was a cache that had stumped a lot of people judging by the logs, it was difficult to know exactly where to look, with it being hidden in a prickly hedge, and there were no hints, and it was a cache type I had never seen before, and only when I had found the cache did the title make sense… (and my photograph is a bit of a spoiler !)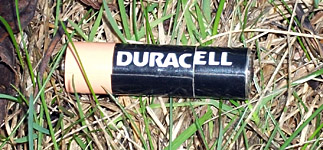 4th November 2011 – NAVENBY 64 (RED) GC2Z1H4 – cache #1351
After Brant Broughton, the next village is Navenby… which has 100 (!) caches placed around it in one named series, enough to keep me going for several more Norfolk trips !
The first one of these I found has an easily found Red Herring to throw you off the scent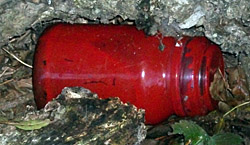 But a bit of careful searching nearby brings the real cache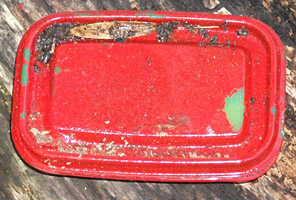 4th November 2011 – NAVENBY 96 (STINKY) GC2Z27N – cache #1352
There is a poultry farm nearby which obviously causes some noxious smells at this cache when the wind is in the right direction… fortunately for me it wasn't and the air was sweet !

4th November 2011 – NAVENBY 49 (Tree Cave)GC2TJVX – cache #1353
Awkward to get to this one, as it was a bit muddy and slippy underfoot, and the cache was in the hedge down a little ditch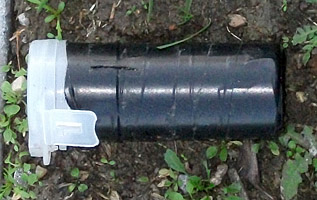 4th November 2011 – NAVENBY 67 (Pull It) GC2Z1J7 – cache #1354
Wasn't sure what to expect at this cache, a hedge by a public footpath, but then I saw a wire to pull and the cache popped out of the hedge when I did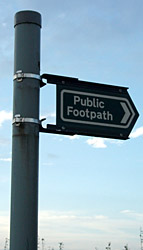 4th November 2011 – NAVENBY 24 (Start Here) GC2PPQ9 – cache #1355
Not sure why the cache is called Start Here when it is on a Clearway (i.e. No Stopping) sign… and of course you have to ignore the sign to stop for some of the caches along this road !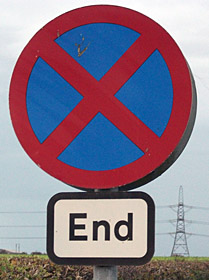 4th November 2011 – NAVENBY 54 (unclassified) GC2Z1A8 – cache #1356
There are many tracks around here that are not made up into tarmac roads, but they are historical and legitimate rights of way (come dating back to Roman times), so they have to have Unclassified signs on them. The cache is under a stone by the sign post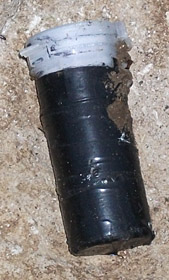 4th November 2011 – NAVENBY 26 (Roman) GC2PPQJ – cache #1357
And just to confirm the Roman antiquity of the local road system…. The cache is in the felled trunk of a large tree… probably not old enough to have been around in Roman times, but pretty old nonetheless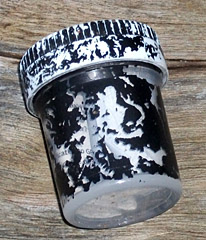 4th November 2011 – NAVENBY 27 (All Alone) GC2PPR3 – cache #1358
A disused field entrance with just one Gatepost, so the gatepost is all alone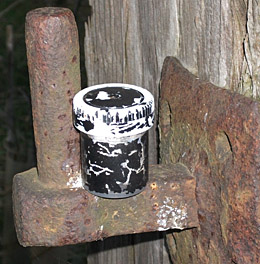 4th November 2011 – NAVENBY 16 (man pat) GC2PN24 – cache #1359
Another gatepost, another cache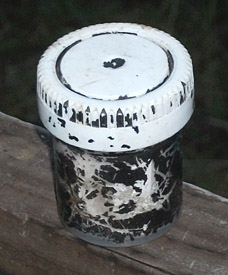 4th November 2011 – NAVENBY 19 (150) GC2PPPJ – cache #1360
With a name like 150 and a sign saying Give Way 150 yds Ahead I thought I knew where the cache would be, but I couldn't find it anywhere around the sign… So I read the description "Don't bother Giving Way" and the hint "Not the Giveway"… and realised I had probably looked in the wrong place !