Home » Geocaching
Caches No's 1285 to 1292 – A Trip To Wales, Day 4
14th July 2011 – Victoria Station GC1X1WX – cache # 1285
Next morning I decided to walk up to the tramway station as I couldn't find it by road the night before. Not too hard to find just by following the signposts !
Strange to find it was an 'AndyandMatt' cache… the last one of theirs I found I could see from my house… and I live a 140 mile drive from this cache – but then so do Andy and Matt !
14th July 2011 – Haulfre Hideaway GC2EC2N – cache # 1286
A walk along the slope between the town and the Orme takes you through Haulfre gardens, wherein is hidden another AndyandMatt cache… I guess they must spend a lot of time around here !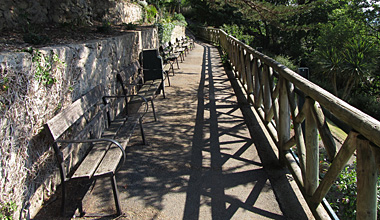 14th July 2011 – Zigzag to the Summit GC1XF0G – cache # 1287
At the far end of Haulfre Gardens the path leads out onto the sloped of the Orme and at the end there is a path that wind zig zags up to the top. three quarters of the way up is the cache with a nearby resting place. I spent about 15 minutes talking to a chap sitting on the bench admiring the view (well it is rather worth taking your time admiring) in the end he showed no sign of leaving so I walked up to the top and waited until he had gone then came down to grab the cache… and found when I leant over that what I thought was grass was actually ground level prickly gorse bush…. ouch, ouch, ouch… My arm looked like a pin cushion !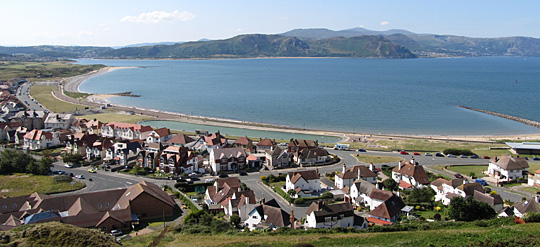 14th July 2011 – Madoc's Quay GC27K58 – cache # 1288 
After that I left Llandudno and headed along the coast on the road home, stopping off on the way for a few caches of course !
The first stop was at Rhos-on-Sea where this cache is a magnetic nano hidden on a gate in the sea wall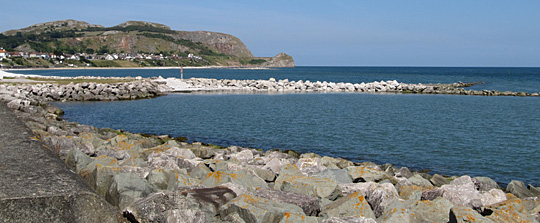 14th July 2011 – Good well? Well good! GCJB5W – cache # 1289
This cache is at the base of the bushes at the top of the slope behind this little chapel, I wasn't worried about the nun being able to see me as it was hidden from her view, but I had to sneak in keeping low to avoid some people having a cup of tea in a car within 10 foot of the cache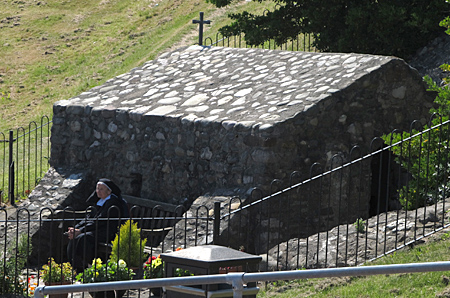 14th July 2011 – Rock of Peace GC2GYZ5 – cache # 1290
The last cache I did along the seafront, I'd driven along the coast to where the main road turns inland and then parked near Abergele station. The cache is in a car park, next to a large rock which has a commemoration on to 50 years of peace in Europe, it also had a man sitting on the plinth so I had to wander down to the waves until he had gone and the way was clear to the cache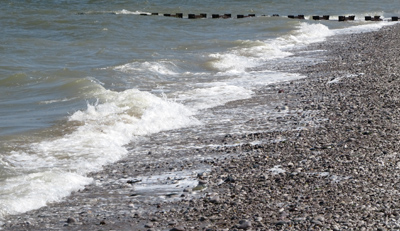 14th July 2011 – Marble Church, Bodelwyddan GC2JNKN – cache # 1291
Bodelwyddan church is one of the most spectacular churches in North Wales, and a familiar landmark on the A55 across North Wales. There is a large stretch of tarmac outside the church which is obviously a popular place to pull off and take a break – at least there was many cars about while I was there. But the cache is hidden behind a yew tree and out of sight to the other cars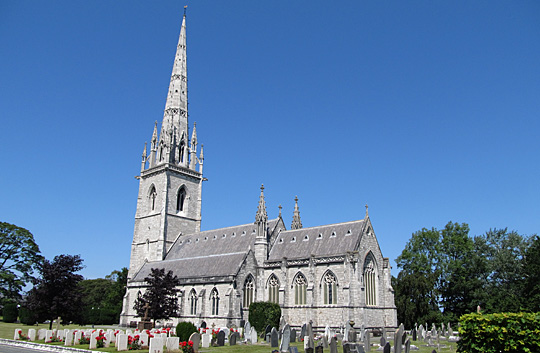 14th July 2011 – A-Road Anarchy A55-Dee View. GCZ9ZF – cache # 1292
Surprisingly the layby this cache was hidden in only had one truck parked in it, and that parked right at the other end than the cache was, so it was easy to grab it