Home » Geocaching
Caches No's 1272 to 1284 – A Trip To Wales, Day 3
Next morning I checked out of my Criccieth guest house and again went along to the Harbour Station in Porthmadog, this time to take the Ffestiniog Railway up to Blaenau Ffestiniog and back. Then I set off to drive up to Llandudno where I was to stop over night.

13th July 2011 – Snowdon View Micro 3 GCJ8XQ – cache # 1272
On the drive up of course I stopped by some more caches, this the first one did have a good view of Snowdon as the headline picture shows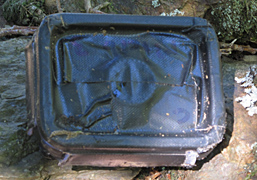 13th July 2011 – Llyn Pandarn/Snowdon Panorama GC27329 – cache # 1273
I drove down the Llanberis Pass, and past a few caches where there was no chance of parking due to the number of cars already in the vicinity. At the end of the pass is Llyn Padarn, and at the end of Llyn Padarn is a little turn off onto what used to be the main road where you find a cache and a lovely view of the lake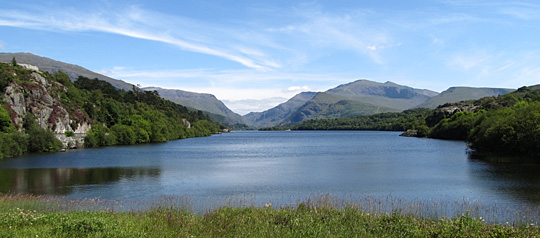 13th July 2011 – The Old Road Near the Groeslon Cooling Station. GC2XA9G – cache # 1274
Another little detour onto the 'old' road (before it was a modern wide A class road) brought me to the next cache, there was a bloke out doing his garden about 25 feet away and although he could not see what I was doing he could see that I was hanging about, so I took a couple of pictures of the view and quickly left

13th July 2011 – Croeso i Llanrwst – Drive-by GC293ZN – cache # 1275
I decided to retrace some of my steps to see if I could find my camera at the Weather station cache (unfortunately I couldn't) and along the way managed to find an empty layby for this cache where it had been full of cars when I drove the other way.
I had only just got out of the car when a Land Rover pulled up behind me in the layby so I had to grab the cache and wander away out of sight to sign it

13th July 2011 – Deceangi Drive-by series 50 GC2QQDW – cache # 1276
Another cache I had driven past a couple of days previously as there had been no obvious sensible place to park… there still wasn't, but I parked in a wide drive entrance and hurried across the road to find the cache. The clue said it was at the base of the furthest concrete post from the stile… which was a bit odd as there were two concrete gateposts one way and a whole row of concrete fence posts the other way…I chose the gateposts !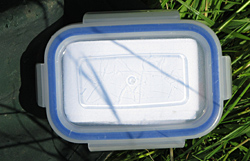 13th July 2011 – Great Orme Summit GCTN7J – cache # 1277
Once I had got to Llandudno and had something to eat I set out to drive to the Great Orme Tramway Station, got lost in the narrow streets and one way system and ended up on top of the Orme… there was no-one else about on top and it was a beautiful evening, the views in all directions were fantastic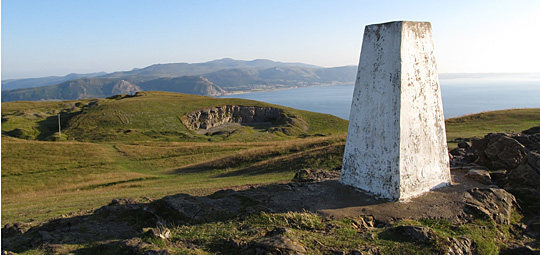 13th July 2011 – HRS attacks – Llandudno – Drive by GC2C1HG – cache # 1278
I then drove along to the very end of the seafront with the intention of working my way back along to the pier grabbing the caches along the way, unfortunately with it being such a lovely evening it didn't quite work out like that as there were just too many people about.
I had to delay finding the first couple of caches and went to the third one along, I was sat down fiddling under the bench trying not to look like I was looking for anything, but I must have made it obvious as a couple came up to me and asked if I'd found the Paddling Pool cache yet… Team Ryrah.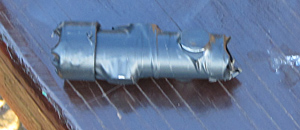 13th July 2011 – Back to the paddling pool GC21V6J – cache # 1279
There was an awful lot of people around this cache, watching the RNLI people play with their new piece of kit (Experimental Lifeboat EFFSEABEE TOO, and a rather large and powerful, tracked launch/retrieval vehicle)
There was however a chance to grab the cache while everyone was distracted by the going's on, so it was an easy find in the end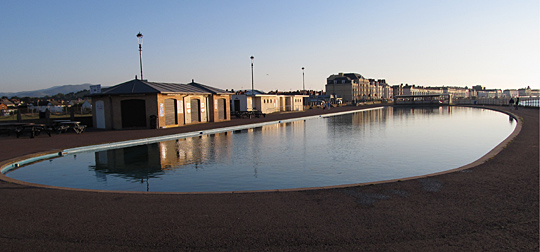 13th July 2011 – Bay View GC1KB00 – cache # 1280
I then went back to the cache I had intended to do first and had to wait while a chap exercised his dog… this involved him sitting on the bench next to the cache and throwing a ball for the dog to retrieve and then when the ball was returned, throwing it again… the lazy persons dog walking !

13th July 2011 – Swn Y Mor – Sound of the sea 2 GC2WGN2 – cache # 1281
Lots of people on the promenade enjoying a lovely sunny evening made this cache a challenge… (mainly a challenge to not look suspicious hanging around waiting for people to get up and leave)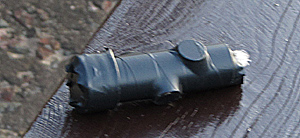 13th July 2011 – Prom-ine GC204GZ – cache # 1282
As the Sun went down it suddenly got a lot cooler and this encouraged people to get up from the benches and make their way to somewhere warmer, so I took a few photographs of the pier while waiting for the cache to become clear

13th July 2011 – Bloc Party GC202EP – cache # 1283
A cache in a car park – hidden in the ivy on top of a wall… I really dislike this kind of cache as hanging around the cars in a car park looks very suspicious, and I expect there were surveillance cameras around somewhere. The cache was placed because the hider did security at a gig by 'Bloc Party' at the hall and so hid the cache in the car park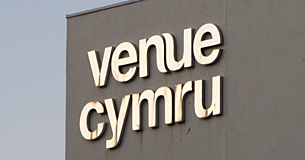 13th July 2011 – Swn Y Mor – Sound of the sea GC2WGN0 – cache # 1284
Another longish wait for the peole sitting on top of the cache to get up and leave, I thought they had just popped across the road from the hotel bar to have a cigarette, but they showed no signs of leaving just chatted away for 20 minutes or so while I threw stones into the water nearby and waited to grab my 7th cache on Llandudno's promenade