Home » Geocaching
On to 800 Cache Finds – Caches No's 771 to 802
Saturday, and another chance to have a full day of caching, I had been planning to do a 7 mile walk series of 17 caches on the far side of Bradford for a while and had made a special bookmark list of them to get a pocket query for my GPS (them being outside my normal 10 mile radius for caching. So it seemed like the perfect opportunity being the last time for a while that I would be able to devote a whole day to caching.
28th August 2010 – On Yer Doorstep 1 GC245KV – cache #771
I got off to a bad start, once I had parked my car I walked along to the first cache… and then couldn't find it ! Of course I was interupted by motorists, dog walkers and local residents, but what I had hoped to be a two minute job turned into more like 15 minutes before I found it, and at one point I was ready to chuck the whole lot in and go home !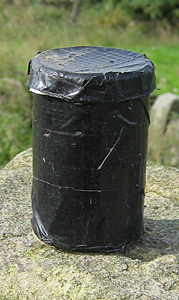 28th August 2010 – On Yer Doorstep 2 GC245KY – cache #772
The second cache wasn't much better, in the woods, no particular GPS signal, and a hint that said uner some rocks… well there was nothing but trees and rocks on the side of the path, and I spent another ten minutes looking for this one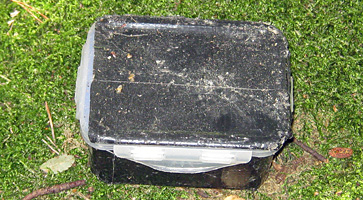 28th August 2010 – Great Northern Trail – Reservoir View GC16XEV – cache #773
This cache is not part of the same series, but is virtually on the route so a slight detour took me to it, again I had to hang around waiting for other people to leave the area, but then I got an easy find in a fallen tree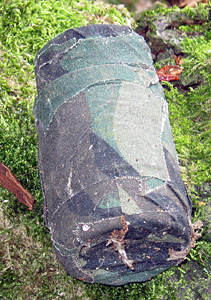 28th August 2010 – On Yer Doorstep 3 GC245M1 – cache #774
This cache was dead. the track down to it has become a stream over time, and it looked like people had made a new path the other side of the wall and then knocked down the wall by the stile where this cache is hidden, unfortunately pushing over a big stone which had crushed the cache flat… I found it alright, but couldn't get into it to find the clue for the bonus cache.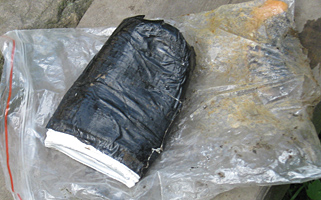 After this I failed to find GC245M3 – On Yer Doorstep 4, the spot was fairly obvious the hint talked about rotting wood and there waqs only one rotting tree trunk around, but I couldn't find a cache – two missing clues out of the first four wasn't looking promising for the bonus cache !
28th August 2010 – On Yer Doorstep 5 GC245M5 – cache #775
Moving on, this was an easy find at the base of a hawthorn bush, covered by rock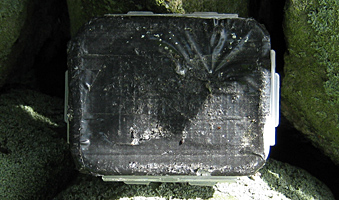 28th August 2010 – On Yer Doorstep 6 GC245MA – cache #776
The path led me along past a farm, like right past it, along the wall of the building, and there at the base of the wall was a little hole covered by some stones with a cache in, I had to be a bit sly, becasue not only was the farmer out and about in the nearby farm yard, there were a couple of girls riding their pony over some jumps at the other end of the same field I was in, so being seen by either fiddling around with the house wall wouldn't have looked good !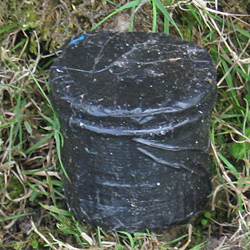 28th August 2010 – You're having a laugh! GC1FF11 – cache #777
Another detour to get a few caches, this one an easy find under a stone under a prickly hawthorn bush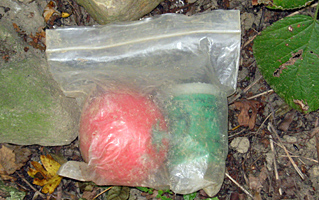 28th August 2010 – Goit Stock Falls GC1XFHP – cache #778
This is a virtual cache, I tend to avoid virtual caches cos usually all they are are a landscape feature (in this case some very small waterfalls) and all you do is put a picture of the falls onto the website, no cache to find, no log to sign. But as I was 100 yards away I thought I may as well take the time to do it.
28th August 2010 – Double The Key GC1PTG0 – cache #779
This cache was a bit of a quandary for me. When I did the bookmark list of the walk it was an active cache, but by the time I did the walk it had been archived… don't know why as it was easy enough to find, being in the recess of a wall behind a tree. The log was sodden and so I couldn't sign it, and I didn't know whether I could log an archived cache on the website – which was going to mean whatever cache I chose for my 800th (if I got there that day) may be my 801st in reality !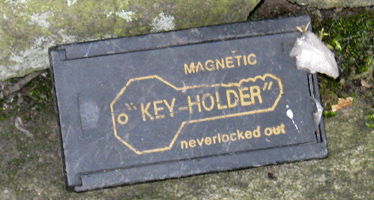 28th August 2010 – On Yer Doorstep 7 GC245MF – cache #780
A cache hidden on a residential street, under a lump of concrete next to a lamp post, not a good cache to do secretly on a sunny Saturday lunchtime when there were loads of people about, but I managed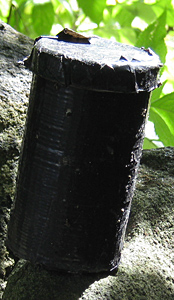 28th August 2010 – Great Northern Trail 3 GC17BKG – cache #781
This was fun, I got to the cache location and there were people about so I hung around for a few minutes waiting for them to pass, I'm sitting on a big stone within a few feet of the cache, when this local dog walking chap comes past and says "This walking lark, it's all technical these days… you get loads of people sitting just there on that rock with their little sat-nav devices"
I replied "Ahh, well we need to know whether we're in the right place or not !"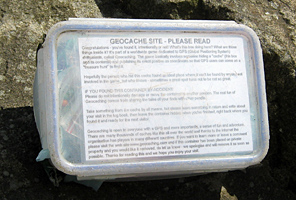 28th August 2010 – On Yer Doorstep 8 GC245MH – cache #782
This cache is hidden in a hole under some big stones, the cows in the field were a bit inquisitive, but they were the only ones to see me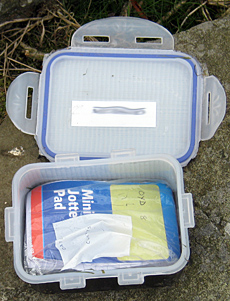 28th August 2010 – On Yer Doorstep 9 GC245MP – cache #783
I wasn't sure which way to go to get this cache, there was a path at the top of the hill and a path at the bottom, and the cache appeared to be about halfway between the two. I went for the top path, but ended up having to climb over the wall at the end of the field to get down to the cache, which was hidden under a very prickly holly bush – but fortunately not hidden far enough in to be too painful !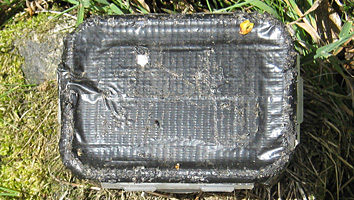 28th August 2010 – Hidden Valley GCM0KN – cache #784
This was a strange place, quite a pretty place though, in a wood where soemone had cleared all the fallen twigs and branches into a couple of big piles, so it looked like the ground had been swept clean for some reason. The cache was hidden in some rocks at the top of the valley side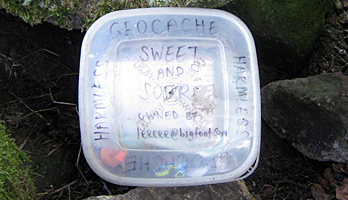 28th August 2010 – On Yer Doorstep 10 GC245MQ – cache #785
Another cache in the roots of a hawthorn, hidden by a rock
At this cache I collected TB3C3CD – Border Collie Geocoin – which was strange as it was registered as being in the Hidden Valley cache, so who had moved it I don't know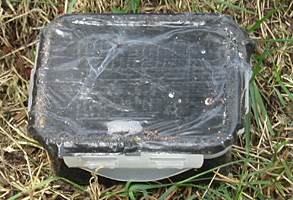 28th August 2010 – On Yer Doorstep 11 GC245MT – cache #786
Yet another hawthorn tree and another cache hidden under a rock… well a lump of concrete or something this time, and loads of nettles as well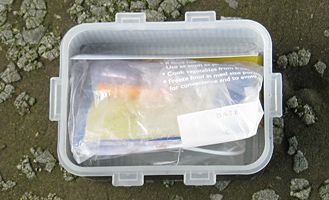 28th August 2010 – On Yer Doorstep 12 GC245MV – cache #787
Another tree, another set of tree roots and another cache hidden under a rock in them, this one a little more difficult than most as the tree is on top of an almost vertical 5 foot high bank, not easy to climb up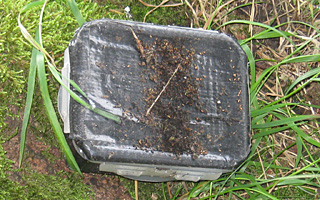 28th August 2010 – On Yer Doorstep 13 GC245MX – cache #788
Onwards and upwards up the hill to cache 13, hidden in the corner of a wall, under a rock (as usual)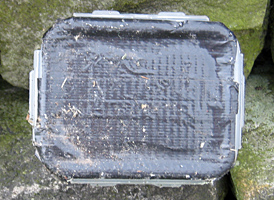 28th August 2010 – On Yer Doorstep 14 GC245N1 – cache #789
This one has caused some confusion among some cachers, you see there is a wall along the top of the hill, and at each side of this there is a footpath, both of which have stiles leading to the same path down the hill, but where the cache is some people have said their GPS was telling them they were in the right place but they couldn't find anything. I think this was probably because they were on the wrong side of the wall, the right side being the other side of the wall to cache 13… you had to climb over the stile to the south side of the wall to get number 13, and then back over the stile to the north side to be on the right side and path for number 14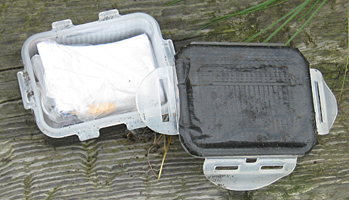 28th August 2010 – Viaduct View GC1N6WM – cache #790
Another cache hidden under another stone, the good thing about it is that not only do you get a nice view of the viaduct, you also can see your car from here so you know there's not too far to go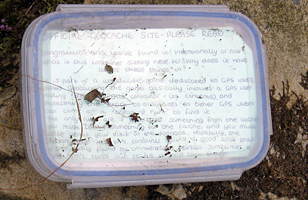 28th August 2010 – On Yer Doorstep 15 GC245N5 – cache #791
The path down the hill now goes through a new housing estate, it doesn't on my map ! but they had put signs in telling you the new route to take. The cache again under a hawthorn in a patch of nettles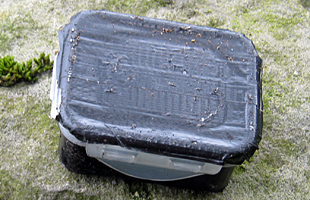 28th August 2010 – On Yer Doorstep 16 GC245N6 – cache #792
At the bottom of the hill is the last cache, it was obvious from a long way off where the cachh was going to be as just one place matched the hint. There was a man with a dog coming towards me the other way, so I grabbed the cache and walked off a bit to sit down and work out the answer to the bnuw while he passed by, then I went back to hide the cache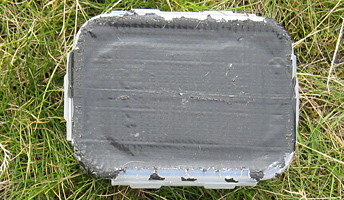 28th August 2010 – On Yer Doorstep Final GC245NA – cache #793
I managed to work out the position of the bonus cache even with two clues missing, The cache was near where the car was, but up the top of a steep hillside 🙁 no fun when you're weary and hungry (it had taken me about 4 hours to do 7 miles !) I was surprsed when I got there that the cache was just sat out on the hillside, totally uncovered by anything. I signed the log and then put the cache back inside the hollow log it was lying at the end of, which was obviously where it was supposed to be hidden.
I remarked in my log that the cache was out on the hillsie when I found it, and the owners visited and said it was out on the hillside again when they visited the next day, and since then other people have found it out on the hillside… Our thoughts are that some squirrels or rabbits live in the hollow log, or at least use it for access to their hole and so have to push the cache out every time it's put in the log so they can get in and out themselves !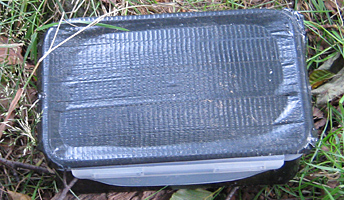 28th August 2010 – Oggy Amble – The Pond GC1ZPW8 – cache #794
After a pasty and a sandwich and some chocolate and a drink I went off to get some more caches around nearby Ogden Reservoir, in an attempt to get to 800 caches by the end of the day.
This cache is a magnetic nano and although I could see it from yards away – it's pretty obvious when you know what you are looking for, stuck as it is on a gate hinge – it took ages to get to it as I had to wait for a small child and his Grandmother to go away before I could get to the cache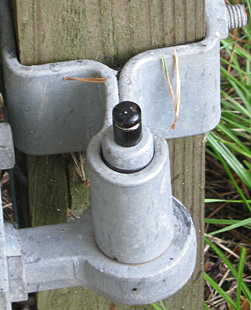 28th August 2010 – Amy's splash 'n' cache GC1Q6R0 – cache #795
Another cache hidden at the base of a prickly hawthorn bush covered by a rock – I seemed to find lots of these on this day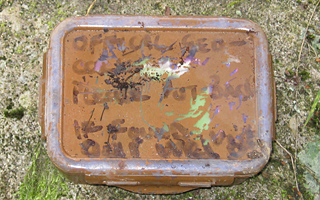 28th August 2010 – Thornton Moor 8 – Cairn GC1WGEE – cache #796
Up on the top of the moor there's a cairn, and a cache called Cairn, and a cache desription that says the cache is not in the cairn, then a few yards away off the path is a smaller cairn, the cache is in this cairn, it's all a bit confusing !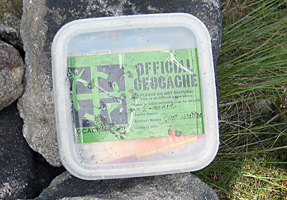 28th August 2010 – The Hollow GC1Q6V9 – cache #797
More a small disused quarry than a hollow, whose rock walls cause GPS signal bounce and so no accuracy, so it was a case of just examine every possible nook and cranny until you find the rock that appears to be in the wrong place and under it you find the cache…
I tried to hide the cache so it wasn't as obvious (i.e. the covering rock was weathered side out) but it was found the next day by someone who didn't complain about how hard ot was to find, so I can't have done it that well !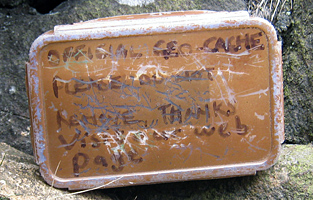 28th August 2010 – Oggy Amble – Boggart's Grave GC1ZPX9 – cache #798
A nasty slippery muddy hillside, it was horrible to get to the cache (which is in the fork of a tree) I was glad I had my walking pole to give me an extra balance point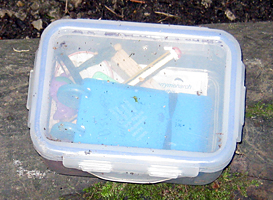 28th August 2010 – Oggy Amble – Skirden Clough GC1ZPYW – cache #799
This took ages, due to the tall trees all around and failing batteries on my PDA/GPS I wasn't getting any accurate positioning at all. The hint said at the base of a tall pine tree, and I came along the path by the stream and waited by a pine tree until some people had gone past. I couldn't see a cache at this pine tree so I started searching every pine tree in the area, and found nothing. I must have searched every tree in the are about 3 times until I eventually located the cache, in a clump of moss, at the base of the tree I had waited by at first !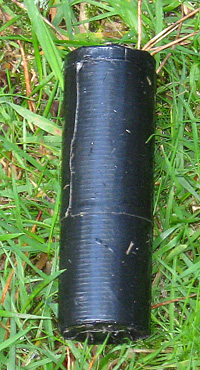 28th August 2010 – Oggy Amble – The Plantation GC1ZPZ8 – cache #800
My 800th Cache ! an easy find in the hollow of a small tree just off the path, a rather inconspicuous cache for a milestone really !  And not a particularly exciting looking cache either as you can see from the headline shot
It took me 5 months last year to do 200 caches, this year I've done 600 caches in 6 months and the last 100 in 13 days… but summer is coming to a close, so the rate will slow down from now on.
28th August 2010 – Big Tube Little Tube GC1CRK4 – cache #801
This was planned to be cache 800 – but the website let me log the archived Double the Key cache, so it became 801. The cache itself wasn't difficult to find even though my PDA battery had gone flat so I had no GPS ! I had enough info from remembering where it was on the map and I remembered the hint so I found it easily enough (even though some people have had trouble finding it with a working GPS and hint)
The cache is made up of plumbing parts, not your normal Clip Lock or 35mm film cannister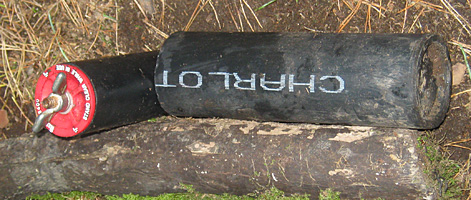 28th August 2010 – Ogden Heights GC1NTX9 – cache #802
This cache was in the car park where my car was, I had a spare battery for the PDA, so I popped it in and went up to the top level of the car park and found this easily enough.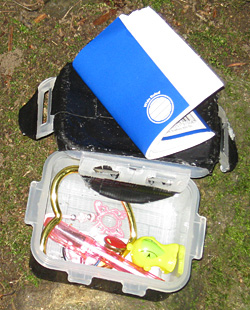 Then I went home !
I must have walked 11 miles or more in total, further than I've walked for many years, and it took me a few days to recover from it