Home » Geocaching
A Caching Sunday – Caches No's 739-752
Back on August 15th when I had got to 700 caches I sought of decided that I would attempt to get to 800 caches within 2 weeks – knowing that I would have the opportunity to do three good days caching over the next two weekends and had still enough time in the evenings to do a few caches before it got dark, so after the first of the weekend days I was over a third of the way towards my target.
The next day, Sunday, I was up early to do a few caches in the morning before an appointment I had in the afternoon.

22nd August 2010 – itsastory.co.uk GCWAX2 – cache #739
This is a puzzle cache that I had worked out the method to solving weeks before but only a couple of days before had got round to solving completely, it was not easy to get to the cache being in a well overgrown corner of a parking spot up on the moors, only having been visited 3 times in the past year.
22nd August 2010 – Magni GC1EB51 – cache #740
Another cache in a wood where the GPS is not particularly accurate, and the hint – under a log (or similar) is rather indistinct, so I had to move a lot of rotting logs before I found the right one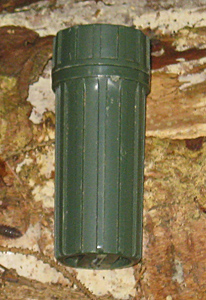 22nd August 2010 – Odin GC1EB59 – cache #741
Another cache in the same wood, with the same GPS accuracy problem… the thing is that for this cache there is an obvious place where the cache should be, but it isn't obviously there, so I looked where I thought and couldn't find it, then I looked all around and couldn't find it anywhere else and so had to go back and more closely search the obvious place… and there I found the cache buried in the ground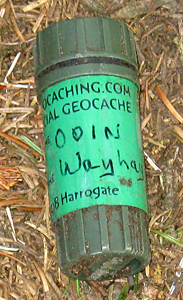 22nd August 2010 – Washburn Wander GCPE8B – cache #742
A two part cache, the first involves a tramp across the moor and into the thick bracken to find a cache under a rock half way up a steep hill side… where the hint said by a gorse bush.. a gorse bush that is shorter than the surrounding bracken so is invisible… but eventually I found it
The second part of the cache is hidden in some rocks up on the other side of the valley, another trip across a pathless moor, this time through heather as well as bracken, which means that although you can see where you are going the footing is equally as uncertain

22nd August 2010 – Norse God Bonus GC1EB5Q – cache #743
An easy find at the base of a tree under a rock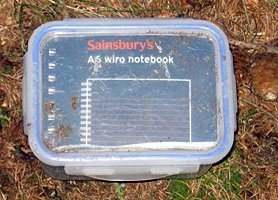 22nd August 2010 – Thruscross Reservoir GCJKAZ – cache #744
I actually fell over this cache, well at least the rock covering it, I was scrabbling around through this copse of bushes following the GPS directions and tripped over the rock – as the GPS said I was still several feet away !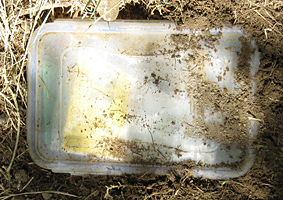 22nd August 2010 – Harrogate HQ 'Tat' GCWCBC – cache #745
A large ammo box hidden in a patch of hawthorn and gorse halfway down a very steep hill. As I was doing the cache I heard voices and so had to rush to hide it again before the owners of the voices came down the path.
Then I found that the owners were two couples on mountain bikes… the girls sensibly decided that the hill was not suitable to ride down, but the boys in their showing off bravado decided to go for it… and got all of about 15 feet before they were going wheel over tit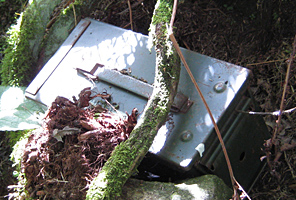 22nd August 2010 – train spotter GC151YF – cache #746
In the afternoon I had to go to the optician in Harrogate so after that I did some caching in the area. The first cache was this one which I had failed to find on 20th June- because it wasn't there – but it has now been replaced and is exactly where I couldn't find it before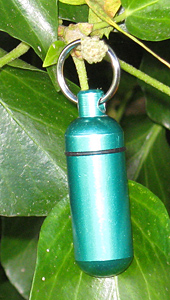 22nd August 2010 – Rossett Ponds (North Yorkshire) GCRCBB – cache #747
Rossett Ponds is a park / nature reserve which has ponds (obviously) and wooden walkways over the wet bits. This cache is hidden under the wooden walkway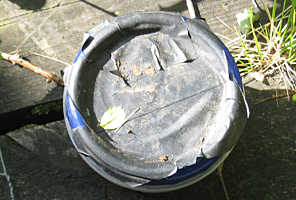 22nd August 2010 – Unclear Physics GC27E16 – cache #748
A puzzle cache where to solve it properly you have to find the one pixel in the picture that links to the webpage that shows the co-ordinates… I cheated a bit by downloading and deciphering the source code of the webpage to find the correct link.
The cache itself was hidden near a footbridge… I expected the cache to be under the footbridge, as they usually are, but it wasn't, it was hidden in a nearby bush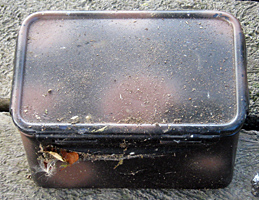 22nd August 2010 – Life of a Pea – The Pod GCYG4V – cache #749
There was some talk on the Yorkshire Geocaching forum of whether 'hints' should be used to find caches, or whether it would be a purer 'sport' if there were no hints. I used this cache to show that hints were needed as this cache would be impossible to find without the hint.
It's in a wood, so the GPS accuracy is poor, and rather than being hidden in a place that's visible, it's hidden in a tree in a hole where a branch has been removed, except there is a 'dead' branch inserted into the hole (so it looks totally natural) and the cache is hidden in the hole under this false branch. Without the hint to tell you what you were looking for it would be pure accident if you found the cache.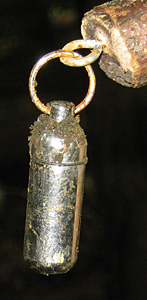 22nd August 2010 – THE WARREN GCND1Q – cache #750
A steep hill to climb, and a cache hidden under a stone at the top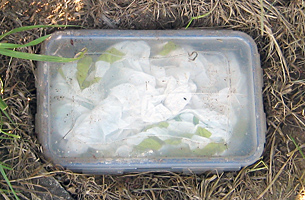 22nd August 2010 – Chord scares cow GCXCX8 – cache #751
A puzzle cache in the form of a cryptic crossword, I'm not good at cryptic crossowrds and only managed to solve enough to give me a most of the co-ordinates, but not an accurate fix, so it was a case of going with what I had until I saw something that looked like a cache hide… which was a rusty corrugated iron sheet and a pile of stones… with an ammo box cache behind.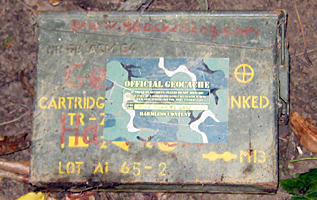 22nd August 2010 – Good Cache, Bad Cache – Good GC10HGH – cache #752
This is the first part of a mutliple puzzle cache, a straightforward cache to start which is easy to find being hidden under a fallen tree trunk and under some stones, the cache hide is visible to the experienced eye from many yards away.