Home » Geocaching
Weekend Away Part I: The Drive South – Caches No's 371 – 388
16th April 2010 – Acrophobics Solace GC1JJFF – Cache #371
I was travelling down to Brean Sands near Weston Super Mare for the weekend, so I thought I'd do a few drive by caches, it's a 250 mile drive, 230 of that on Motorways so it should have been about a four hour drive… it took me seven and three quarters.
The first stop I made was for three caches on the top of the M62, where the Pennine Way crosses the road by a footbridge… a bridge that is a little daunting for those afeared of heights !
Fortunately you don't have to cross the bridge from the parking area to get to the cache.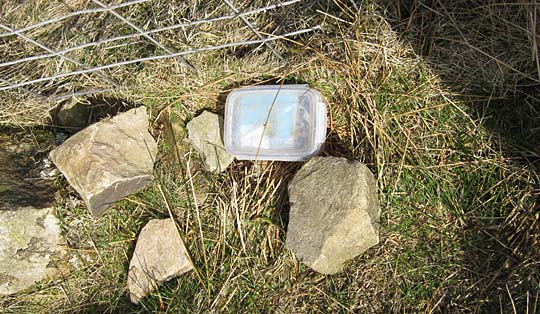 16th April 2010 – Windy Hill GC3A42 – Cache #372
But you do have to cross the bridge to get to this one which is a 100 yards away on the other side of the Motorway

16th April 2010 – War of the Roses – The Pink Rose GC1DKJP – Cache #373
This cache is right next to the parking area, a parking place with a busy refreshment van. Fortunately the cache is behind the van so you aren't seen by the cook or customers… but you do get the wonderful smell of bacon sandwiches.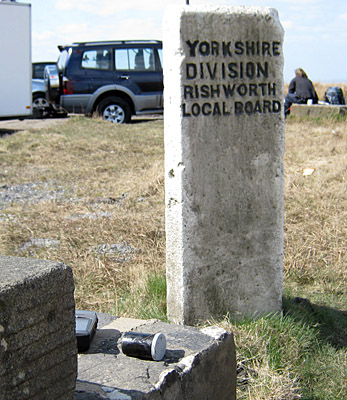 16th April 2010 – Motorway Mayhem M6 Junction 19 GC2549F – Cache #374
A short diversion off the motorway to this cache. Pretty obvious where it was, the only rock in sight !
I had all the caches planned and timed… how long I thought it would take to get from the motorway, grab the cache and get back to the motorway again (in 5 minute segments) and how long google maps reckoned it would take me to get between the motorway junctions… the timings were pretty accurate over the journey

16th April 2010 – Motorway Mayhem M6 Jnc17 GC1R49V – Cache #375
This one is in a little car park just off the motorway, a very popular car park, it was full of cars, but there seemed to be no-one about to observe me finding the cache which was in some bushes at the car park entrance, in full view of anyone who was there

16th April 2010 – Motorway Mayhem M6 – Stafford Services South GC10K2P – Cache #376
Service stations at lunchtimes on Fridays are very busy places, even though there were many people walking about they were all too interested in their own little worlds to take any notice of me. The guy sitting on the bench 20 feet away from the cache was far too involved in lighting his pipe to even notice what I was doing, so I signed the log and went without any bother at all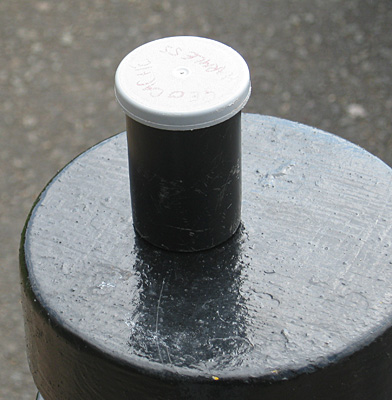 16th April 2010 – Motorway Mayhem M6 Hilton Park Services Southbound GC11DD2 – Cache #377
Bit more difficult not being observed and having folk wondering what you are doing with this one, as it's stuck on the back of an advertisement hoarding at the side of the road… thing is that the cars are all passing you on their way out, so even though they see you and may wonder what you are doing they can't really interfere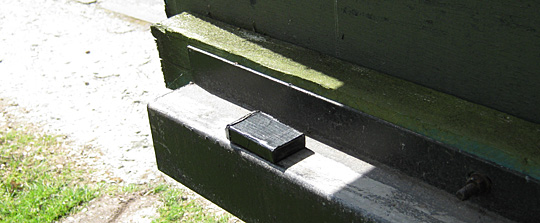 16th April 2010 – Frankley services, M5 GC1WJ0V – Cache #378
A nice one to stretch the legs on the journey. This is by the bridge over the motorway so you have to walk out of the service station and a few hundred yards along the road to get to it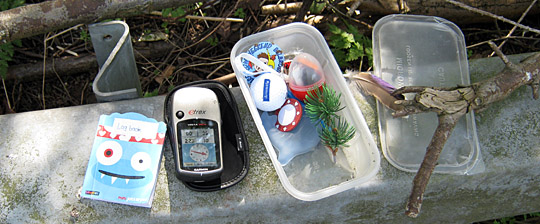 16th April 2010 – BPJC: A Pie, a Cup of Tea and a Kip GC1V1PV – Cache #379
Another layby just off the motorway, another stone in an odd place (well it's a lump of concrete actually) and another quick cache and dash… hadest thing about this was turning round to head back to the motorway, it's a busy junction !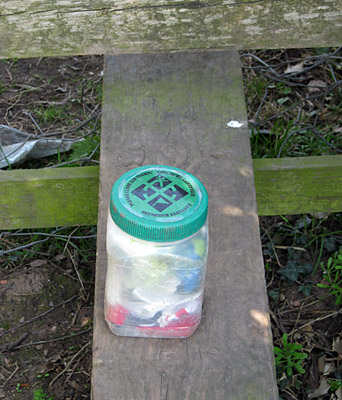 16th April 2010 – Motorway Mayhem M5 J6 (Worcester North) GC135TW – Cache #380
This cache was a little surprising in that it wasn't covered up at all, it's stuck in a crack in a big log and is there for all to see… except no-one but a cacher s likely to be walking past to see it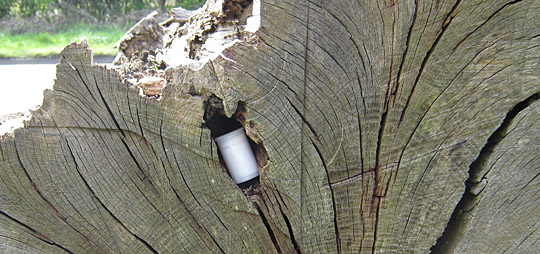 16th April 2010 – BFRS – Shannon Way Level Crossing GC24VMG – Cache #381
This one is very open to being observed, the BFRS means Britains Forgotten Railway System and the cache is placed where a level crossing used to be… however it's now the entrance to a housing estate. The cache is hidden in the road name sign, and is plonked right in front of the window of a house – 6 feet from it. Anyone in the house could see you getting the cache.
I walked past once and saw where it was, walked past againand grabbed it, took it away to sign the log then walked back and quickly slipped it back into place then legged it !
A different thing to the 35mm film cannisters… this one is an APS film cannister.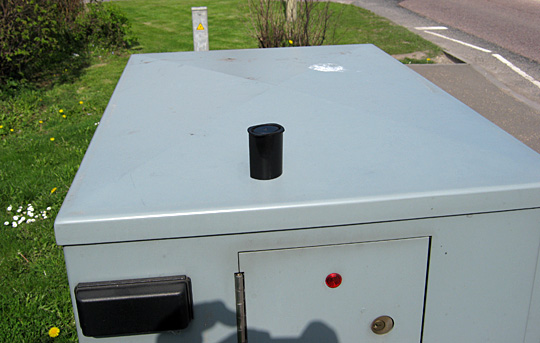 16th April 2010 – Motorway Mayhem M5 J9 GC10Q2B – Cache #382
Ants ! an old cats eye dumped in a ditch with the cache hidden in the underside of the base… trouble is under the cats eye is also an entrance to an ants nest so there were hundreds of them about and they were all over the cache so when you retrieved it you got your hands covered in them too.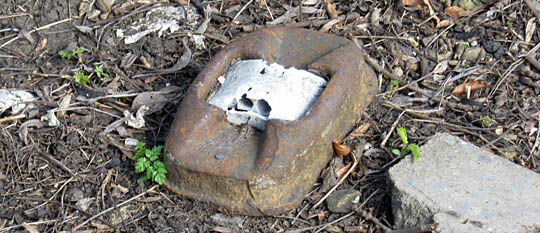 16th April 2010 – Motorway Mayhem Blooms M5 J12 GC11Q5H – Cache #383
Another 35mm film cannister hidden under another lump of concrete at the base of telephone pole this time. trouble is the hot sun had caused the preservative creosote / tar to melt and run all over the cache so the pot was all sticky and I ot my fingers covered in the stuff and had some drip onto my trousers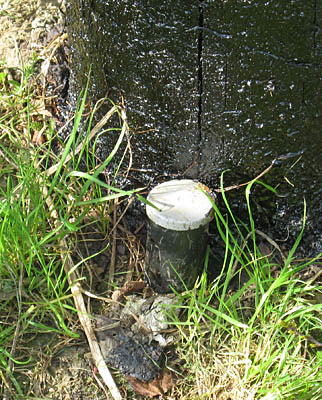 16th April 2010 – Motorway Mayhem M5 Junction 13 GCVWD4 – Cache #384
Slightly different, base of a tree, lump of concrete covering the cache, but instead of a 35mm film cannister the cache was just in a plastic bag… whether there had ever been an outer box I don't know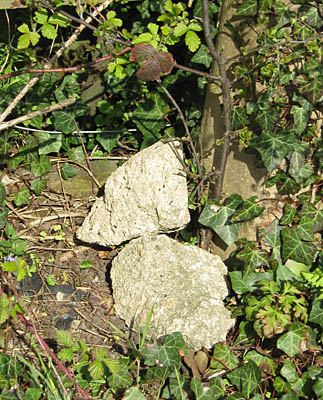 16th April 2010 – Gordano services Motorway Mayhem M5 J19 GC1TYZW – Cache #385
Another busy service station with loads of people sunning themselves on the grassy banking. The cache was on a path leading over the other side of the embankment hiiden by a torn piece of cloth, a pizza box and some old magazine pages… not a pretty place really.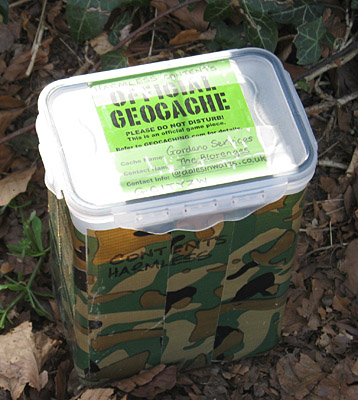 A couple of hundred yards away I didn't find Gatecrash junction 19 GC1PT86, this was supposedly under a small rock at the other end of the path to the services… however the gateway was full of nettles, rubbish, fly tipped builders rubble and dog dirt… I kicked over a few stones found nothing and then walked away… not really a place I wanted to search closely
16th April 2010 – Twin Bridge View GC1MF87 – Cache #386
Another short stop off the motorway, to a cache hidden down at the end of a dead end where you are observed by the people who live in the houses at the end of the street, wondering why you are parked outside their house poking around in the undergrowth. I saw a grey head bobbing around the other side of the garden fence, but she couldn't see me picking up the cache and signing the log

16th April 2010 – BPJC Gert Lush My Peachy Soir GC1WKKH – Cache #387
An easy find in the armco barrier on a sharp bend on a narrow road, the barrier is there to catch cars that are going too fast and don't make the corner… I wonder what is there to stop the cars hitting the cachers searching for the prize in the barrier ?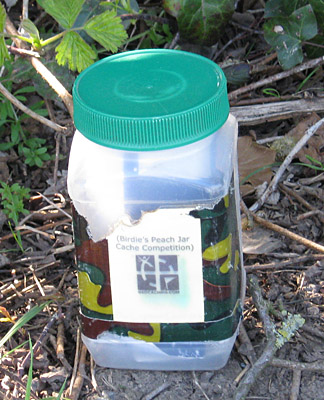 16th April 2010 – Motorway Mayhem M5 Sedgemoor Services Southbound GC1F4Z2 – Cache #388
Last one on my journey down, another service station, another path leading off from it and another cache… I just had 15 minutes more to drive to my destination when I got back into my car.