Home » Geocaching
Looking For Percy – My Cache Hide No. 1
Mar 6th 2010 – Curse Of The FTF Wharfedale #9 – Looking for Percy GGC24NHA – My Cache #1
Following my being the FTF to find the Beechings Axe cache it was up to me to continue the series by hiding a cache. I'd been watching this series and expecting that I would get my turn eventually and so I had been getting a cache together ready to hide, I'd got box, logbook, pen, some trinkets to go inside, I had TB's I could put in etc. etc.
All I needed to do was have a hiding place, and of course I had a perfect hiding place in mind… just where the Beechings Axe cache was hidden !
So I needed to think again, and came up with a public footpath about a mile away from home that was reasonably accessible from either end but quite a way away from roads… you have to walk to this cache.
The bit of path I'd chosen is quite strange as it's sunken in between two fields, I have always been led to believe that it was part of the old pack horse route that comes over the pack horse bridge at Dob Park and leads from Fountains Abbey to the Roman settlement at Ilkley – but I may be totally wrong !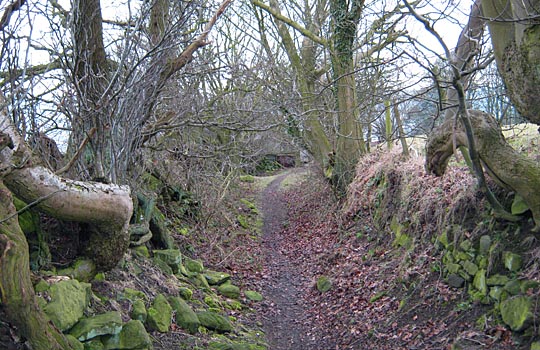 Anyway as I said the path here is sunken between two fields which are 3-4 feet higher than the path and there are trees that are the remains of the field boundary hedges on either side. It is in a hole under one of these trees that the cache is hidden.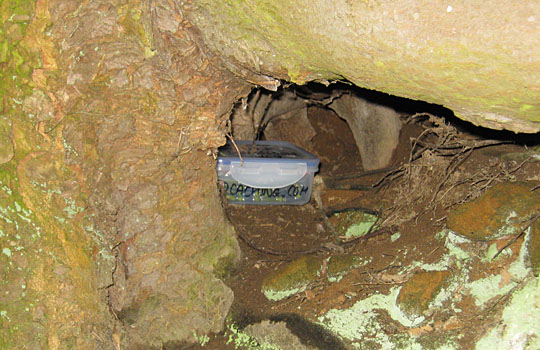 So I had the cache hidden and had the co-ordinates, now all I had to do was decide whether to just make it a simple cache, or to make it a bit of a puzzle. I chose puzzle, and picked the published co-ordinates to be a pub car park from where there is a public footpath to the cache so it is a good place to set off from.
I had been thinking of a puzzle for a while, a simple puzzle the series instructions said it had to be so I decided on the  Thomas The Tank Engine – simple enough and should be pretty obvious to anyone that Thomas, Henry, Edward, James, Gordon, Toby etc relate to the Rev W. Awdry's stories… all they have to do is decipher what about the engines the puzzle refers to… and there's not really too many options there !
I had to check and double check the puzzle and even then I got it wrong. But eventually I was happy with it and submitted it.
Then the worry was that the co-ordinates were wrong or that no-one would bother to find it… but it was logged for the first time within 2 days of publication… so everything must be alright !