Home » Geocaching
Caches No's 230 to 244 – Delightful for Truckers
February 27th 2010 – Curse of the FTF Wharfdale #1 GC213BC – Cache #230
Another Saturday comes round and after being away the last two weekends I had some shopping to do, I did manage to plan a few caches in with my shopping, actually I planned a lot more than I managed as I got the cache list download wrong, so hadn't got the new caches I was intending to locate saved into my GPS.
This cache is at the side of the A65, a fairly major road where every car occupant can see you scrabbling around the ground looking for the cache. Actually getting the cache isn't a problem as it looks like you've dropped something and are picking it up, but replacing it looks a bit like you are dumping rubbish !
February 27th 2010 – A Truckers Delight – A59 – Andrew GC233PC – Cache #231
The Truckers Delight series are hidden in laybys on the main A road, thus making them suitable for geotruckers to find… You just have to hope there's no-one parked right by the cache when you pull up. This particular one was just outside the 10 mile radius from home so wasn't in the cache list I got wrong… as I had programmed it in by hand my GPS knew where it was. I had planned a drive home that took in all this series… but that didn't happen.
February 27th 2010 – Top of the World 1 GC21RH4 – Cache #232
You park your car at the side of the road in the middle of nowhere… and someone else comes along and parks behind you… fortunately I was putting the cache back before they appeared so I just took a picture of the view, got back in my car and drove off.
This was the only 35mm film cannister I found all weekend !
February 28th 2010 – Sitting on the fence by the river GC22AY0 – Cache #233
Next day I programmed the cache list correctly and so set out to find all the caches I should have had the day before… and a few more.
This one was a well hidden micro hanging off a mesh link fence, quite hard to spot and quite hard to retrieve and replace with all the dog walkers on the path
February 28th 2010 – A Tree by the river GC22AY5 – Cache #234
This one is hidden in plain view. In fact it's so much in plain view I wonder whether it should be hidden in a less visible spot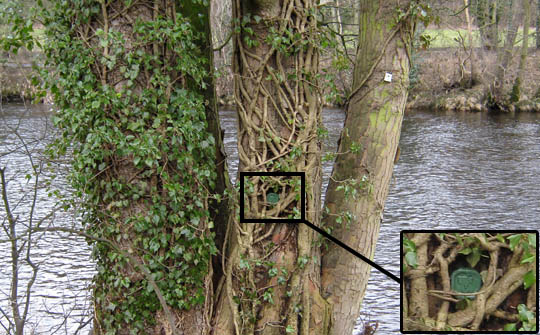 February 28th 2010 – Stumpy by the river GC22AXR – Cache #235
This used to be the bonus cache of the Riverside Walk series I found back in June… so it was a dead easy find !
February 28th 2010 – A Truckers Delight – A65 – Alfred GC23N4C – Cache #236
Back to laybys on the A roads… no sooner had I pulled in to this one when a road sweeper appeared… I thought that I was going to have to drive on and leave as they would think I was fly-tipping or something if I started searching around in the bushes, but fortunately they were just using the layby to turn around in
February 28th 2010 – Radiation GC1CFN6 – Cache #237
A magnetic cache hidden under a bridge
February 28th 2010 – A Truckers Delight – A59 – Ben GC233PV – Cache #238
Why do cache hiders like hawthorn bushes so much ? you get your eyes scratched out trying to find some caches
February 28th 2010 – A Truckers Delight – A59 – Charlie GC233Q9 – Cache #239
I was aware that I was being watched by a young girl (7 or 8 year old) from the nearby farmhouse, fortunately she couldn't see the cache site, but it may be that she will get curious if people start stopping here regularly… then we could either have a lost cache, or a new cacher !
From this cache I collected TB2RW2D – Football Frenzy Bug
February 28th 2010 – A Truckers Delight – A59 – David GC233QN – Cache #240
Another piece of road now bypassed as it was narrow and had a farmhouse right on it, the locals may get curious by a steady stream of people visiting their little world…
February 28th 2010 – A Truckers Delight – A59 – Elliot GC233TC – Cache #241
There was a lorry parked by this cache, but fortunately he left just after I pulled up… maybe he was doing something he didn't really want to be seen doing.
From this cache I collected TB291TM – Sam's key to success Travelbug
February 28th 2010 – A Truckers Delight – A59 – Frank GC233TV – Cache #242
A Spanish tanker driver was parked in the layby, fortunately he didn't seem too interested in what I was doing
February 28th 2010 – In The Pink GC13HKP – Cache #243
I had looked for this before, back in July. It was missing then, has been replaced now, and was no problem to find it.
February 28th 2010 – Airy Almscliffe GCDD65 – Cache #244
Mud, lots of it, my shoes will never be the same again…. And Airy… there was lots of wind here as well. On a Sunday there is always lots of walkers and rock climbers around, so I had to wait around for some of the walkers to pass before I could get the cache. There were three Red Kites soaring around on the wind, they came within 15 feet of me.