Home » Genealogy
Albert Reginald Downing 1895 – 1971
My maternal Grandfather was born in 1895, so again appeared on the 1901 Census. He married my Grandmother in 1921 after he moved to Kiveton where he worked in the Coalmine
Name: Albert Reginald Downing
Age: 6
Estimated birth year: abt 1895
Relation: Son
Mother's Name: Kate
Gender: Male
Where born: Sheffield, Yorkshire, England
Civil parish: Sheffield
Ecclesiastical parish: Dyers Hill St Luke
County/Island: Yorkshire
Country: England
Street Address: (Home of 1 Room) South Street, Sheffield
Household Members:
Name Age
Kate Downing 30
Albert Reginald Downing 6
Barbara Elizth Downing 3
Elizabeth Barlow 67
The address, an un-numbered house on South Street… South street is the little road on the triangle in the aerial shot below, in the Park Hill area of Sheffield, near where the Park Hill Flats are today, the red square shows the approx area the dwelling was in.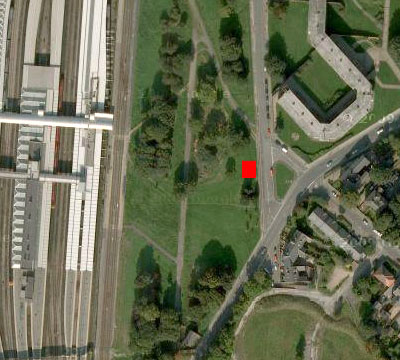 Wikipedia says of the area
Park Hill was previously the site of back-to-back housing, a mixture of 2-3 storey tenement buildings, waste ground, quarries and steep alleways. Facilities were poor with one standpipe supporting up to 100 people. It was colloquially known as "Little Chicago" in the 1930s, due to the violent crimes sometimes committed there. Clearance of the area began on the 1930s but was halted due to World War II.