Home » Genealogy
Annie Underwood 1898 – 1984
The way to begin with your family tree is start with someone that you know the details of.
In my case I know who my Grandparents were, so I can start off with them.
I know my Mother's Mother was born Annie Underwood in June 1898 – so she should appear on the 1901 Census, taken on March 31st 1901, as a 2 year old child.
I use Ancestry.co.uk to search the Census data, there are other websites and other ways to do it, but Ancestry is convenient.
Searching the 1901 Census on Ancestry for my grandmother comes back with a scan of the actual census page she appears on, and a summary of the data
Name: Annie Underwood
Age: 2
Estimated birth year: abt 1899
Relation: Daughter
Father's Name: William H
Mother's Name: Penelope
Gender: Female
Where born: Kiveton Pk, Yorkshire, England
Civil parish: Wales
Ecclesiastical parish: Wales St John
Town: Kiveton Park
County/Island: Yorkshire
Country: England
Street Address: 184 New Rows

Household Members:
William H Underwood 25
Penelope Underwood 23
Annie Underwood 2
Harry Underwood 4 months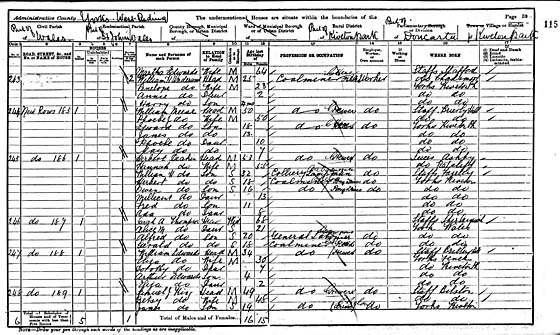 The census information shows that my Great Great Grandfather (in genealogical circles shortened to GG Grandfather) William worked in a Coal mine as a Coal Hewer, and that he had been born in Chadsmoor, Staffordshire.
GG Grandmother, Penelope, is shown as not working, and born in Kiveton Park.
I find it is always interesting to see where people used to live, and sites that are useful for this are Google Maps (which gives you an up to date picture of the place) and old-maps.co.uk which has lets you see a big map from the 1854 Ordnance Survey and smaller maps from later years.
Today Kiveton looks like this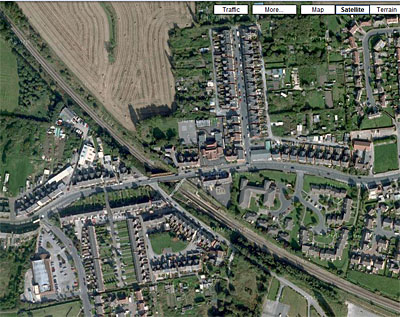 If we go back to the 1854 maps, Kiveton Park did not exist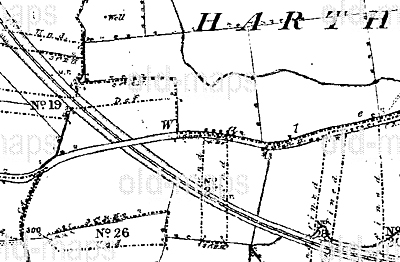 Kiveton Park is built at the crossing of the railway and the road, which were both there in 1854, but there is no village
According to the history of Kiveton Colliery found on  www.j31.co.uk/kivpit_hist.htm
Kiveton Park Coal Co. Ltd. as formed in March 1864. The Company consisted of 14 men with an estimated capital of £200,000. Two of them MESSRS. DAWSON AND CARRINGTON, had [rows of] terraced houses in the district named after them. Most of the shareholders had interests in other collieries in Stafordshire, where mining began many years before it did in Yorkshire. At that time Kiveton Park was a rural village with not more than a dozen farm houses.

The reason why interest was focused on Kiveton Park was that the railway between Sheffield, Grimsby and Hull had been built in 1845 and collieries en route to Sheffield had an express route to the ports for shipping coal, and were recieving pit props and other materials in the wagons on their return to the colliery. Sinking at Kiveton Park began on June 6th 1866. The Barnsley seam was reached on December 5th 1867 at a distance of 405 yards from the surface.

Forty six houses were built in 1867 to provide immediate accomodation for the workmen and their families.
and on www.kivetonwaleshistory.co.uk
Within weeks of the Barnsley Seam being reached, in December 1867, word started to spread about the new pit. Men arrived from across Britain. They stayed at first in a 'coal camp', under canvas and timber close to the shaft itself. Children were even born in this camp, including twins whose baptism is recorded in the parish records of Wales Church.

Life in the village was transformed over the next twenty years. Aspects of pit-village life that survived for over a century began to emerge. New housing was built. First the Stone Rows near Hard Lane, begun in 1867. They were later followed by Park Terrace ('The Old Rows'); Albert, Victoria and Railway Terraces ('The Little Rows'); then Carrington and Dawson Terraces ('The New Rows'). Similar was taking place at Wales Bar, with North and South Terraces, and the famous 'Pigeon Row'.
By 1892 Kiveton looked like this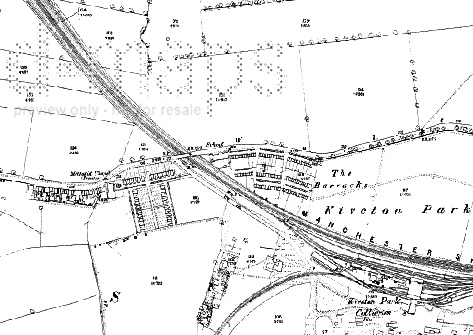 I'm thinking that the 'New Rows' were the houses on the East side of the Railway, though I am not 100% sure. The whole area has changed now, the colliery shut in 1994, the area has been landscaped and new housing estates built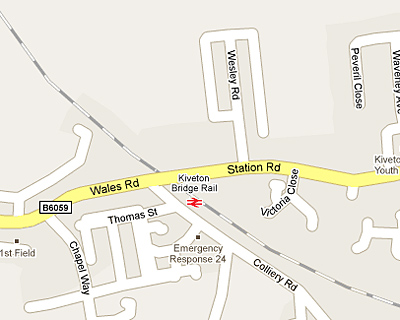 A closer examination of the census – including looking at the page before – shows that the Underwoods were at the time living in two rooms of the house of William and Martha Edwards… I happen to know from my Mother that her Grandmother (Annie's Mother) was born Penelope Edwards, daughter of William and Martha Edwards, so it seems that in 1901 they were living with my GG Grandparents – but if I hadn't known this it would have been a good clue to start further research.
William and Martha Edwards, like William Underwood, were born in Staffordshire, presumably they had been connected with the coal mines in Staffordshire that the Owners of Kiveton Colliery also owned and had been recruited from there to work in the Yorkshire pit.