Home » Wharfedale Plus
New Years Eve, 1988-89
Another random packet of photographs pulled from the drawer and this time it's the '88-'89 New Years Eve Dance
As I recall we used to have great NYE dances, this was the second one that was held at Batley Town Hall. We had a coach to collect the Waffledale group along with our neighbours from Horsforth and Pudsey. Looking at the pictures I am guessing it was a fancy dress dance, though I can't for the life of me see any common thread to the costumes to determine the theme… I'd say Vicars, Punks and Tarts except for two reasons… 1) Roger is not wearing his dog collar… and Roger went as a Vicar to almost every fancy dress event whether it fitted in with the theme or not !
And 2) There are definitely Punks and Tarts… but where the Garden Gnomes came into this theme I don't know !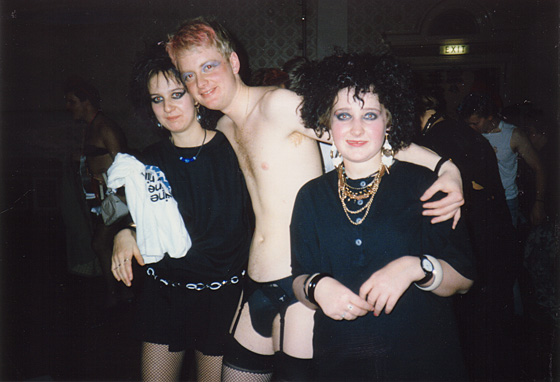 Some tarts – Cozbert and Malibu Mel
with Richard from Sheffield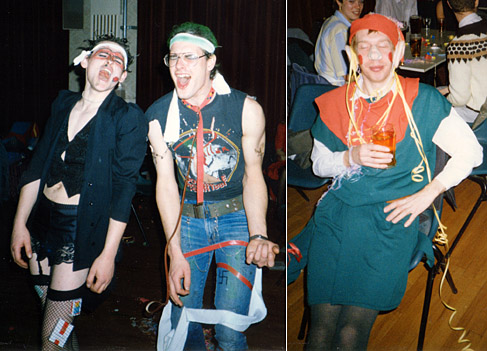 Some punks – Austin from Leeds and Tobias – and Thornbush the Gnome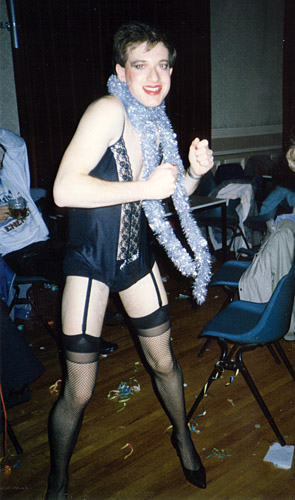 Hubert – in fancy dress ?
or maybe he wore this under his suit for work !
He didn't always wear the makeup though, for this evening it was applied specially by the Prune
As I remember it, this was one of the better New Years Eve dances… perhaps that's cos for the night I was 'off the leash' as it were, at the time I was going out with Wendy T and she had decided that she was going to go to a party in Doncaster rather than come to the dance – leaving me to flirt with the more attractive tarts without any problems
At Batley Town Hall the ballroom was upstairs and the toilets downstairs, which meant troggin up and down to get to the loo. At the bottom of the stairs were two wooden benches of the type normally found in parks. I remember that at one point later on in the evening I went down to the toilet and there were three girls sitting on these benches crying, they weren't together, they were all weeping over separate things – I'm guessing that all three were to do with boys, I know one of them definitely was cos John, the boy in question had stormed off into the night and didn't reappear to get the bus back home to Horsforth with us… where he ended up, who knows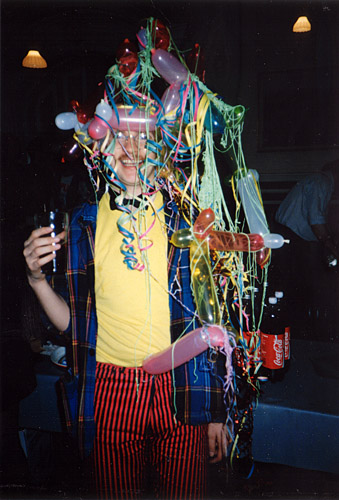 The Wadd… a punk or a tart? (or a gnome ?)
Doesn't he realise that the Git Hats went out of fashion 2 months before ?
Later on in the evening, after a few drinks some people get to desiring a bite to eat. A quick look round the centre of Batley after midnight on a New Years Eve – well New Years Day morning by this time – revealed that the only clag on offer was from a chinese takeaway, so some of the Waffledalers duly reappeared in the Town Hall with trays of Chow Mein and Sweet & Sour etc… the only problem was that they hadn't thought that they may need some utensils to actually eat the stuff… unlike chips or a kebab you can't really eat Beef in Black Bean sauce with your fingers… so being ever resourceful they made do with what they had at hand down, and sat on the benches (where the girls had been crying) with the takeway cartons right up to their lips using torn up bits of the cardboard lids from the cartons to scoop the clag into their mouths… Nookie spilled a lot of it down his shirt, but that was nothing too far out of the ordinary for the Nook !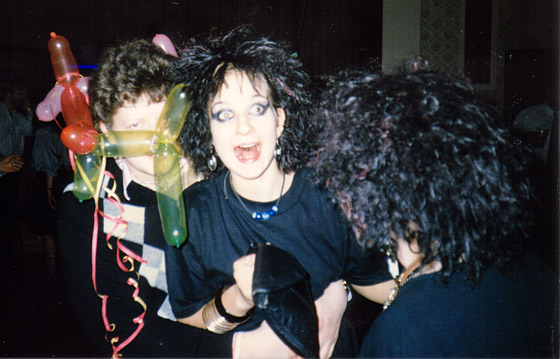 Cozbert gets a fright from the Gray-dog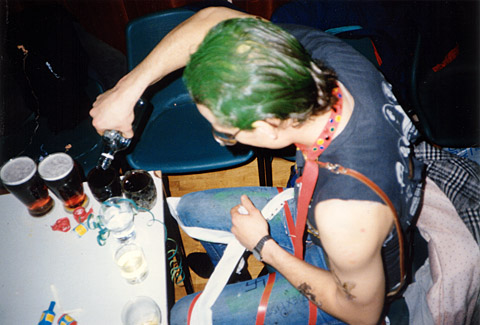 Tobias sneaks in the vodka
Back when I joined Waffledale I didn't have a lot of money as I wasn't working, so I started taking my own bottle of vodka into the events and just buying cokes from the bar and getting drunk that way… other people who habitually drank spirits saw me and started doing it too, at one time I am sure that between us we took in more alcohol to the events than the rest of the group bought at the bar (I could tell you tales of bottles hidden in the most unlikely places… in fact I probably will, so I'll not tell them here !) I have to admit to carrying on taking my own drinks into events ever since, in 2005 I took a year off drinking alcohol and used to take my own cokes into events just to keep with tradition. These days I just use my 'magic bag' which I can empty out and shake upside down to show there's nothing inside… and then reach in and pull out a half bottle of vodka.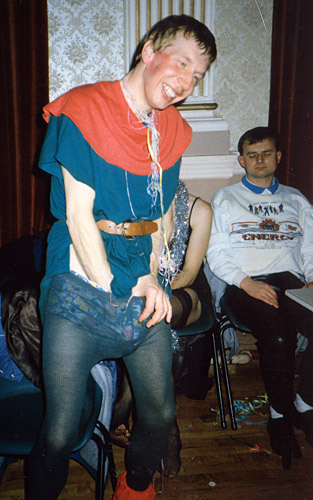 Thornbush adjusting his 'costume'
he had false ears and nose… anything else false in there ?
Maybe that's where he's hiding his vodka bottle !