Home » Blog
Tenerife – Thursday
We got up late on Thursday morning and  were just going to go out for some breakfast with Adam when he called up to say that Dave had collapsed inside the bathroom… fortunately he was not blocking the door !
The hotel first aid called for an ambulance and the paramedics came and eventually took him away to get examined, not too sure what happened, he says he went dizzy, sat down on the toilet then woke up on the floor, he'd hit his head on something and had a nasty cut over his eye, which needed a few stitches. The Paramedics didn't seem to have a great bedside manner, but then I suppose they see a lot of collapsed Brits, all worse for drink, but Dave hadn't drunk anything the night before and had had an early night after the exertions at the water park, so at least he couldn't be complained at for that.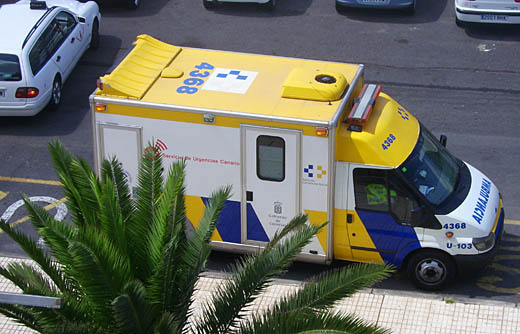 The Ambulance that came for Dave
We did eventually get breakfast then I wandered off down the town by myself as the others were going to sunbathe around the pool, I went for a last paddle in the sea, and burned my feet again on the hot sand before I got to the water, and I bought a banana flavoured ice cream that was the most fluorescent yellow colour, god knows what they put in to make it that colour, but I'm kind of glad there was no geiger counter around to put me off eating it ! After that I went back to the hotel and had a rest cos I was still tired from the previous day.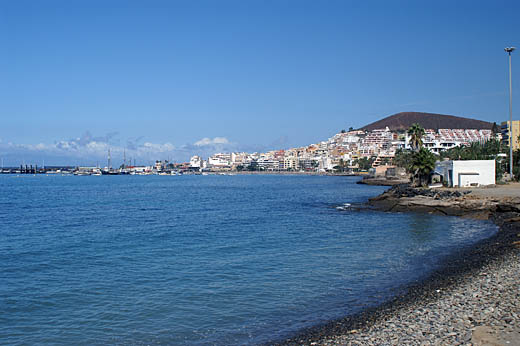 The Playa Maritimo
In the evening we were sort of planning a last hurrah down at Playa De Las Americas, there were some who were going out to see a flamenco and horse show, and we had the idea was that the rest of us would go and eat then come back to one of the bars by the hotel to do some Karaoke and then go to Las Americas later on when the others got back around 11:30. We ended up with 16 of us in the Chinese Buffet that we had been in on the first night, it didn't take them long to cook up some more food to feed all of us, they weren't expecting to have to seat that many people at once ! Eventually even Harry's voracious appetite was satisfied (after the third large plateful)
Back at the Chequer Bar we sat outside and some Karaoke was performed, and eventually the Flamenco show people joined us, but rather than go to Las Americas we just stayed in the bar until they turned the lights off at 2:00am, no-one could be really bothered to go anywhere else and some people needed a reasonably early night as they had an early flight back in the morning. After the Chequer Bar stopped serving Katherine persuaded Gary and Steve to go to Las Americas with her, and they got a taxi over there, but by the time we had walked back over to the hotel they had returned, as Katherine had got there and then changed her mind so they had one quick drink and came back… at €6 each way in the taxi it was an expensive drink.
Mark and I went back and sat on our balcony for about another hour and a half chatting about how the holiday had gone, and what we could do next year, it was about 4.00am again before we got to bed.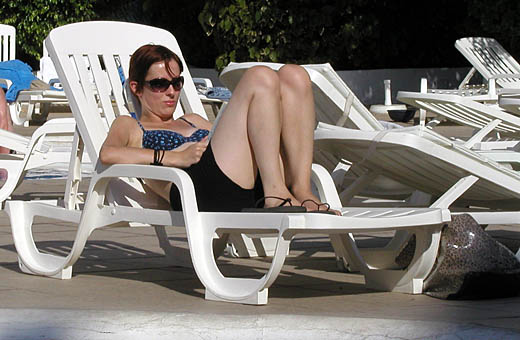 Rhianna, reading her book in the sun
Tenerife Holiday – click on a day to find out what happened
Friday 11th
Saturday 12th
Sunday 13th
Monday 14th
Tuesday 15th
Wednesday 16th
Thursday 17th
Friday 18th