Home » WASH
WASH
A record of so many Weekends Away in Sunny Hunstanton
A huge miscellany of WASH memorabilia , tickets, booklets, photographs, information, reviews, reports, adverts, articles, memories, anecdotes and more. It's not a comprehensive collection, some things just couldn't be found. The pages for many years are full but for some years unfortunately details are sparse… If you can remember more then please let me know !
To find the WASH records, which I've sorted by year (as far as I remember all the different years !) just click on this LINK which will take you to the WASH category index.
Alternatively there is a post in the 'Feature' category on the front page which will give you a link to the WASH category index.
WASH ?. . . The Weekend Away in Sunny Hunstanton ?. . .
Been there, done that, I've even got the Tee Shirt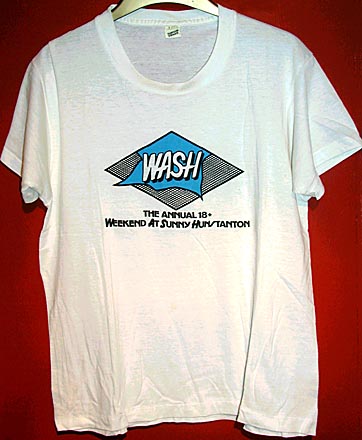 BEEN THERE ?… 24 times in all so far, and I intend to go for a couple more years yet, I've not got bored of it yet !
DONE THAT ?… well, that's not as easy to say, because although I have been to WASH so many times there are so many things I haven't done, I've never been to the Hunstanton Bonfire, I've never shot a laser clay pigeon, I've never been horse riding, I've never done the car rally, I've never built a rocket – in 17 years I've never even been out on the Wash on one of Searles amphibious vehicles – and I've never stayed anywhere near sober either, which possibly accounts for most of these WASH activities I haven't done. I don't think I've ever bought a raffle ticket either, nor have I ever worn fancy dress… in fact it's hard to say what I have done except drink, dance and enjoy myself !
GOT THE TEE SHIRT ?… I think this is of 1989 vintage, it's certainly been hanging around my wardrobe for a great number of years.
Two ridiculous questions People always ask me about WASH :-
"Are you going to WASH this year ?" – It's a bit like asking me 'are you having Christmas this year ?' you know, every year WASH comes round and to think of not going would be… well, unthinkable !
"Are you looking forward to WASH ?" – If I didn't enjoy it I wouldn't go, so how can I not be looking forward to it ? actually I hardly even think about WASH until a couple of weeks before and rarely bother getting ready until the day before, but thats because I've been so many times that the getting ready is just second nature to me now.

Searles clubhouse
The main entrance used to be what's now the fire door in the middle of this picture, until they built the pool and games arcade and put in a new entrance foyer to the left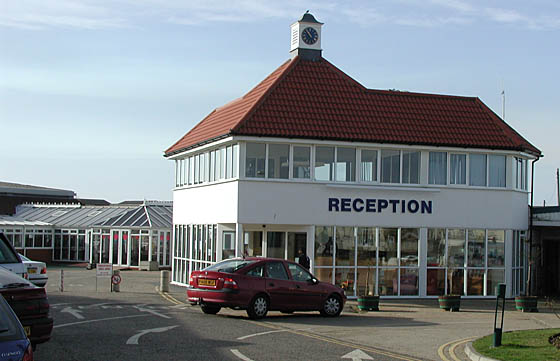 Searles Reception… you knew when you got here you had arrived
these days of course, reception and the clubhouse are linked by one big roof
Some more questions I'm often asked :-
"What was the best year ?" – well, 1986 will always be one of the high points, just having that extra night made the holiday seem so much longer. Apart from that I guess 1996, 1997 and 2005 were the pick of the rest of the years for me (though 2008 wasn't at all bad).
"Who are the best band to have played at WASH ?" – Difficult question, probably I'd have to say that Four Bills and a Ben from '95 would get my vote, closely followed by Badness from 2007. Though Magic were superb in '91, and Johnny Logan was perhaps the biggest surprise  by being excellent in '92. Of the 'Covers' bands that have appeared Nulli Secundus from '96 are my choice for their excellent heavy metal sounds.
And, of course, Edwin Starr was always great value for money.
"Who are the worst band to have played WASH ?" – No doubt here, Curiosity Killed The Cat in '91 were by far the most tedious of the bands who have appeared (at least if you discount all the P.A. chart acts who come and sing to their 3 track backing tape) Apart from their 1 big hit "'Name and Number" they could have just been playing the same song for the rest of the hour they played, although a bit of a crowd had gathered round the stage no-one was singing along (well no-one knew the words) and no-one was dancing much as it wasn't music you could dance to. I think 95% of the people at WASH would have been happier to have the band off and the disco back on. Hazell Dean from '89 comes a close second.
"Why is the weather always bad at WASH ?" – It's not, there have been some lovely WASH weekends, but there has also been some horrible weather, I remember days when you couldn't walk along the seafront when the tide was in as the waves were pounding right over the path, I remember other days when the wind was whipping up the sand and flinging it into your face if you were on the beach. I remember one Saturday morning when I walked right along to the bonfire at the other end of town to clear my head from the hangover of the night before, and just as I turned round to come back the rain started coming horizontally straight into my face and I got soaked through by the time I got back to the caravan. I remember nights it rained and nights it froze and nights it snowed, but in the main the weather hasn't been bad every year, has it ?
"Have the ducks always been there ?" – Yes, the ducks have always been there. What they do for food in the winter I don't know, but they alway get well fed by the 18 Plus last weekend of the season.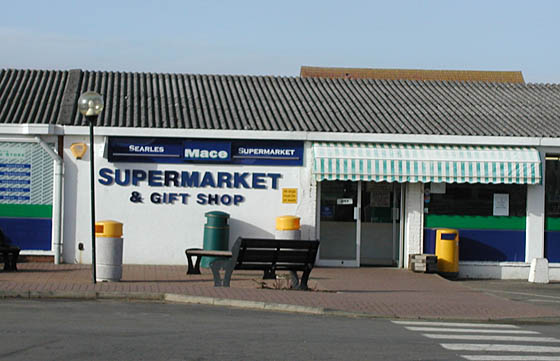 The site shop
Probably doesn't get as much custom now there's a big Tesco opposite the site entrance
Memories
While I have been compiling this record so many memories have come flooding back that there has just been no room really to put in anywhere else.
Like arriving in 1989 and finding that the place resembled more a building site than the campsite it had previously done, as the new swimming pool was being built and there was a big hole and a JCB.
Like trying to jump over the culvert that used to run around the back of the clubhouse, it was always wider than you thought and the banks were steep and muddy, it's now been filled in and cabins built on it.
Like getting to the security gate on Friday night and being waved through without stopping just because we had Johnny Kirkland in the car and the security guard recognised him.
Like in 1986 lighting sparklers on the dance floor while dancing, I doubt we'd be able to do that these days.
Like playing a crazy water volleyball game over the slide in the Oasis centre in 1987.
Like the one and only time I've been to the Sea-life Centre. (1989)
Like the year we had the disco lighting rig that was on a scaffolding erection over the dance floor, giving a nightclub dancefloor effect in the Sundowner bar.
Like the much vaunted Radio One DJ John Dean (veteran of so many Caisters) who came to WASH and did little more than sit chatting the girls up while his 'boy' played 12 inch mega mixes of the latest dance records, easily the most boring DJ we've had at WASH.
Like the year I got down to Hunstanton in the early afternoon and got blasted on a mixture of Vodka and Southern Comfort before the rest of my group arrived. When they turned up at about 7:00pm I was lying passed out drunk in the caravan, I woke up and stumbled over to the venue for about 9:30 and bought a cup of tea in the Mariners bar. For some reason rather than a plastic cup they gave me a proper cup and saucer so I went into the Sundowner bar with this cup of tea and proceeded to dance on the dance floor with my cup and saucer and my little finger crooked just so.
Like sitting on top of the speaker stack the second time Edwin Starr played WASH, I can't remember how I got up there, but it was the best view in the house and I got to shake Edwins hand.
Like the great sweet fights that took place in the Princess Theatre.
Like Jill H complaining about me for not doing any washing up while taking my saucer away to wash when I lifted the cup off it to take a drink (give me chance girl and I would have done my turn).
Like watching the cupboard doors opening and shutting in sympathetic motion with the dubious activities going on at the other end of the caravan.
Like all the chat up lines I've used on pretty girls at WASH – and some of them even worked !
And all those people who I used to see every year at WASH who have moved on and faded off the scene over the years, whereas I'm still there every Autumn, I think that apart from the great 'Israelite' himself that I've probably been to WASH more times than anyone else now. It's become such a constant in my life that when comes the year when I do not go to Hunstanton there's going to be a great sense of something missing.
As a final note, special thanks from all of us who have ever been to WASH must go to
THE ISRAELITE
for giving up his entire life for at least 6 months of the year to make WASH the superb event it is and has always been.