Home » Geocaching
Caches No's 4750 to 4759 – CITCOT & The Mini Geocoin Fair
We have a group of cachers, who are variously known as The Galivanting Club, or CITCOT (Care in the Community on Tour). The members are the usual suspects really CoinKezza, CnJnA, Big Fish, &Ruby, Hedgehogs Mum, Matthewgibbs etc.
The European Geocoinfest 2019 is being held in Manchester in September and to promote it a mini version was held in Milton Keynes.
Some of the group had volunteered to help out at the event so the rest of us just went along and pitched in as necessary.
I ended up in the kitchen serving tea and coffee most of the afternoon – probably because I have no interest at all in Geocoins !
22nd June 2019 – Mini Geocoin Fair GC84Q1J – cache #4750
I came down south for the weekend on our 'Care In The Community On Tour' outing. It's a week off 33 years since I last ventured to Milton Keynes – 28th June 1986 it was to see Marillion, Jethro Tull, Magnum, Gary Moore and Mama's Boys playing at the Bowl.
The curious thing about that is that one of the other CITCOT members I came to the Mini Geocoin Fair with (Clare from CnJnA) was also at that gig – though we didn't really meet until almost 30 years later !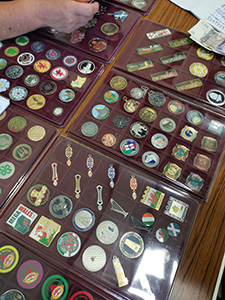 22nd June 2019 – A Fine Pair # 540 ~ Milton Keynes Village GC7J4CQ – cache #4751
After the Geocoin Fest CITCOT went caching….
A proper 'Letterbox Hybrid' cache in that the description is not coordinates, but instructions of how t get to the final from the coords, in this case distance and bearing.
Various caching apps were used to project bearing and distance and some even pointed to the right place !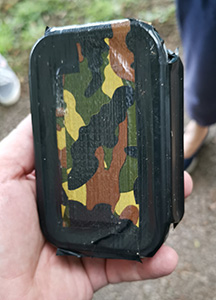 22nd June 2019 – MKNESW – North GC88X6Z – cache #4752
Another Letterbox Hybrid, not sure how the coordinates were worked out because Jeff and Matt had sorted them while I was serving tea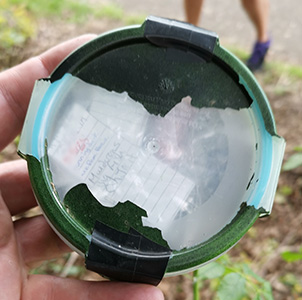 22nd June 2019 – House of Fire GC3F083 – cache #4753
After the Geocoin Fest CITCOT went caching….
Coinkezza was disappointed that there were no firemen to ogle after…
The cache was a magnetic nano high up on a lamp post, the trick seems to be to find the longest stick you can and replace it as high up the post as possible (in our case I found a branch about 8ft long so the cache as about 15ft off the ground)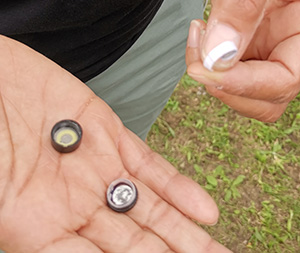 22nd June 2019 – MKNESW – East GC88X6W – cache #4754
This cache was up a banking in a patch of brambles and nettles, so we sent Matt up for it as he was wearing shorts and light shoes with no socks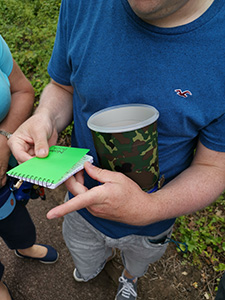 22nd June 2019 – Broughton Bunny Hop GC1ATCD – cache #4755
This cache was on the opposite side of one of the main roads around Milton Keynes. Okay, there was a bridge over the dual carriageway that we could have used… but it's much more fun dodging speeding motorists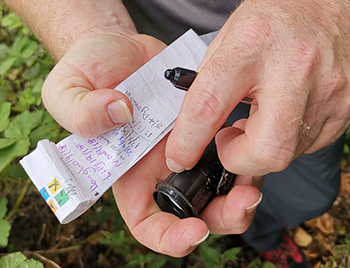 22nd June 2019 – Village Hall Series #502 – Milton Keynes Village GC….. – cache #4756
A Multicache that again others had worked out the coordinates for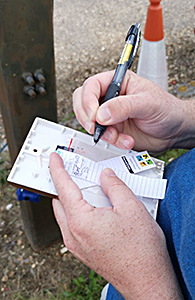 22nd June 2019 – Church Micro 5326…Milton Keynes Village GC4Z3NF – cache #4757
Again we got the coords from Matt who had done the cache earlier in the day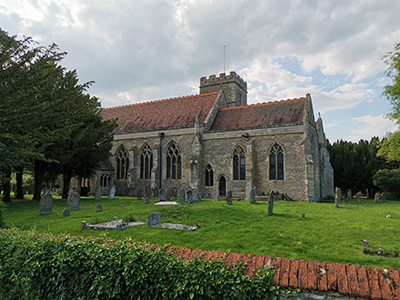 22nd June 2019 – MKNESW – West GC88X71 – cache #4758
More coordinates from other people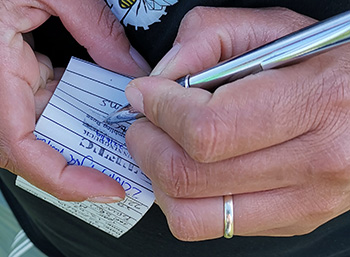 22nd June 2019 – MKNESW – South GC88X74 – cache #4759
Last of the day… we all headed to Chiquitos for some Mexican Food after this