Home » Geocaching
Caches 4918 to 4922 – The Long Way Home From Aberdeen
Monday morning and the Sun was shining – where had that been for the rest of the weekend ?
After a final breakfast I set off home, firstly via Dunottar Castle, which I would have liked to visit properly, but I didn't have the time and after walking 60odd thousand steps in the previous 3 days my legs weren't up to the trip down the cliff and up the other side.
So I was heading down the East coast of Scotland and England for the Jasmer Grid filling Angel of the North cache
12th August 2019 – Lets get down to the nitty gritty! GC…. – cache #4918
Driving down from the Mega to get caches on the East side of the country I stopped off at the services at Kinross for a coffee… I looked at the map and found there was this cache on the road opposite the Services entrance, so I pulled across to get it – I wasn't the first person there that day to find it on my way down from Aberdeen !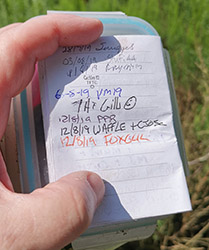 12th August 2019 – Firth of Forth (Virtual Reward) GC7B69W – cache #4919
Similar to the virtual cache in the middle of the Humber Bridge – at least the walk here isn't quite as far as the Humber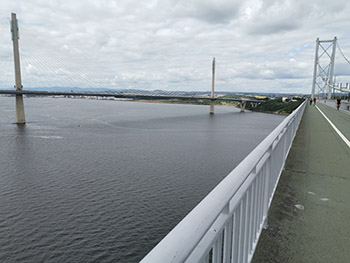 12th August 2019 – Angel of the North – Virtual Reward GC7B7FN – cache #4920
My last caching stop of the journey was at the Angel of the North which was my reason for coming the long way back.
The Angel has a virtual which to tell the truth I forgot all about looking to see what needed to be done to log it, I just snapped a picture and moved on.
Fortunately I managed to google all the answers to claim the cache when I got home.

12th August 2019 – Angels View (Tyne & Wear) GC781 – cache #4921
A cache hidden in April 2001, one of the oldest still active caches in England and my reason for heading home down the East Side of the country (rather than the quicker trip down the west side)
When the cache was hidden it was at the fence boundary surrounded by small trees and shrubs. It is now in a forest and you can't see the Angel from anywhere near it for the trees.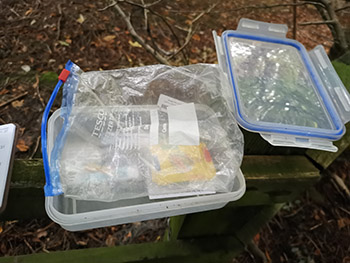 12th August 2019 – Angel of the North Multi GC3404D – cache #4922
The Multi here is now rarely found as it relies on information that was on the previous information board, so you need to google it, but I knew that from reading previous logs and had the final coordinates before I went to Aberdeen