Home » WASH
WASH 2002
Something new and WASH changing happened for 2002… Tesco's opened right across the road from the site entrance. No more would we have to go a mile into town to Budgens (now Somerfield) to get food… and it has a cafe for getting full English Breakfasts at a reasonable price within easy walking distance of your accomodation – oh and a petrol station which is cheaper than the previous filling station that was nearby.
Another thing that had happened in Hunstanton, that had even got reported on the TV news was that the pier had burned down (okay it burned down in May 2002, but it was still a change to Hunstanton) I'd spent many an odd hour playing on the slot machines in the pier over the years, it was odd for it not to be there.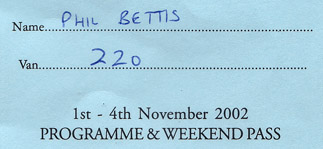 What the Committee said…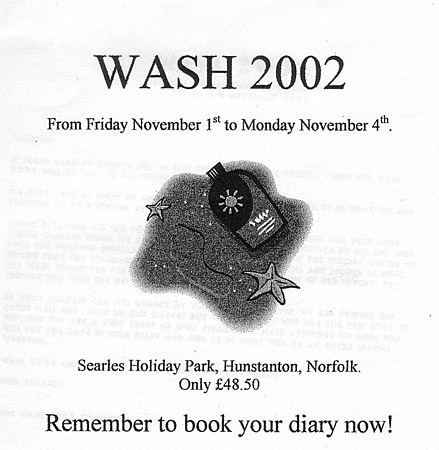 What they said…
Friday night was the usual drunken meet & greet of all the old and new friends. Nick Brittain was back as WASH DJ and got the WASH party going by introducing the Friday night bands, two local covers bands "Tweeky's Wind" and "The Blues Tubes", the first in a rock vein, the second more of a soul sound, they both seemed to go down quite well on the dance floor. After the dance there was the usual long queue at the chip shop… (so as I said I would, I went in through the Out Door, jumped to the front of the queue and got served straight away… chips'n'curry sauce, lovely….) There were a couple of parties about on Friday, Solihull had a lively one in their caravan and one of the Northern Area cabins had a quieter one.

Saturday morning I was up early and at 7:45 I was down walking on the seafront… and I wasn't the only one, a number of the early risers were out making the most of the bright start to the day. Tesco's opened at 8:00 so we wondered over there shortly afterwards and bought some breakfast. The sauna was hot and the swimming pool cold on Saturday morning, the jacuzzi started off cold as well, but by 12:00 it was like sitting in a very hot bath, nice and relaxing, a couple of hours in the pool area revived me from the after effects of Friday nights alcohol. I just got out of the pool in time for the start of the Karaoke, now I hate karaoke and I only stayed for one song… but what a song that was… you don't normally get karaoke Motorhead, but Joe from Thurrock was a star with his version of "Ace Of Spades" !
Saturday afternoon was the WASH quiz, 26 teams of 5 or 6 members each took part, making it the most participated in event of the weekend. As an alternative there was the Laser Clay Pigeon shooting, which got higher numbers of shooters than any previous year even though the weather started getting a little damp.
Some people were a bit disappointed by the lack of a film show this year, as I gather it, the Theatre was not available for us to have this year, someone else had it booked first ! But not having the film show in town did mean all the entertainment was on-site this year and as it was pouring down with rain on Saturday tea-time at least we stayed dry !

Saturday evening started off with the barn dancing of "News Of The Victory" excellent musicians and the people who danced really enjoyed themselves, but perhaps the barn dance format is a little slow for a Saturday evening due to
the breaks between songs as the next dance is explained, Barn dancing has been done before at WASH, but on a lunchtime. Next up a brief appearance by "Katrina", a woman who has had 3 hits and sang 4 songs, as with all these 'P.A.' type affairs it was a singing along to a backing tape thing.. sort of Stars in Their Eyes 'Tonight Matthew, I'm going to appear as myself'.
It's a long time since Katrina appeared before at an 18 Plus event (Caister 1988), but not so long since Saturday Nights final band "Northern Exposure" played for 18 Plus, as they were the band who entertained at this years ANC. They are a band who play music to dance to, and that's just what the WASH crowd did.
Saturday Night was the Beach party, I was a little surprised that there weren't more people in fancy dress, I seem to remember more in school uniform last year… (okay, so I was just hoping for more bikini's among the girls !)
Saturday nights parties all seemed to be over in the Log Cabins, I'm not quite sure who was living in 206, but they certainly had a lot of visitors.

Sunday, and the sun was shining and some brave fools played football. Me I was in the pool again, the sauna was hot, the pool was warmer, and the jacuzzi was almost at boiling point (it really was a little too hot).
Another alternative on Sunday morning was the Rocket Building, again a record number of participants constructing their own Saturn V's – though I believe some of them put the caravans in more danger than the International Space Station.

Sunday Lunchtime saw the return of the madmen from Huddersfield who have previously entertained WASH as Vikings (Max Bloodaxe, 1988) and Romans (Legio Va Maximus, 1999) This time they were the Lederhosen clad "Big Wolff Oompah Band", turning the Sundowner Bar into a Bavarian Beer hall – though you don't often get Waterfalls, Surfers or Greek folk dancing in most beer halls !
Sunday Afternoons comedy show suffered from the non appearance of one of the acts, maybe he thought East Anglia was still cut off from the previous weekends storms !, The other acts extended their acts to fill up the time, but the show was over before anybody realised – but that might have been because nobody actually said that the show was at an end !, the audience were still waiting for another act as we weren't aware one hadn't turned up.

Sunday night in the venue started quietly, did you really all stay in the caravans watching Top Gear or Monarch Of The Glen ?. But after 9:00 the place filled up and soon the first band "Marlo" came on, a fine rock band who showed that the best way to get everybody up on the dance floor and jumping about is to play 'Smells like Teen Spirit'.
The second band "Hollywood" seemed to go down well with the men in the audience, fronted as they were by a 'big' girl in a small white top and a long haired girl in a tight black outfit.
Sunday night always finishes too soon, (unfortunately for Wayne, who was on a promise !), but there were a couple of parties to go to into the small hours, Hounslow had a quiet one and Banbury a very full and noisy one.

And then it was Monday morning and all over again apart from the round of goodbyes.

The WASH weather was good this year apart from late Saturday afternoon, it was sunny and bright during the day and quite warm at nights (for the time of year) so you could stand around on the verandahs at parties in reasonable comfort. I didn't even notice the ducks being as loud this year… maybe the "Classic Cabins" have better sound insulation than the caravans ! !

Fil Bettis, 18 Plus email forum
(hang on that's me again… don't remember writing that either !)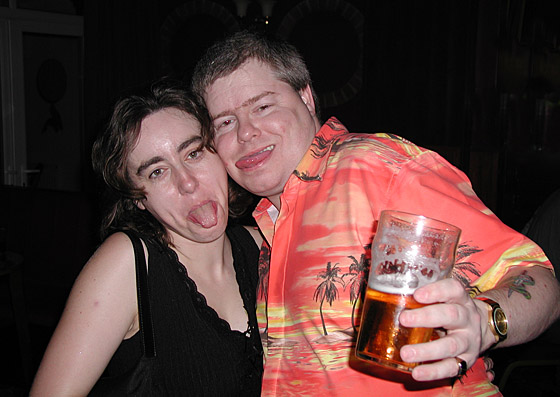 Wayne – on a promise ? ? ?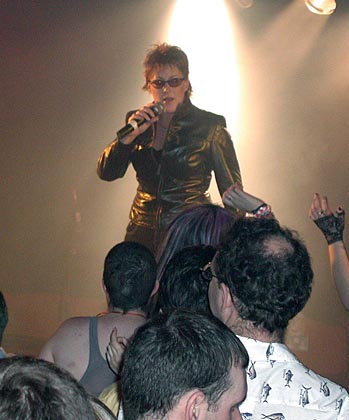 Katrina – No Waves and hardly any songs either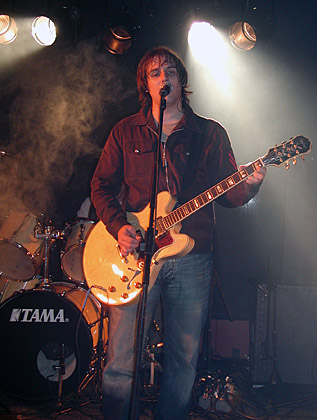 Marlo – Here we are now, Entertain us !
What they said…
WASH 2002

In a way that is in almost no way at all reminiscent of Brigadoon, the time was upon us again for WASH, the home planet of the Plussers, to appear for its annual two and a half day existence.
Our journey up to Hunstanton was remarkable only for the free child portraits being offered by the photographer in the supermarket that we stopped at for a late breakfast. Mid morning on a school day we can only assume that this was as innovative new initiative by the anti-truancy squad.

Our hut turned out, uniquely, to be closer to the stage than the stage is to the bar. Thus it offered easy access to the venue coupled with little prospect of early nights.Soon enough we were over at the venue.The first band of the weekend was "Tweekys Wind" a band of four men, two guitars, some
drums and some singing. They were remarkable only for being named after their drummer's flatulence. The second act of the night, "The Blues Tubes", was a respectable jazz type band, good at what they did but an unusual choice for WASH.

Of course, when we got to the karaoke the following afternoon we were yearning for the musical normality of the previous evening. As ever, Plus karaoke showed itself to be very much like non-Plus karaoke.

There were many choices of activity afterwards; WASH quiz, clay pigeon shooting, etc. We chose to spend seven hours slowly consuming a picnic as we waited to be seen at the Kings Lynn hospital casualty department. Even better than that, at some point someone had decided that what the waiting room there really needed was a number of xylophones for the hoards of frustrated and bored children to tunelessly bang away on for hour after hour after hour.

We got back to Searles just in time to catch the final act of the night, "Northern Xposure". On the face of it they were just another four-piece band as we had seen the previous night. They had something more about them though. I can't put my finger on exactly what but it was not just their spectacularly perfuse sweating.

I was disappointed to miss most of the Saturday night entertainment. After not being able to get a tweed jacket (with or without elbow patches) for my Mr Ransley school days costume last year, I had put a lot of thought into what to dress as this year. Obviously, when I first heard that the theme was beachwear, I had thought of costal erosion. Not wanting to over stretch myself I had decided to dress in the white colonial garb, which I tend to wear when
inspecting Mediterranean beaches. When the time actually came, there seemed little point in changing so late in the day.

I was particularly disappointed to miss "Katrina" – late of "the Waves" – though not, apparently, by much. I had wanted to see her for the part that she played in that unforgettable 1997 government changing, Eurovision winning weekend. At least now when someone mentions "Katrina and the Waves" I can honestly say that I would have seen her live if it were not for the chronic under funding of the National Health Service – not a claim that many can make.Apparently the first band of the evening "The News of the Victory" was also quite well received. This was despite my having taken audience non-participation to a whole new level – actually having been in another town, over a dozen very rainy miles from the venue, at the time of the performance.

Although the clocks said that it was the afternoon, it still felt very early when we made our way back to the bar for the Sunday afternoon of comedic entertainment. The session kicked off with some slick anarchy in the expected style from the "Big Wolff Oompah Band". After some further improvised silliness we were into the stand up proper. "Mr Brian Damage and Crystal" read the audience well with their tambourine-based humour.Unfortunately Jeff Mirza's green suit centred humour seemed to slightly miss the spot.

I have long wondered why bands go to such great lengths to be able to reproduce original recordings in live performances when the recordings can so easily just be played. "Marlo", the first act up on the Sunday night, was a case in point. The only thing to distinguish "Marlo" (who reproduced the original recordings very well) from so many others was the disproportionally large number of guitars that they used. In contrast the last band of the weekend, "Hollywood", had a bit of fun with the music, moved about a bit and clearly found the audience very amusing. This, coupled with having Chris Page lifted onto stage to demonstrate his glove puppetry skills during their set, made them the best group of the weekend.

As always with WASH the sunlight on the Monday morning seemed the brightest of the weekend as we stumbled around in it, loading up the car before WASH fades back into our memories for another year. As ever ducks that were hoping for the last of the bread surrounded us. Unusually though this was the first appearance that the ducks had put in all weekend. Not even the formation of a significant lake beside our hut during the rain of Saturday night had tempted them into an earlier visit – which was probably for the best.

Erik, Stevenage Group – Plus News Spring 2003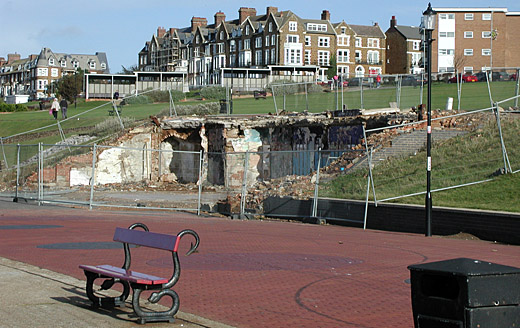 Site of the Hunstanton pier
It burned down in the early morning of 18th May, nearly 6 months later it was still a demolition site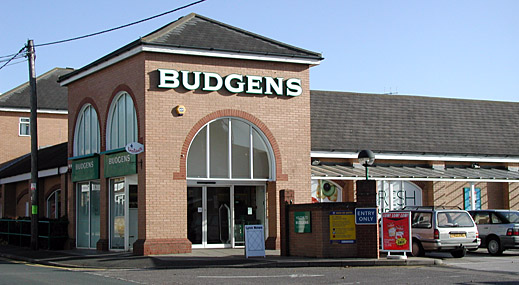 Budgens in Hunstanton
It's now Somerfield, and caters for those who think Tesco's business practices are the work of the devil
(my Mother would shop there if she lived in Hunstanton !)
Click to go to
Previous Year 2001
Next Year 2003