Home » Geocaching
Caches 4151 to 4160 – The Last 10 Caches Of 2016
The last 10 caches of 2016… 3 Survey Monuments and 7 Events, no tupperware in sight – and though I did use a GPS to locate the more remote YOSM got out of the habit of keeping the caches on it up to date. I managed 225 smileys in 2016 which makes it by far the worst full year I've had for caching, only 22 caches more than the 203 I found in 2009, and I only started caching at the very end of May so that 203 was in 7 months.
20th August 2016 – International Geocaching Day 2016 GC6MAPH – cache #4151
I arrived mid afternoon and had to park on the road – the car park and the pub were full – well the pub wasn't too bad as there were a lot of people outside in the beer garden… then it started raining and the pub was full !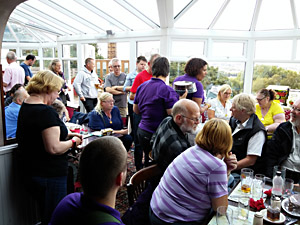 3rd September 2016 – Ye Ole Survey Monuments GC45CC – cache #4152
This time logging YSM684 Harmston
I was heading down to Lincoln for the Hyke around Hykeham event, the cache had been moved nearby for the occasion and it would have been rude not to go and find it – so I set off half an hour earlier than necessary to go and grab this first, even though it meant a walk in the rain from the road to the pillar.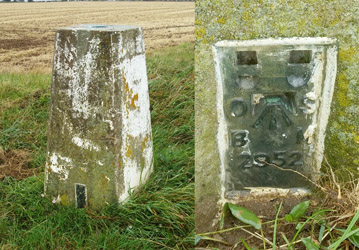 3rd September 2016 – Hyke Around Hykeham 5 GC6K9NR – cache #4153
The 2018 Yorkshire Mega team had a stand at this event so I spent all my time in the hall rather than going out caching – but as the rain was hammering down I wasn't too disappointed to be stuck indoors !
Always good to meet a load of cachers for a cup of tea and a chat… and a beer afterwards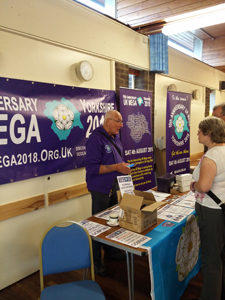 10th September 2016 – Essex on Tour – Horny Hat Flashmob! GC6Q0Z8 – cache #4154
We were having our venue reveal event on a Sunday and people had come from all over the country to be at it – including the team who had run the Essex 2015 Mega, and they organised a flash mob event the night before at the Ripon Hornblower – it would have been rude not to attend… the flash mob idea was to wear somethinghorny, there were some dubious horns on show – or fortunately mostly hidden (Sir Lannies)
I have been to see the hornblower before – and no doubt in 2018 will do so again, it's one of the best Virtual Caches after all !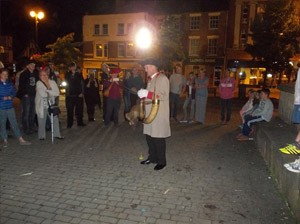 11th September 2016 – Yorkshire 2018 – The Venue Is Revealed! GC6P1MJ – cache #4155
My log for this says "I was there… though I didn't do the treasure hunt as I knew all the answers and knew where the venue was anyway" – As I had been the one who set the treasure hunt I was the only one who knew all the answers, and all the committee knew where the venue was before the event !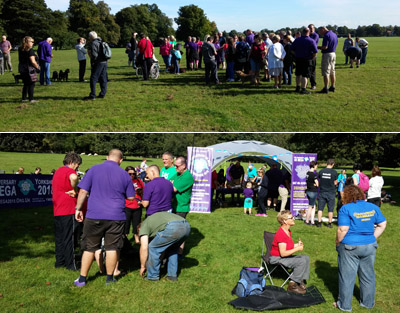 24th September 2016 – Meet the Irish – York GC6RGQY – cache #4156
A quick flash mob on a Saturday evening in York… If I'd known Val (Uggy) was bringing some ginger cake I wouldn't have stuffed myself full of sweets on the drive over !
4th October 2016 – Ye Ole Survey Monuments GC45CC – cache #4157
This time logging YSM656 – East Marsh
My annual trip down to Hunstanton, this time I didn't find any caches while there and only stopped for a couple of YSM's on the way down – well I went a longway out of my way to find a couple of YSM's on the way down
A nice and relatively short walk along the south coastline of the Humber estuary brought me to one of the stranger trig pillars I have found – the 5ft high concrete pillar is buried in a 6ft high flood defence banking.
The top of the pillar is accessible, it was obviously protected when the banking was created or the pillar would never have been found again !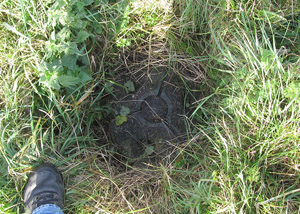 4th October 2016 – Ye Ole Survey Monuments GC45CC – cache #4158
This time logging YSM691 – Gibraltar
This Surface Block is within a metre of the car park at the Gibraltar Point Nature Reserve Visitors Centre, so it's not hard to get to, and as it has been exposed by trigpointers is easy to find if you use the instructions on T:UK to pinpoint it's location with relation to the fenceposts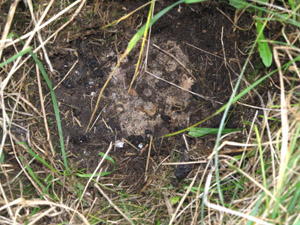 26th November 2016 – Christmas Fayre with the Yorkshire 2018 Committee GC6R6X2 – cache #4159
That was a long day… I arrived at the hall at 9:30 am and left at 11:45 pm
I'm glad all the attendees seemed to enjoy themselves, I think we might do it again next year.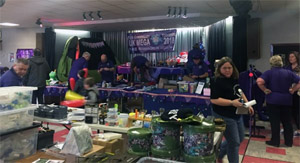 10th December 2016 – Christmas Corroboree XIV GC6VCBD – cache #4160
Always a good event to go to, lots of people to talk to.
I didn't get out to find any caches it was too warm and dry indoors!