Home » Geocaching
Caches No's 3957 to 3994 – A long day caching
It was about this time that I started thinking about my 4,000th cache milestone, we had our Mega 2018 Launch event planned for the 30th January and I thought that as a prime mover on the organising committee it would be a fitting thing to make the launch event my milestone. So I had 43 caches to get and just one week to do them in… Fortunately I had a days caching planned on the Sunday before the event, English Pete had arranged for a Breakfast event at a hostelry where a 20 cache series started, or if the weather was inclement there were other series (both walking and drive-by nearby that I could do to get the numbers).
First of all though there were some caches to get on the way…
23rd January 2016 – Aberfun 4 – Snail Trail  GC53GNJ – cache #3957
English Pete's event was at the Crooked Billet near Aberford, and on my way to there from home I had to pass near a few caches, so I stopped off to grab them, this first was easy enough – I've found plenty of these containers in the past
23rd January 2016 – Aberfun 1 – …and Suspenders   GC53GME – cache #3958
A road sign on each side of the road… I chose the wrong one first of course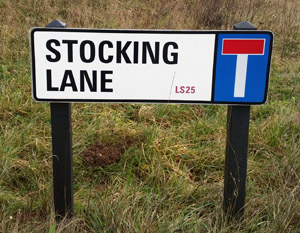 23rd January 2016 – Take a Seat GC69T1F – cache #3959
English Pete had put out a few new caches for the event, this was one of them. Normally I like a cache near a bench with somewhere to sit and sign the log, but this bench doesn't have any suitable parking by it and is on a bend so I was hurrying here to get away before I caused any traffic issues as I'd just abandoned my car on the roadside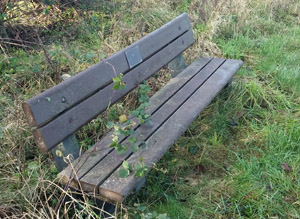 23rd January 2016 – Puzzled @ The Crooked Billet.  GC67E2X – cache #3960
Excellent event, well attended and a lovely breakfast. Thanks to English Pete for organising it, at the event we did a little lottery for Mega 2018 funds, here is Bev working out who had won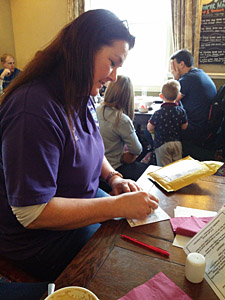 23rd January 2016 – #1 R2R Church in the middle of nowhere GC439Z1 – cache #3961
After the event at the Crooked Billet I decided to 'brave the mud' and have a walk round Rebecca's series… being a well known mud hating fair weather cacher this did seem like a brave thing to do, especially as looking out of the pub window I could see the nearby fields were standing in water.
Still when Rebecca handed me a plastic bag full of bits of paper and asked me nicely to go and put in new dry logbooks where necessary I couldn't let her down… so I set off across the field to #1, easy to find and didn't need a new log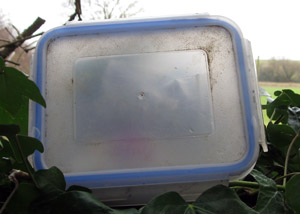 23rd January 2016 – #2 R2R Meet the Cock Beck GC439ZB – cache #3962
I was mislead by the hint here, there were much larger specimens nearby for it to be at the base of, in fact I would hardly call the one at the cache site by that name at all – but the cache was easy to find when I followed the arrow to the right place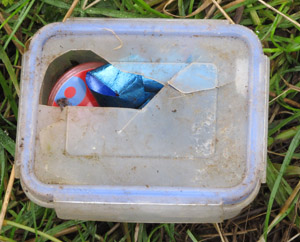 23rd January 2016 – #3 R2R Gone Fishing  GC439ZX – cache #3963
Being a mud hater I was expecting the worst when doing this bit of the walk alongide the beck, but although the bottom end of the field had obviously been flooded and the ground was pretty squelchy, that was all it was, just a slight squelch, no mud. Hurrah !
I also have a dodgy back and am not much of a tree climber, there are times when the climb onto the lower branch needed here to get to the cache would be physically beyond me, but fortunately not today, and I was soon at the cache.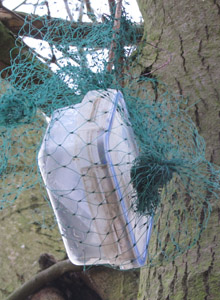 23rd January 2016 – #4 R2R Coconut Joe  GC43A04 – cache #3964
Good job this cache is about head height, it looks like the water here had been waist height earlier in the month and would have destroyed the cache had it been lower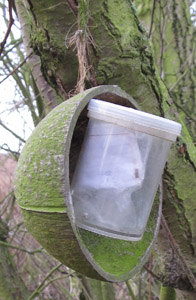 23rd January 2016 – #5 R2R Disco Ball  GC43A08 – cache #3965
I would not have been too surprised to see ducks swimming on the 'path' here, so there was a choice of walking along one bank or the other… I chose one, and then realised about half way along that the cache was level with me but on the other side of the water. I was too deep for me to cross without getting wet feet so I had to go to the end of the pool and then walk back up the other side to get to the cache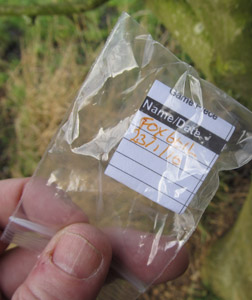 23rd January 2016 – Aberford Walk #4  GC2A5TP – cache #3966
This cache is not part of the R2R series, but just after R2R#5 the two routes intersect so I made a short detour around the bottom of the wood to pick up this cache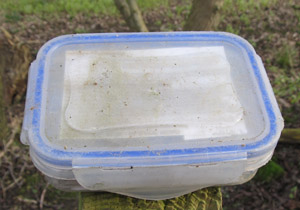 23rd January 2016 – Aberford Walk #5 GC2A5TN – cache #3967
On the R2R series this cache becomes one of the extras found 'en route', and a straightforward find too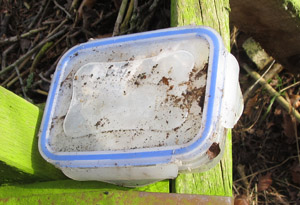 23rd January 2016 – Aberford Walk #6 GC2A5TQ – cache #3968
Another cache on the intersecting route, another quick find, the choice here is to head straight for R2R#6 or go for a final extra cache that is not on either of the two intersecting walks… I needed the numbers so a further cache was added into the route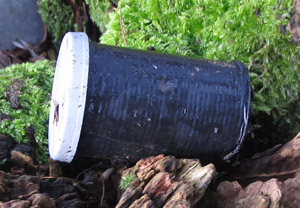 23rd January 2016 – Hayton Wood GC3R908 – cache #3969
Doing the R2R series, this was easily the biggest cache of the day, nice to have a log book to sign rather than having to unroll a tiny slip of paper.
I tried to follow the arrow to this cache from Aberford #6, but it was hard going with all the brambles and undergrowth, might have been quicker if I had just walked round the path !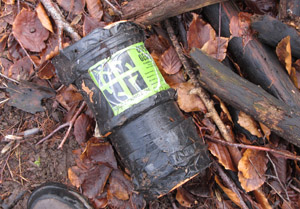 23rd January 2016 – #6 R2R Hayton Wood  GC43A0G – cache #3970
Not sure this cache was really where it should have been, as the location didn't match either the new or old hint, but it was easy to find !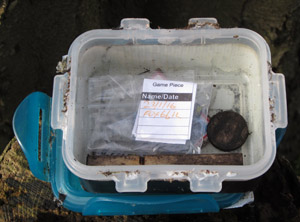 23rd January 2016 – #7 R2R No Ice Pen GC==== – cache #3971
This had me fooled for a while… the GPS wasn't too accurate under the trees and seemed to want me to head into the middle of a bramble patch – which I could have believed except the cache had been found a couple of weeks ago and there were no cachers trails leading into the brambles… so I retraced my steps a bit and found a trail into the woods.
However there was nothing anywhere around that matched the hint, and I checked every possible place
So I looked at the cache title, worked out what I was looking for and I quickly found it, on the ground, with no container or log book inside. Obviously the storm in between Bargees visit (the previous finder) and mine had brought it down.
So I left the container in the bole of a three trunked tree near the path… It needed a new log book container and log book, and string to tie it back in position (the nail to tie the string on is still in place on the outer container) Though as the orange paint dots on the trees meant that those trees were marked for clearing, the location would soon have gone anyway so Rebecca sensibly archived this cache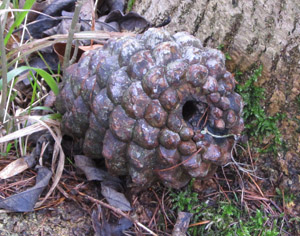 23rd January 2016 – #8 R2R Brambles GC43A12 – cache #3972
Caches set a couple of years ago called 'Brambles' usually mean a fight through a now overgrown and spread thorn bed to get to the cache site, however this was easy to find by the cachers trail to it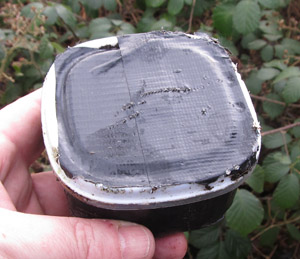 23rd January 2016 – #9 R2R Wheres the switch? GC43A1B – cache #3973
If only all the walk had been on a nice clean trail like this… Cache easily found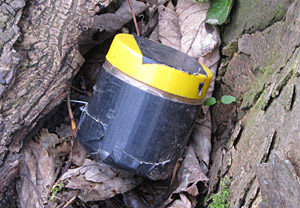 23rd January 2016 – #10 R2R A gift from BoboFrett GC43A1M – cache #3974
It was here that I met the only other person I saw on the walk… Does everybody else seem to meet people when emerging suspiciously from behind trees back onto the path ? or is it just me ?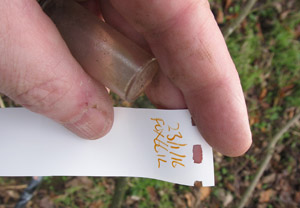 23rd January 2016 – #11 R2R Racecourse GC43A1V – cache #3975
The field from the horse track to the central wood was pretty soggy to walk on, when emerging out of the central wood the trail goes across a newly ploughed bit of field… I walked round the ploughed bit – even for people who have a mud fetish that ploughed bit would have been taxing to cross.
Once at the GZ the cache was quickly found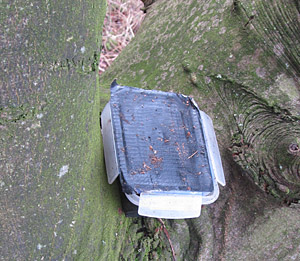 23rd January 2016 – #12 R2R Hazlewood Castle GC43A20 – cache #3976
If I won the lottery that's the sort of house I would want to buy
Cache easy to find as I'd read the previous log which told exactly where it was (and wasn't) !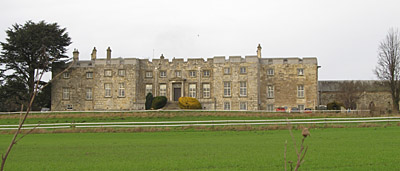 23rd January 2016 – #13 R2R Peggy Ellerton Farm GC43A24 – cache #3977
Another cache that was just where the co-rds and hint say it should be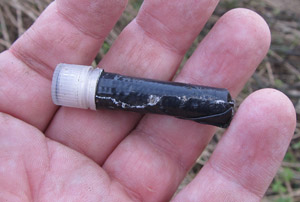 23rd January 2016 – #14 R2R Evil Ivy Tree GC43A38 – cache #3978
Much easier to find than the expectation from reading the cache name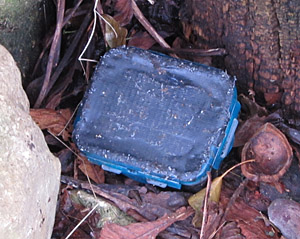 23rd January 2016 – #15 R2R Prickly GC43A3F – cache #3979
Half the hint is still relevant, but the name no longer is !
Hint says "base of tree, under concrete", well the cache was still under a lump of concrete but the tree, which was presumably prickly, isn't there anymore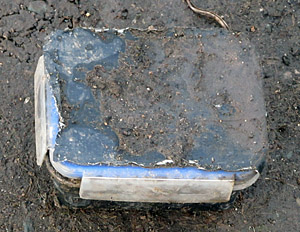 23rd January 2016 – #16 R2R Pole GC43A43 – cache #3980
Nearly had to pass on this cache as there were several people in the yard nearby, but they got into a landrover and drove off, leaving it clear for me to get the cache in peace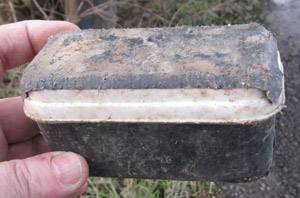 23rd January 2016 – #17 R2R Lodge Farm  GC43A76 – cache #3981
The hint said post, a straightforward find by the biggest post around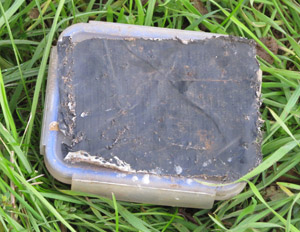 23rd January 2016 – #19 R2R Newstead Farm  GC43A82 – cache #3982
Cache was out in the open, one of the hint objects (large stone) had been moved several feet away… but as the cache pot didn't look like anything more than a bit of discarded rubbish it was undisturbed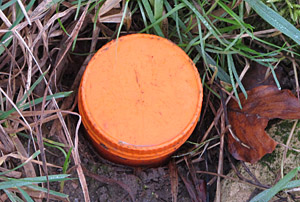 23rd January 2016 – #21 R2R Pink Floyd   GC43A8E – cache #3983
I walked right past this one and had to retrace my steps by about 30 yards when I realised that the numbers were going up not down.
The cache was easy to find when I followed the arrow to the right location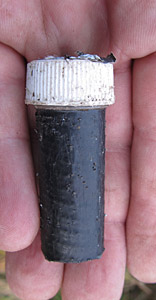 23rd January 2016 – #22 R2R Not a Silver Birch  GC43A8G – cache #3984
An easy find but the cache container was shattered and in need of replacement – the log too wet to sign, which was a pity as this was the last cache on the walk – which had in the main been very enjoyable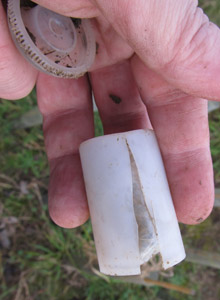 23rd January 2016 – Lead me to the Church  GC10QDK – cache #3985
Found on my way back to the Crooked Billet after doing the R2R walk, the name being a pun on the name of Lead Church which is in the field opposite the pub (though the community of Lead doesn't exist anymore)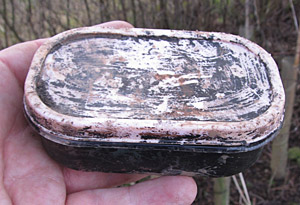 23rd January 2016 – Royal Mail (don't look for a post box) GC69TPX – cache #3986
Another of the new caches set out by English Pete for his event… many posts, not many boxes !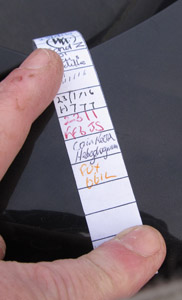 23rd January 2016 – Windmill View  GC69TCJ – cache #3987
And a final new cache set for the event at the Crooked Billet

23rd January 2016 – Hyde Park 1 – Bear Pit  GC5X439 – cache #3988
By now it was getting dark, but I still had a dozen caches to get before the Mega launch event the following week, and as it would be dark in any free time I had during the week and there were no caches near home left for me to find anyway I really needed to get a few more before I got home, so I headed into Leeds to find some urban caches…although when I got there it was getting very dark it wasn't too hard to get the right place for this first cache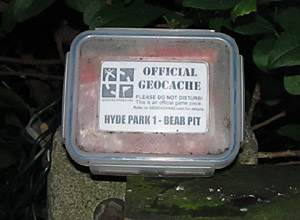 23rd January 2016 – Hyde Park 5 – Band Stand  GC62ZMK – cache #3989
Easy find even though it was dark and the street was very busy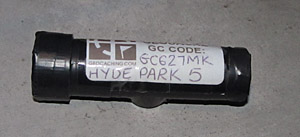 23rd January 2016 – Church Micro 8403…Headingley – Apostelic GC63DME – cache #3990
Straightforward find on a road with lots of passers-by… and too dark to do my normal photographing the church, so for once a Church Micro cache gets a picture of the cache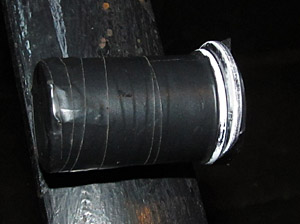 23rd January 2016 – Hyde Park 4 – Statue  GC5X9V9 – cache #3991
A quick find – by feel rather than sight in the dark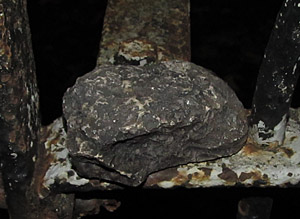 23rd January 2016 – Hyde Park 6 – Gymnasium  GC630DM – cache #3992
An easy find in the dark – well as it's by a lamp post the darkness is no problem !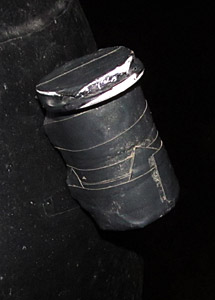 23rd January 2016 – Queen Victoria  GC3KPBK – cache #3993
Great co-ords led me straight to the cache even in the pitch dark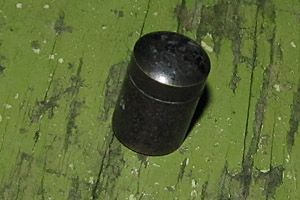 23rd January 2016 – Hyde Park 3 – Picture House  GC5X415 – cache #3994
Straightforward find even in pitch darkness – well the hint tells you not to use your eyes anyway !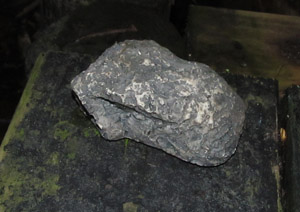 After this I didn't find GC5X42N Hyde Park 2 – Bunker, lots of places it could have been but it was just too dark to see anything and although I had a good feel around I didn't find it.