Home » Geocaching
Caches No's 3907 to 3923 – A Welsh Halloween Part 3
On the Sunday we had breakfast in the hotel (The Royal White Lion, as in the headline picture, our room was the left end one on the second floor) and decided to head up to the Bryntirion again and do some caches round there, first of all though we had to go and find the multicache that we had found the feeder for the day before (we were going clockwise around the lake when we found the feeder and the final was back the way we had come, so we elected to leave it until the next morning)
1st November 2015 – Famous Five – Llyn Tegid GC2CQH7 – cache #3907
Lots of the logs on this cache go on about the view from the cache site. When we were there it was very foggy so if there is a good view from the cache site we couldn't see it !
Nice to find an ammo can rather than a film pot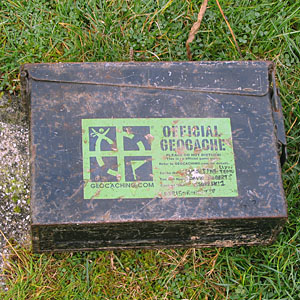 1st November 2015 – Fford Gul GC3NH4J – cache #3908
AN easy drive by on our way from the last cache up to the hotel
This is one reason I take photos of each cache, to remember all the caches I did cos when I was sorting the pictures to go with the words nearly three weeks after the event I realised looking at my photos that I had never logged this cache, so I had got my cache found numbers mixed up for all the later caches I had already written up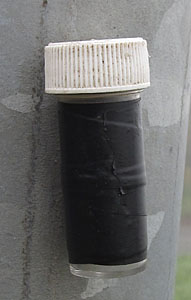 1st November 2015 – Base of the post GC4F04X – cache #3909
We went back to the Bryntirion too late to claim a smiley for the Breakfast event. We were intending to walk up the hill to get some of Martin's caches, but he took pity on us and drove us up to this cache.
Knowing that there was an obvious red herring we ignored that and went straight to the second red herring… but then as I have seen a cache something like this before I quickly realised what we needed to do to retrieve the actual cache.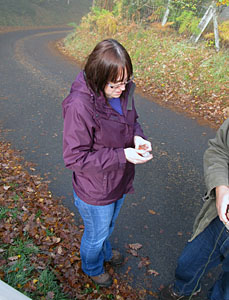 1st November 2015 – Mechanical Eye-Pad 101 GC5NXVH – cache #3910
We found the outer container easily enough, and then struggled to open the stiff lock on it, but eventually got in.
Unfortunately the rest of the cache wasn't working, the inner lock was broken and the eye-pad didn't work at all – I guess it was just too damp for it in the thick fog we were almost experiencing (I say almost because we were right at the top of the fog layer and sometimes we were smothered in it and sometimes we were in glorious sunshine looking over a valley filled with white cotton wool)
1st November 2015 – Reviewer's 10 Challenge GC53JA6 – bronze – cache #3911
After Mechanical Eyepad we had the option of walking up the hill, or back down the hill… downhill won !
Finding the cache container was easy, getting it out wasn't. The first couple of twists were straightforward enough but then there didn't seem to be a way to get it further… in the end I moved it to where I felt a little bit of 'give' and gave it an upward jerk, which did the trick allowing me to carry on twisting it out.
Putting it back was the same, it didn't seem to want to go back so I got it to the right place and gave it a shove down, which got it to where the last couple of twists let me get the lid back on
As for the Reviewers, I've found almost 4,000 caches in several countries, there's going to be many more than the 10 I need to claim this challenge cache
1st November 2015 – Jailbird Field Puzzle 2 GC4PGA7 – cache #3912
This took a while.
We all had a go at trying to find the first set of numbers, and though one gave itself up easiy none of us could find the second. We even resorted to using a less unwieldy tool that the one given, but to no avail.
So I decided that there were only about 30 possibilities so I went through and tried them all… no luck, then realised that there were 30 more possibilities by reversing the number order – and eventually got the first lock open.
Then onto the next one… and yes I went through every key and failed to open it, then we spotted the twist and got through that lock.
Finally through all the keys again until we managed to open the final lock
Must have taken us over 30 minutes to open this cache. Frustrating but fun… and not one you are going to give up on until you get there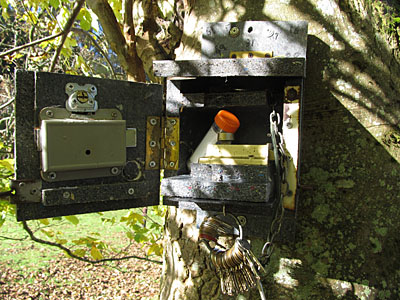 1st November 2015 – Under martinbryn's Nose GC3AW4J – cache #3913
While walking down the lane back to the pub we stopped off for this one, nice to find one we could get into quickly rather than having to deal with Martin's caches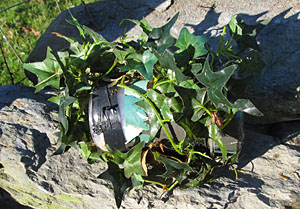 1st November 2015 – Baaarrbara's Bush! GC5XWXE – cache #3914
All good things come to an end so after one last drink at the pub and a vote of thanks to Martin and Lynn for a great weekend we set off on our different ways home… mine took me first of all along a nearby lane for a few quick drive bys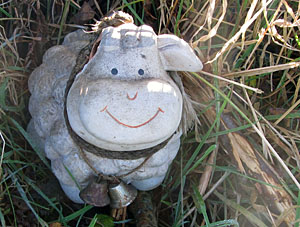 1st November 2015 – Nano in a lane GC5XWX1 – cache #3915
Another quick drive by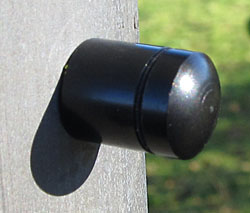 After this I didn't find GC5XWWT Tir Gofal. but then, neither did anyone else that weekend, I guess it had really gone missing, not just me being incapable of finding it
1st November 2015 – Squirell's Nuts GC5XWWF – cache #3916
One more drive by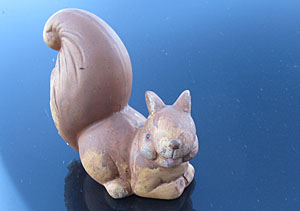 1st November 2015 – Simple Drive-Bye GC5XWW1 – cache #3917
I almost gave up on this one about 3 times, but eventually from reading the logs about needing tweezers I got an idea, and it was the right one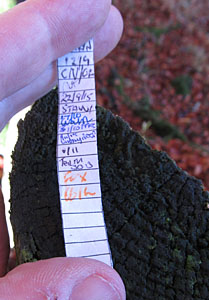 1st November 2015 – Grenouille!!! GC5XX0G – cache #3918
Another parking place another quick drive by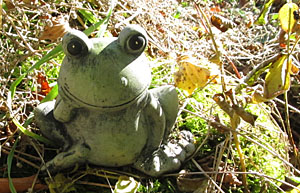 1st November 2015 – A494 Bala to Corwen Drive-Bye GC5Y6H4 – cache #3919
One more layby, one more drive by on my way home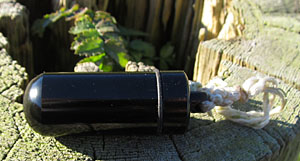 1st November 2015 – Kate's drive-bye GC4HYGY – cache #3920
Another quick drive by – there were more but I only stopped for the ones with easy parking !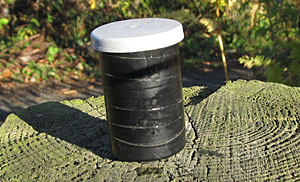 1st November 2015 – Harvey's Treuddyn Pen Pal GC3507M – cache #3921
You do wonder what the other drivers must think as they pass by seeing you fiddling about behind the road sign at the end of the layby
1st November 2015 – Ye Ole Survey Monuments GC45CC – cache #3922
This time logging YSM085 Mellor
A pillar with a nearby underground Nuclear Bunker – just like the one at nearby YSM290 Hough Hill
In the thick fog this was a very atmospheric place to be, the Underground Nuclear Bunker next to the pillar was looming out of the murk, and as it was only a couple of metres below the top of the fog bank the sun was occasionally quite bright one second and then hidden completely the next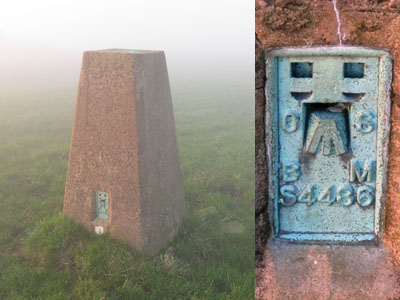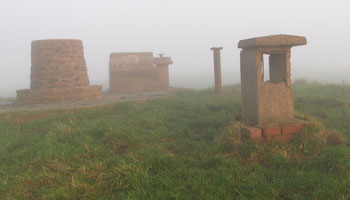 1st November 2015 – Water Rail GC5W140 – cache #3923
A quick drive by in the dark, but easy enough to find the cache by touch even though I couldn't really see it where it was !