Home » Geocaching
Caches No's 3868 to 3879 – A Welsh Halloween Part 1
When the Halloween Mega Committee announced they were having a rest this year Adam (UKCacheMag) said 'Let's go to the Camping thing in Wales instead' So we did. Camping at the end of October isn't really our thing though so Adam booked us into a nearby hotel, we took Angel78 along with us as well, the first of our trips she's been on this year.
The trip down I took a day off work for, so I planned my route via a few Survey Monument locations. I didn't set off particularly early as the weather was crap when I woke up, but the day soon brightened up and I was in sunshine by the time I got to the first cache.
30th October 2015 – Pennine Bridleway – Red Spar Moor GC41AYP – cache #3868
My steed is a Renault so I ride the tarmac not the Bridleway… but here the two meet, so I stopped off for the cache – actually I hadn't really intended to stop at this cache, I was driving along the road with the caches in my car sat nav so when this popped up at the side of the road I stopped thinking it was the Widdop cache (which is a few hundred yards further along the road)
30th October 2015 – Ye Ole Survey Monuments GC45CC – cache #3869
This time logging YSM031 Widdop
A rivet on the concrete support of a metal gatepost… the gatepost has been replaced and the old one, complete with concrete base and rivet has been discarded a few metres away in a bog… Fortunately I had read about this on the TrigpointingUK website so I knew what to look for and where to look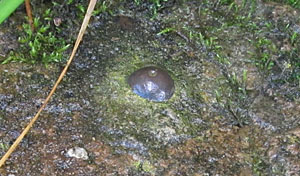 30th October 2015 – Widdop GCZA01 – cache #3870
I came for the YOSM location, so this cache was a bonus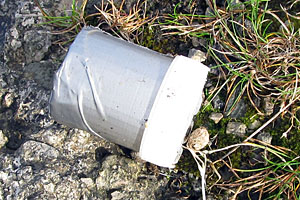 30th October 2015 – Pennine Bridleway – Thursden GC41AY5 – cache #3871
I got muggled by a sheep while retrieving this cache, it just stood on the roadside watching me with its evil sheep eyes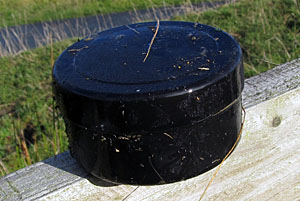 30th October 2015 – Ye Ole Survey Monuments GC45CC – cache #3872
This time logging YSM089 Windy Bank
A bit of a wandering trip to get to this cache, not really on a straight route from Widdop to Bala, but I had all afternoon to get there. This pillar was just a short walk across a squelchy field from the road.
My 90th YOSM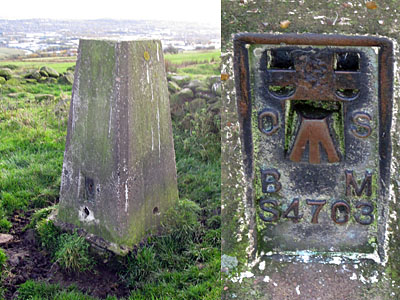 30th October 2015 – Underground Nuclear Bunker GCZH3H – cache #3873
The next YOSM location is on the top of a quarry, right next to an old underground bunker so this cache put out for the bunker was a bonus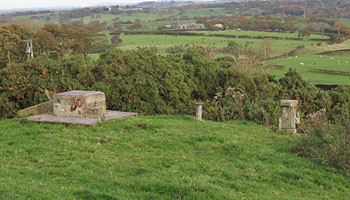 30th October 2015 – Ye Ole Survey Monuments GC45CC – cache #3874
This time logging YSM290 Hough Hill
Not too sure about the large Red Roses painted on each side of the pillar, as a Yorkshireman the red rose signifies 'the enemy' !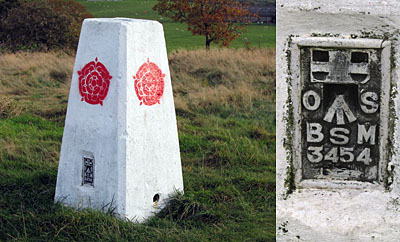 30th October 2015 – Denham Hill Quarry GC1804C – cache #3875
Denham Hill Quarry is the quarry that the YOSM location is on top of – so as well as the Underground Bunker cache this Earthcache was a bonus.
I walked right round the quarry to get too and from the Trig Point so saw all the features described on the notice board
30th October 2015 – SD7 Pluto GC4KM9X – cache #3876
A quick driveby on my way back from the quarry for the earthcache and YOSM…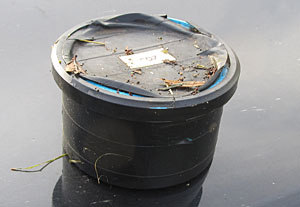 30th October 2015 – Birds Eye View GC3ZVHB – cache #3877
Not really a drive by, but I pulled well onto the verge to get off the road so I could do it as one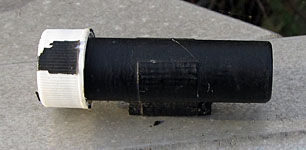 30th October 2015 – Ye Ole Survey Monuments GC45CC – cache #3878
This time logging YSM005 Hordern Stoops
In the parking spot here there was a car parked as far off the road as you can get, facing away from the road… as I pulled in behind it I could see that the car was occupied by a driver who appeared to have reclined the seat back and was having a rest…
When I got out of the car and shut my car door another (female) head popped up apparently from out of his lap… was I disturbing something ? ?
I quickly photographed the Surface Block and left them to it !
After this it was really too dark to do any more caches so I headed straight on to Bala – Surprising how the change of hour meant the darkness was much earlier than I really expected
30th October 2015 – Halloween informal camping event II GC5T66P – cache #3879
The first event of the weekend. All the events were held at the Bryntirion Hotel, owned by cachers Martin & Linda. I arrived hours before Adam and Erica (UKCacheMag & Angel78) and though I only knew a couple of people in the room I was soon welcomed in and even DJ Phil playing Pink Floyd and Genesis didn't get me heading back to our hotel in Bala until well after all but the hard core had gone to bed