Home » Geocaching
Caches No's 3837 to 3855 – A Sunday Series Near Wetherby
In order to get to the 4,000 cache milestone by the end of the year I needed to find 15 – 20 caches a week, and I had found 8 on Saturday afternoon, so I still needed to find more for the week, especially as there was likelihood that some weekeknds would be a total washout because of either rain or more boring things that needed doing around the house – so really getting 25 – 30 a week would be better where that was possible.
Sunday afternoon was lovely and sunny, so I looked for a suitable series that looked to be in a pleasant location and had a fair number of caches – a series near Wetherby seemed to fit the bill.
4th October 2015 – D2C1 W is for…… GC5868G – cache #3837
A nice afternoon for a walk. Parked in the indicated location and set off down the road… bashed my head a few times getting to the cache I will have to learn to bend down lower to avoid them next time !
4th October 2015 – D2C 2 M is for…. GC57ZVQ – cache #3838
Stuck my hand in the nettles and pulled it out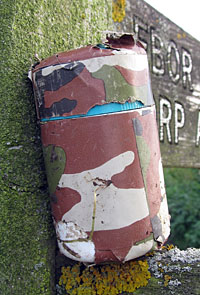 4th October 2015 – D2C3 F is for… GC57ZY5 – cache #3839
I found this one easily enough, signed the log, got the bonus information, replaced the cache and moved on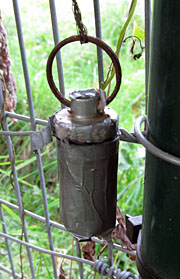 4th October 2015 – BSS3 GC1VK37 – cache #3840
This cache wasn't part of the series but was on the route so I stopped to find it.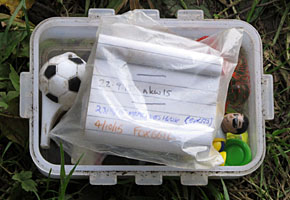 4th October 2015 – D2C 4 B is for…. GC58012 – cache #3841
I looked all round before I spotted it… and then after spotting it I had a bit of a job to get it out of it's hiding place – my arms didn't seem quite long enough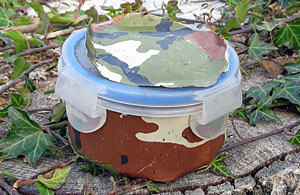 4th October 2015 – D2C 5 G is for….. GC581MK – cache #3842
Another easy find – well there were only a couple on the series that were not easy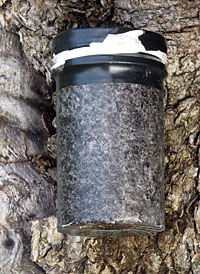 4th October 2015 – D2C 6 C is for….. GC581PH – cache #3843
Seen plenty of these fake rocks so as soon as I spotted it I recognised it for what it was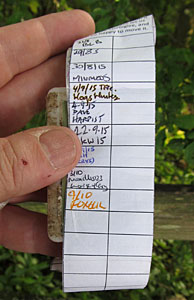 4th October 2015 – D2C 7 T is for…. GC581QH – cache #3844
Nearly got hit by a cyclist, I was minding my own business putting the cache back, stood up and took a step backwards nearly into the path of a mountainbiker who was making his silent way across the field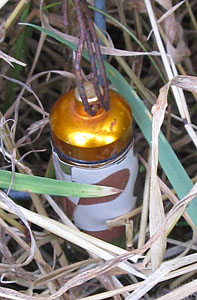 4th October 2015 – D2C 8 Y is for… GC582WC – cache #3845
More nettles… My fingers were still stinging when I went to bed several hours later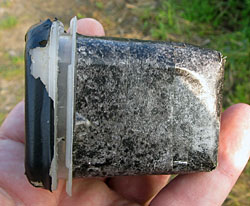 4th October 2015 – D2C 9 E is for…. GC582XG – cache #3846
I managed to dislodge this magnetic cache when I attempted to retrieve it… and it dropped down into the ditch… fortunately I had my walking pole and managed to move it near enough to reach in and grab it – with only a few scratches and prickles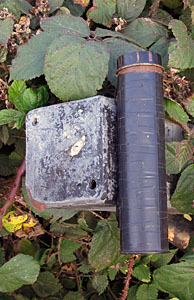 4th October 2015 – D2C 10 U is for…. GC581T3 – cache #3847
More hawthorns, more nettles… I think 2015 has been a good year for growing these cachers nemesis's (nemesi ?)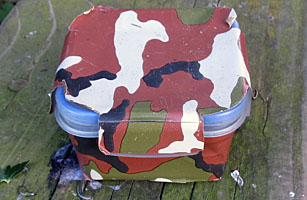 4th October 2015 – D2C 11 R is for…. GC58376 – cache #3848
You need to add 'reach through the nettles' to the hint for this one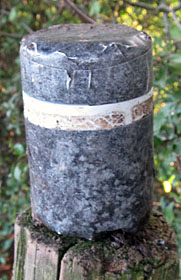 4th October 2015 – D2C 12 P is for….. GC581X9 – cache #3849
No nettles or spiky hawthorn branches at this one… but the cache was right on top of a thistle…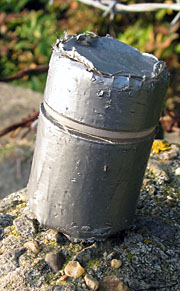 4th October 2015 – D2C 13 H is for… GC582ZX – cache #3850
I feel sorry for the lady walking the dog along the track… she didn't know I was there at the edge of the field waiting for her to leave, but her dog knew I was there and didn't want to leave no matter how much she cajoled it to carry on along the path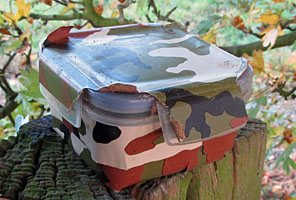 4th October 2015 – D2C 14 S is for…. GC5830C – cache #3851
GPS inaccurate under the trees so it was a case of look all around for things that matched the hint… obvious which one it was when I finally saw it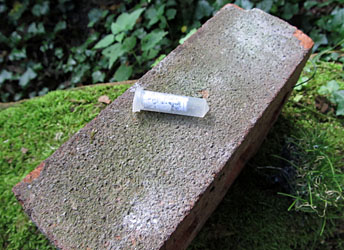 4th October 2015 – D2C 15 A is for…. GC58314 – cache #3852
With the hint it was an easy find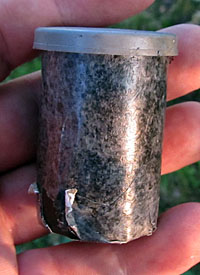 4th October 2015 – D2C 16 D is for…. GC58322 – cache #3853
It's a big enough hint object (base of large oak tree), and so an easy find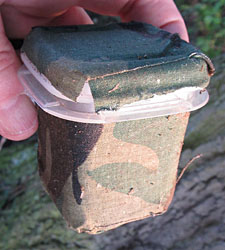 4th October 2015 – D2C 17 J is for… GC5832R – cache #3854
Tricky this one, finding it was easy, but the lid has become separate from the container so when you take the lid off the container stays in it's hidey hole… and getting it's 'camouflague' out to enable me to tip the log out took a bit of effort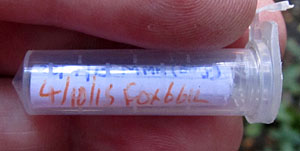 4th October 2015 – D2C Bonus cache GC5834N – cache #3855
And I managed to stab myself on the hawthorn as I reached for the cache, making this a series that was pretty painful on my hands all the way round !
But I really enjoyed the series, it being a beautiful sunny afternoon helped but it's a nice walk round. I think Wetherby should be really proud of the path along the old railway line, it's lovely.