Home » Geocaching
Caches No's 3829 to 3836 – Saturday Afternoon in Skipton
Another thing about going to events and speaking to other cachers is that everyone goes on about achieving caching milestones, 500 caches, 1000 caches, 2000 caches etc… and I realised that although I hadn't found that many caches this year in reality I wasn't far off my next milestone of 4,000 caches (my 3,000 cache milestone was at Halloween Mega in 2013, two years ago, and my 2,000th cache was at the UK Mega in August 2012)
So, I thought it had to be possible to get to 4,000 caches sometime in the Autumn, 170-ish to go, 11 weeks to Christmas so that's only about 15 caches a week to get there by Christmas, 30 caches a week and I reach it in mid-November.
Somewhere in between was most likely providing I could go out at weekends and find 20-25 caches, which is actually a tall order unless you are spending a full day caching. Anyway Saturday came around and I decided I needed to go and buy some stuff and Skipton had the right shops, and a fair number of caches realtively near the town centre
3rd October 2015 – Wooden Post 3 GC5Y3TH – cache #3829
Found it after standing an looking for a while to work out where to look – there is evidence of searching having gone on for a couple of metres along the path and the wall does look to have been disturbed (though that may be nothing to do with cachers)
Knowing that someone had found it the day before I tried to work out which had been the last thing that had been moved.
So although I had been there and examined the scene for about 5 minutes I found it almost straight away once I 'got my hands dirty'… knowledge gained through watching all those episodes of Time Team and CIS comes in useful !
3rd October 2015 – Wooden Post 2 GC5Y3T0 – cache #3830
I worked out where I would hide a cache in a situation like this when looking at the site of Wooden Post 3… so when I saw exactly the thing I'd thought about here I went straight to the cache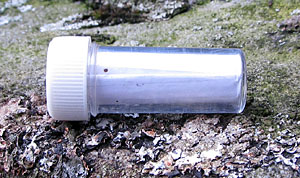 3rd October 2015 – Wooden Post 1 GC5Y3RR – cache #3831
I've not been here for years, I do remember playing pitch and putt here 25 or so years ago and then there was just a broken down wall a path and then the canal, quite a surprise to find all these trees and bushes along the path as I remember it being bare (well actually I remember my mate Neil hitting a jogger running along the path with his golf ball, but you couldn't do that these days)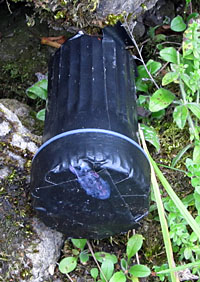 3rd October 2015 – 'Ruby's Cache' GC5634H – cache #3832
Wandered in to the park after doing the three 'Wooden Post' caches… I read the logs so knew to look on the bench with all the slats replaced, so for once got the right one first time (although I was sitting on the wrong bench when I read the logs)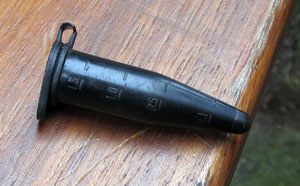 3rd October 2015 – SideTracked – Skipton GC49B04 – cache #3833
This was on my way back to the car so I stopped off to find it
3rd October 2015 – 179D Across GC44EFV – cache #3834
I'd actually set off to find the Church Micro, got the coordinates for the final and set off on one of two possible paths to where they showed on the map, not realising that you couldn't get from one to the other path…
So I carried on along the canal towpath to this cache which wasn't too hard to find though I did have to wait for some other people to get out of the way.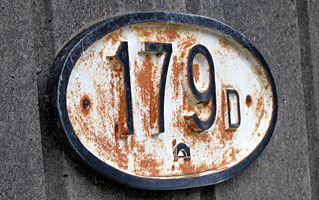 3rd October 2015 – Off Yer Trolley! Skipton – The Man GC49AYN – cache #3835
Looping round back to the location of the Church Micro also brought me past this cache. The hint made it an easy one to find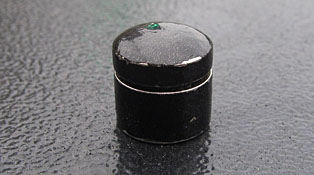 3rd October 2015 – Church Micro 7424…Skipton – Christ Church GC5P65E – cache #3836
Found after a bit of a detour. I got the information easy enough and plotted the final coords on my GPS… went along one of the paths that led to the location, and it turned out to be the wrong choice, It took me to the right coordinates, but the wrong altitude… Three quarters of a mile and two caches later I got back round to the same coordinates as I'd been at 20 minutes earlier, and found the cache