Home » WASH
WASH 1999
In the 1956 FA Cup Final Manchester City's goalkeeper Bert Trautmann broke his neck but stayed on the pitch to help his team beat Birmingham 3-1 and win the cup.
This may not have a lot to do with WASH you think, but DJ Lionel Adrians is a Manchester City fan and in a bizzarre coincidence broke his neck in a car crash the Tuesday before WASH.
Now he was paralysed for 24 hours and should have spent several days in hospital, but Lionel, being dedicated to his job signed himself out of hospital and made it down to WASH "I couldn't let 18 Plussers down" he told me. The bloke must be mad, he ate nothing, drank nothing, hardly slept and lived on painkillers for the weekend, but when the time came, he was there with the microphone and the turntables spinning those discs for WASH.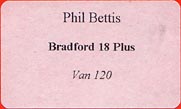 What the Committee said…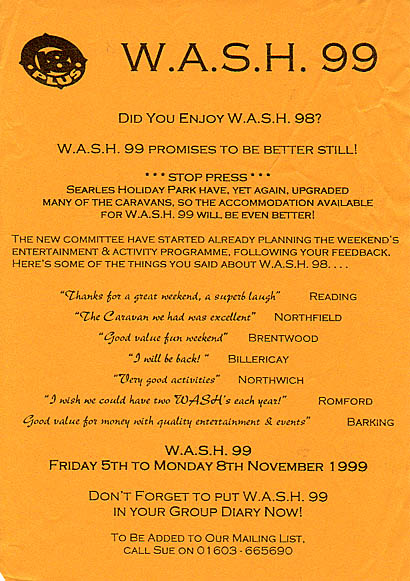 What the Committee said…
You loved WASH 98 !

The WASH 99 committee have been busy collating the results of the survey carried out after WASH 98. The questionnaires you completed gave your views on the event and also what you would like to see in the future.
Over 90% of people attending WASH 98 told us they were likely or very likely to go to WASH99
96% of people attending WASH 98 told us WASH is value for money.
We also asked you what type of music you would like to hear at WASH. The most popular music by far, requested by 50% of 18 Plus members was 80's music; probably not surprising given the age range in 18 Plus. Other musical eras mentioned were all the decades from the 60's to the 90's, with dance and rock music also featuring high on the list of requests. Overall, most people felt it did not matter what music was played as long as there was a good variety to suit everyone.
The WASH 99 committee will continue to work hard to give you what you want and always welcome any views on how we can improve things, so if you have any ideas, please let us know…

Upgraded accommodation for WASH 99
If you have not been to WASH before, the accommodation is in luxury caravans. Searles Holiday Park have upgraded the accommodation since WASH 98, meaning an even higher standard of accommodation for those attending in 1999.

Put the WASH 99 dates in your diary
The dates for WASH 99 are now confirmed as Friday 5th to Monday 8th November 1999. WASH 99 will be held at Searles Holiday Park in Hunstanton, North Norfolk, providing 3 days and nights of quality events and entertainment. Don't forget to put the dates in your diary now and book time off work.

Sue, WASH 99 Bookings Officer – Plus News May 1999
What the Committee said…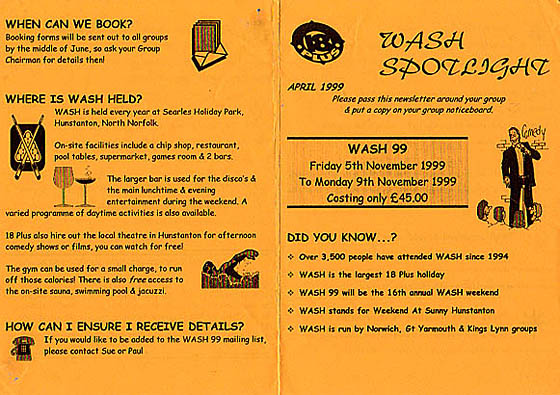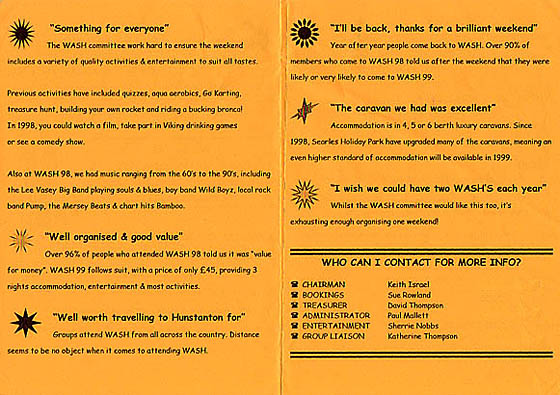 What the Committee said…
WASH Bookings Open

Booking forms for WASH 99 were sent to all groups on 16th June. If your group did not receive the booking forms and information about WASH 99 for any reason please contact Sue for copies.
Bookings for WASH 99 have already been received. As usual, the first booking came from Barking and Dagenham Group, whose ever efficient booking officer Garry has been obtaining the £20 deposits from the Barking members over the last couple of months. Northwich 18 Plus also tell me their members have all booked their time off work and are already counting down the days!
The WASH 99 committee look forward to seeing you all at WASH. If you have never been to WASH and would like to know more about it, please feel free to ring Sue or Paul for more information.

SUE, WASH 99 Bookings – Plus news Sept 1999
What the Committee said…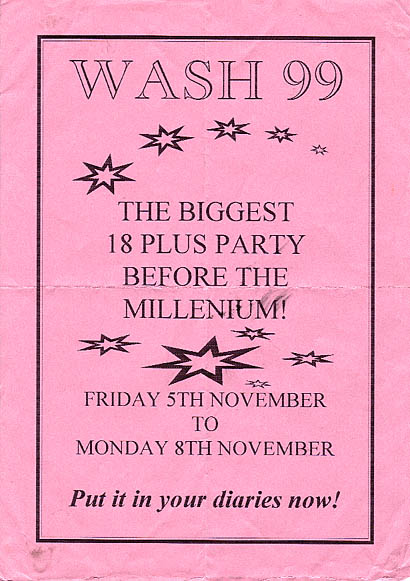 What they said…
GIRLS JUST WANNA HAVE FUN !

What has 66 legs, travels in 14 cars, fills 3 x 6 berth caravans and 3 x 5 berth caravans, brings with it 120 cans of beer, over 200 bottles of alcohol and enough Pot Noodle to dry out the North Sea?

Answer – Solihull 18 plus' contingent to WASH 1999

Believe it or not this was only the forth time Solihull 18 Plus group had attended WASH and as in the past we again took down a small number of members that of 33. (Thirty three, yes 33 – that's bigger than some areas!)

Other 18 Plus holidays in the past have been a let down, but not WASH it still is one of the best events of the 18 Plus calendar. And this year was no exception, with top entertainment, top beer, top accommodation, top beer, top totty (oops!) and top beer. 1999 also saw the return of the "Saturday Night Fancy Dress Dance" and the "Solihull 18 Plus Synchronised Belly Bashers Beer Tour 1999" hit an all time high.

In previous years we had come as the Spice Blokes and last year as a follow on from TAG'98 The Father Tags, with 'Cup of Tea Father' and 'Arse Biscuits Father', to name just a few! But this year was ready for something truly awesome, weeks of preparation, the second hand shops of Solihull still shaking in our wake, their volunteer workers still laughing with fear, the time had come for us to be set upon this mortal earth – "The Tarts of Solihull 18 Plus!!!!" 15 strapping lads, flowing dresses, big boots, sideburns, beer bellies, burped and farted their way to the venue, not even the rain or the wind could dampen our spirits or blow off our wigs! As we entered the building their were gasps of amazement and our first victim came into sight. Terry "The original Biggles" greeted us, always one for the ladies, he soon realised his days were numbered as 'camp' Solihull moved in. Even the bar staff comments didn't affect us, "would you like an umbrella or cherry in that?" (Actually a pint of bitter with a cherry is quite nice). The band that evening couldn't have been more appropriate, "Male Order" Oh how naive they were. As they came on stage most of women in the venue piled onto the dance floor, including the famous 15. It's amazing how quickly a combined weight of 203 stone gets you to the front, we screamed and cat called with the best of them, and watched as shock horror came over the face of the lead singer as he realised not all the women in the crowd were women!

A big thanks must go out to the real women of Solihull 18 Plus (St.Trinians outfits and all) for putting up with us. For Sue for sorting out our bookings and for the rest of the WASH committee for organising such an amazing 18 Plus Holiday – all the best and see you next year!

"Deirdre" Strawbridge, Solihull 18 Plus – Plus News. Spring 2000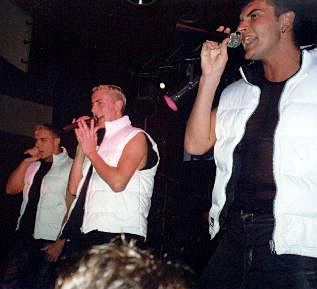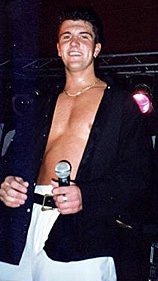 Male Order. . . Apparently females find this sexy
(. . . though not as sexy as Foxx)
What they said…
MORE THAN ONE BIGGLES !

We made it to Hunstanton at about 10:30 (ish) dumped everything before going back to the venue. Had a great time – the bands were not bad and the beer was cold! After we tried to find the caravan and encountered a Plusser in difficulties – we managed to locate her caravan and were rewarded with a kiss each – the nearest we came to romance this weekend!!!

Southampton had to persuade a group to let us put our banner up whist we were doing so, the girls of the group were testing our bums for firmness!

I went back to our caravan and was pleasantly surprised to find it full of people, The party seemed to go fine much alcohol was consumed and the rest of the evening was just a blur – I think we got to bed around 4am!!

The afternoon comedy show was interesting – Pee Wee was crap, he should have had an umbrella instead of that hard hat! Sid Dennis gave as good as he got – hope to see him again one day! Loved the Meatloaf tribute at the end!

Sunday evening bumped into "the other Biggles" during a quiet moment, which went OK – until some friends from his area came along; he asked them who was Biggles – obviously they said him, but if Southern Area had been around then it might have been a little more balanced!. After the evening finished we went to the Coventry party – stayed ten minutes and then left (after losing our teddy! – look after Bigglet, Jarrett! – Around the world is fine but we do want him back!) – Nellie three is in safe hands – we also have plans (manic laughter!!!)

We had a great time & WILL BE BACK NEXT YEAR!

lain "Biggles", Southampton 18 Plus – Plus News, Spring 2000
What they said…
WE'VE GOT BIGGLET

Coventry sent it's biggest contingent ever to this year's WASH the whole weekend was excellent, the atmophere first rate. Even selling T-shirts was a great opportunity to meet people and we sold a large amount of stock, thanks to all those who helped. The weekend proved a great opportunity in getting to know other plussers from around the country, especially all those names I'd only heard of on the ONElist.

Our party on the Sunday was great, the music blasting out attracting people from all around. Coventry had started partying at around about 6pm that day and some of us hit the sack at 5.30am Monday morning.

Bigglet is Southampton's mascot and not as some may like to believe Terry's. He found his way back to a Coventry caravan and has now generated a lot of excitement as to what his fate should be.

Should we send him round all the groups, with strict instructions to raise money for a given charity, such as the WWF (well he is a teddy bear, isn't he)? Or should we post him to the Student Unions of the worlds top 100 universities, where he could be used to raise money for the given cause. Updates will be posted in Plus News, on the 18 Plus Discussion List and the web (photos please of Bigglets on his travels). We'll keep you posted

Jarrett, Coventry 18 Plus Group – Plus News, Spring 2000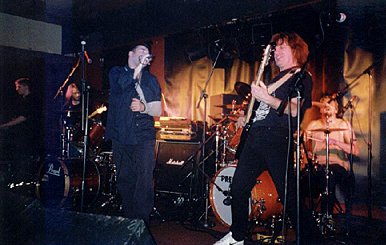 Friday nights band The Floating Greyhounds. . .
The singer had a broken arm. . . The DJ had a broken neck. . .
Is it safe playing for 18 Plus at WASH ?
What they said…
BANDING TOGETHER

We loaded up the car and set off to Hunstanton to play our part in WASH, the high point of the Plus calendar. We checked in and found our way to by far the newest, loveliest and most luxurious caravan we have ever been issued. When the hour was finally upon us it was down to the bar. The finale jam of the two bands performing together produced the best sound of the night.

Our first call of Saturday was at the karaoke. Later we made our way to the main venue in time for the fancy dress/dressing smartly night as the programme said to get there early for a surprise. We are unlikely ever to know what that was, as the event was more than half an hour late to start, which didn't surprise anyone. As the room filled with dressed up Plussers there seemed to be a disproportionately large number of men in drag, although not as many as first appeared – Some of them were just plain women in unwise dresses

The first act was "Latino Loco", a band comprised of members other than those in their publicity photographs. The second was "Male Order" who sang boy band covers and were very popular with the women, separating the ugly from the drag. The final act was"Village Boys", a "Village People" tribute band. This was the most entertaining band of the weekend.

Next day we went to the comedy show – "Steve Ace" was poor, "Pee Wee Price" bore up fantastically to one of the most impressive barrages of confectionery that I have seen at any of the WASHes that I have attended. After the break it was "Lincolnshire's Top Comedian", Sid Dennis, he must learn the difference between comedy and abuse. Most of all though, we must wonder what that woman was for.

The band of the night, "Agent Orange" They were particularly entertaining to the Stevenage delegation as their guitarist, was the absolute clone, in both appearance and movement, of our Mark S – from his middle eastern terrorist style facial hair days.

Erik, Stevenage 18 Plus – Plus News, Spring 2000
Click to go to
Previous Year 1998
Next Year 2000