Home » Geocaching
Caches No's 3731 and 3732 – Events and Souvenirs
Another week, another event again ! Though when I woke up at 8:00 on a Sunday Morning with the rain pouring down I definitely thought of giving this one a miss, but by 9:00 it had stopped raining and was looking bright so I decided to go to the event… which took place in lovely sunshine.
19th July 2015 – SYCachers On Tour: Party in the Bandstand GC5Y56Q – cache #3731
This event took place at the bandstand in Roundhay Park, a place that hadn't held an event for a month  A good turn out, perhaps one too many dogs for a peaceful Sunday morning though !
Whether this event was held as anything more than an excuse to get a group together to attempt the Tram Park (4.5D/5T) cache to get the latest 15 Years of Geocaching Souvenir I am not sure really !
19th July 2015 – It's on the GRID – BINGO! GC1PCZV – cache #3732
I needed a D or T 5 cache myself for the souvenir, so after the event I drove out to get this one.
The cache was easy enough to find, though it's hiding place doesn't quite matching the hint anymore. Rather than getting scratched to bits I put it back where I found it.
To claim this cache you had to have found 'a line' on the D/T grid for caches found after Nov 2008. Now I didn't start caching until after this cache was placed so all caches I have found qualify on that score.
I submitted my diagonal caches for my line on the grid, showing I qualified on this line almost 3 years ago, though it wasn't the first line I completed, I qualified for this cache in June 2010 and although this cache is only 11 miles from home I hadn't been to find it before
2009-06-16 GC126CA A Stroll Along the Wharfe 1.0/1.0
2009-05-30 GC1RZA8 Gallows Path 1.5/1.5
2009-06-08 GC1G2HK Off Yer Trolley! (Otley "W") 2.0/2.0
2009-07-18 GC18195 Walk in the woods. 2.5/2.5
2009-06-08 GC17RVA 100 Trees for 100 Years. 3.0/3.0
2011-05-30 GC14GQ4 How Tickled I Am (aka HikingBare #2) 3.5/3.5
2010-06-11 GC1PC37 Too Good To Be True? 4.0/4.0
2012-08-23 GC3T4KZ Per Ardua… 4.5/4.5
2010-05-31 GCMW56 Burke and Hare 5.0/5.0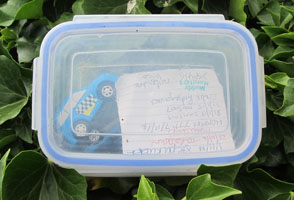 As I said before, this cache with it's D5 rating (well you have to have found at least one D5 or T5 cache to get it) qualified me for the third 'Geocaching Road Trip' souvenir